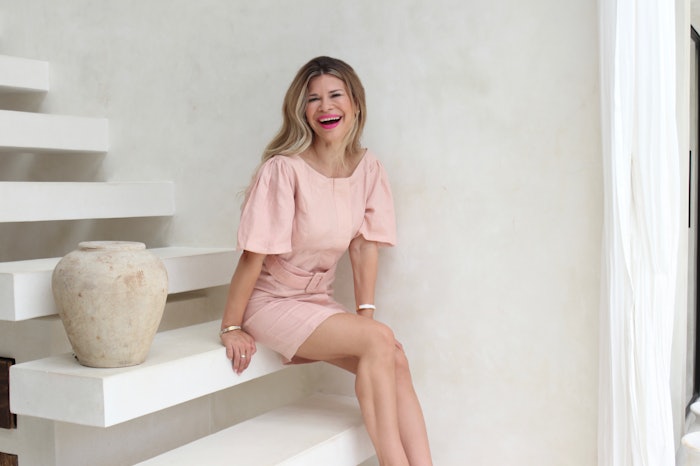 Courtesy of Julie K Nail Academy
Celebrity manicurist, Julie Kandalec has announced a new addition to her Julie K Nail Academy: The Maya Nailpreneur Scholarship.
The annual scholarship will be given to 1 lucky student, to participate in Julie's highly coveted and exclusive 8-week NAILPRENEUR online business course that turns nail pros into Nailpreneurs (nails + entrepreneur). The scholarship is intended to support students who are interested in growing their careers and help aspiring nail professionals level up their business and entrepreneurial skills within the extremely competitive nail industry. 
The Maya Nailpreneur Scholarship was created in memory of Julie's longtime, cherished companion Maya, a sixteen-year-old longhair Chihuahua, who recently passed away. The scholarship will be awarded annually to one licensed nail artist or student who demonstrates a passion for the industry and a strong commitment to their education as part of their ultimate growth. The scholarship will cover the full cost of tuition for the Nailpreneur program ($3,300) and two runner-ups received $1,600 and $800, toward the cost of tuition, respectively. 
Julie was inspired to name the scholarship after her dog during a visit with Maya's vet, whose goddaughter is also a nail artist, which Julie had been actively mentoring for a year. It was a full circle moment when she realized she wanted to give back to the community in honor of Maya.
The applicants went through a series of challenges in order to qualify including: creating a nail art look for a celebrity to wear at the Grammys, a written assignment that included a journey through their career and why they'd most benefit from the program. 
The winners are
"Coming from a family of teachers, education has always been at the helm of my career.  Giving back through beauty has been a big part of my journey, and one of the most gratifying.  I understand how far a little help can go, and I wanted to ensure no student should be left out" said Julie Kandalec. 
Grand prize winner Sara Lewis said the scholarship is a step in helping her grow her career.
"One of my mentors recently took Julie's Nailpreneur class and gave it a great review. When I saw that Julie was offering the Maya Nailpreneur Scholarship, I knew I had to apply," Lewis said. "The process was so fun and challenging and I'm so thrilled to have won! This course will give me the skill set to expand my business & level up my career as a nail technician. I cannot thank Julie enough for this amazing opportunity." 
Julie K. Nail Academy offers an intensive 8-week comprehensive and unique program that is designed for nail professionals who want to elevate their careers beyond the traditional 40-hour salon-based work week. Throughout the course, Julie will personally guide students on how to create a thriving, elevated business in their respective markets including branding, marketing, and social media for beauty pros, how to find celebrity clients in any city, behind-the-scenes of working on set, offering VIP services including hotel and house calls, and building credibility. The course also features impressive interviews with industry leaders, including Julie's agent, a celebrity publicist with Searchlight Pictures, a beauty attorney, plus the social media manager at essie. 
The spring program will launch on March 5. Graduates will receive a generous amount of hand-selected nail products featuring leading nail brands such as CND, Red Iguana, ORLY+,  Lights Lacquer, Morgan Taylor, Maxus, and Julie K Nail Art.