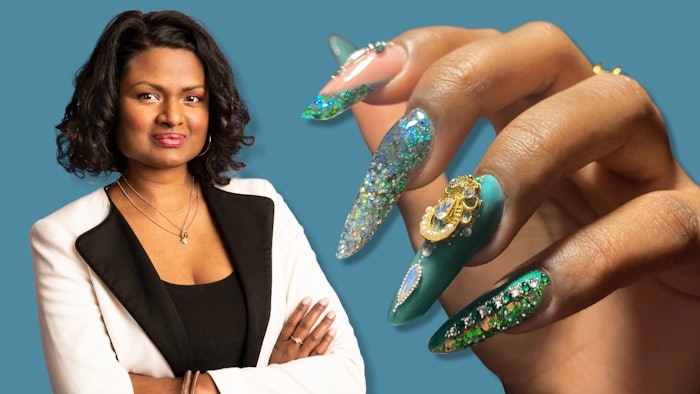 30 Under 30 Spotlight: Arrianna Silva 
Get to know Sweden-based nail tech and Silva Nail Stockholm owner, Arrianna Silva (@silva_nails_stockholm).
Read our November/December 2022 digital magazine to see the complete list of 30 Under 30 winners.
Q&A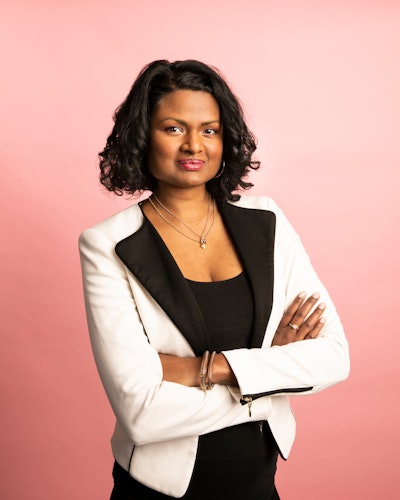 Nailpro (NP): Tell me a little bit about yourself! How did you get started, and why did you choose to become a nail tech?
Arrianna Silva (AS): Nails have always been a huge passion of mine. As a teenager, I used regular nail polish to create designs and later on acrylic colors. I loved doing gel nails on myself, friends and family, but I was never brave enough to actually do it as a business. I have been working as a flight attendant for the last six years. Then, the pandemic came and a lot of flights were canceled. I had to come up with a plan B to make sure I don't get in a similar situation again and am able to be independent. I had also just moved to Sweden and had no idea how easy it was to start a business here. So, I founded Silva Nails Stockholm in 2020, and it was the best decision ever.
NP: What is the toughest part about your job as a nail technician/nail artist/salon owner? 
AS: I think the toughest part is managing everything around the business yourself. As self-employed nail artists, we have to make sure we get clients and keep them happy. Our accounts and economics have to be up to date, and we need to stay on top of the nail game and trends. So, being this universal superstar I think requires a lot of discipline, planning and organization.
NP: What do you love about your job?
AS: I absolutely love all my clients! Once I established my client base with exactly the clients I wanted, going to work simply does feel like meeting up with friends. Clients usually trust their nail techs with everything and just love to share their news with me. Being able to listen and make them feel good about themselves is awesome. Beautiful nails give so much confidence too. Sometimes clients come in after a stressful week and always leave happy with a smile. I enjoy that so much! 
NP: Where do you find inspiration?
AS: In the beginning, I found a lot of inspiration on the internet, especially on visual platforms like Instagram or Pinterest. Now, clients bring inspo pics themselves, and we adapt it, so it works within my own style and what the client wants. Patterns and colors from fashion and nature inspire me too. I always take notes on my phone or a little notebook when I come up with an idea on the go. 
NP: What is a piece of advice you would give other nail technicians who are just getting star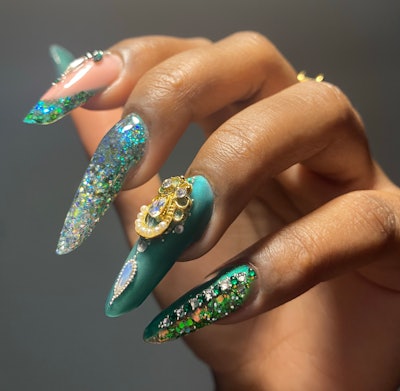 AS: Every beginning is difficult and hard, but you've got this! Continue, and practice, practice, practice – on yourself or family and friends. Focus on the basics first, and get as much knowledge as you can while you have the time. Schedule in as many courses as possible to get the right skill set and build up your portfolio on social media. And patience! It takes time but you will get there if you really want to! 
NP: What is a tip you have about any technique, service, business, etc.?
AS: In order to run a successful business I would say: Be as organized as you possibly can. Plan out your budget and expectations financially. Set timelines and dates for when  administration needs to be done. Treat your business as a business. This will make it so much easier for you to fully enjoy being a nail tech and be creative too, as everything else will be under control. 
NP: What is your favorite nail trend right now? 
AS: I absolutely love everything French mani at the moment. Alternative French nails, colored French tips or a glitter French. I think especially for the summer Frenchies are super hot!
NP: What is your favorite service to offer?
AS: My favorite service definitely is hand-painted nail art when clients give me free hands. They decide on the colors and the theme, and I take care of the rest. This is so much fun! 
NP: Who is your role model? 
AS: My biggest role model is my mother. She moved from a fishermen village in Sri Lanka to Germany about 30 years ago and worked her way up to be a successful independent business owner. I learned so much from her over the years and am so happy to have her in my life! Since my childhood, I have always seen her as a hardworking woman who can achieve anything she wants to. This definitely inspired me to have my own business today.
NP: What is one of your proudest achievements as a nail tech?
AS: One of my proudest moments is definitely working in a salon and with a team that was recognized as Sweden's Best Salon 2021. It was my first year in the beauty industry, and I am truly blessed to work with these strong and driven girls from Salong Grand in Stockholm. And, of course, having the honor of being featured in Nailpro Magazine!
NP: What do you love about the nail community/industry?
AS: I love the fact that there is a place for everyone in the community. Everyone who has been on their own nail journey knows how hard it can be as a nail tech starting out. I learned a lot from experienced techs who shared their knowledge in different Facebook groups. I am grateful for all the advice I got. 
NP: What are your top goals as a nail tech?
AS: In the future I want to be an international nail educator. I would love to teach other nail techs to follow their dreams and grow their skills. Another wish is definitely to join nail competitions and compete all over the world. My wish list is long, and I have just started my nail journey.
Follow us on Instagram and subscribe to our free daily newsletter to receive the latest news for nail professionals.