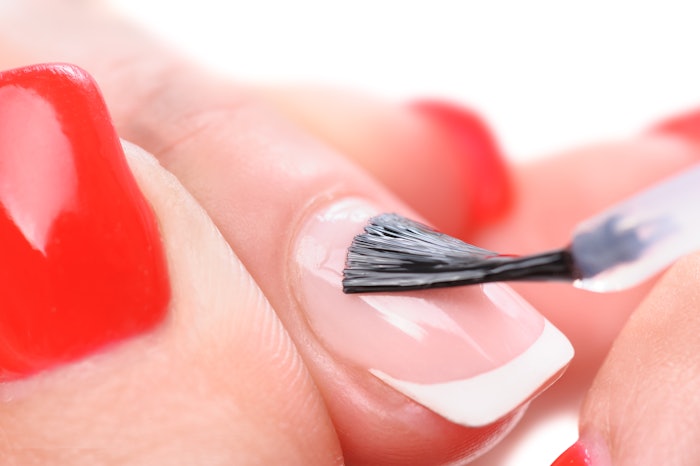 Top coats offer armor-like protection to the nail for extra toughness of the service and reinforcement for the natural nail.
If the client has thin, weak nails and often experience breakage, the correct top coat is the key to giving nails extra strength.
Top coats offer the magic of shine and finish to every set of nails and with new technology, there are unique ways to utilize them for practically any desired result.
There is a variety of clear high-shine top coats with varying performance levels, determined by viscosity and hardness.
Let us break it down and take a look at the options:
The higher the viscosity, the tougher the protection and the more reflective the surface. This protective layer reflects light and protects the color and the nails under it while at the same time experiencing little torque or stress because of its hardness. This leads to the longevity of shine over time and offers elevated hardness and scratch resistance. If in gel polish, this option will take a few minutes longer in foil wraps with remover.  
The medium viscosity top coat will provide great shine for one to two weeks, before it might begin to show wear and drop a level in shine. For many clients with lower activity levels, they will still achieve their desired shine levels within their maintenance appointment regimen, and if they are wearing a gel polish top coat, it will remove very quickly within a foil remover wrap with remover.   
The lower viscosity top coats will give protective shine while maintaining a sleek and skinny coating. For many people, keeping the bulk down is the priority, and the skinny top coats do the trick. In the regular or longwear nail polish category, pros may recommend the client take home a bottle and apply it midway between appointments—or whenever the shine need a boost. This can get the client through a seven-to-10-day appointment cycle. It is also super easy to remove upon returning to the salon.
Special effect top coats offer protection, along with the added benefit of a unique finish. These formulas are normally a medium viscosity and contain additives of mica, holographic pigment and even glitter that give them shimmer and effect. These include:
Matte top coat, which offers a velvety and smooth matte finish. Matte can go over a glitter base for a stone effect.
Pearl top coat, which instills a luminous pearlescent radiant finish.
Glitter top coat, which adds a glistening, sparkly finish.
These special effect top coats will take color to another level with an easy swipe of the brush, and if in gel polish, will remove within 10 minutes in a foil remover wrap with remover.   
Light-curable no-wipe top coats have a different type of chemistry—that outruns oxygen, leaving a completely set surface, without the need to wipe with IPA after curing. The result is a finish that acts like "cling wrap" for the chrome and effects, which when burnished into the surface, attracts the chrome, allowing the mica platelets to lie flat and cling to the surface for a mirror-like chromatic high shine.
The latest technology for no wipe can be nonyellowing, shatterproof and removable, making it perfect for both natural nails as well as nail enhancements. If powdered effects are mixed in with some no-wipe top coats, it can create a liquid metallic polish that can be painted on nails for a mercurial effect. Most no-wipe top coats are a medium viscosity level for average removal time in foil wraps with remover.
The beauty of top coat options is the versatility of finish and always top-notch nail protection!
Related: Your Salon's Guide to Top Coats
About the Author
Jan Arnold is the co-founder and style director of CND. She is also a member of Nailpro's 2022 advisory board.