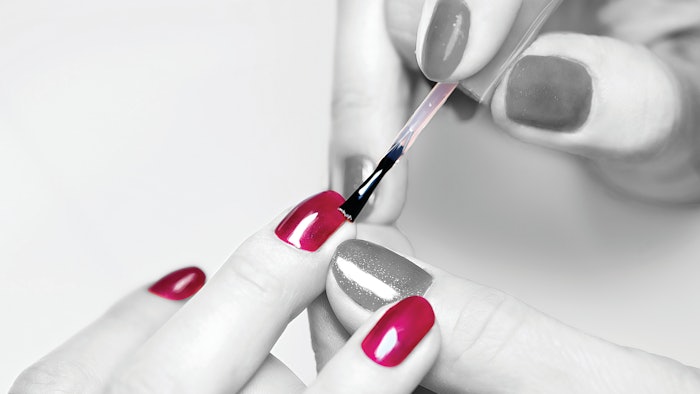 Even if it is hard to pinpoint, for many, the top coat is the best part of a manicure. It is the finishing touch that brings everything together, from buffing and filing to base coat and polish. A top coat completes the vibe of the nail, injecting high-drama gloss into a pop of color or toning down an edgy look with muted matte. In a world where glistening is #goals, skipping a top coat is a disservice to your clients. Not only does it add an aesthetically pleasing layer, it is also a polish protector that can make nails more durable. Here is the secret to a stunning application, what is in it and when it is OK to go without.
The Benefits of a Top Coat
Think of a top coat like your favorite jacket—it provides protection while buttoning up your look. Certain top coats even include UV protection or antioxidants to prevent bleaching or discoloration, shielding the natural nail from the negative effects of too much polish. Top coats are especially a must-do in salons because they help nails dry faster, meaning a chance to service more clients.
According to Jan Arnold, co-founder and style director of CND, top coats are truly integral to a nail service. "The top coat determines the protection level needed for the service as well as the removal time desired," she explains. "The hardier the top coat, the more protective, glossy and durable it is."
Top coats do more than finish off a manicure. They offer scratch resistance and "armor-like protection" to reinforce natural nails. "If you have thin nails and often experience breakage, the correct top coat is key to giving your nails extra strength," Arnold notes.
Stick to a Single System
Because the top coat interacts so intimately with your polish, make sure you stay in the same brand family. Vivian Valenty, Ph.D., chemist and president of VB Cosmetics and Dazzle Dry, explains, "If you want a top coat for use on a gel system, use one that is part of your favorite gel brand. Do not mix and match components from multiple brands to get the best results. The brands have already done the work for you." Valenty breaks down a no-fail formula. "Use a no-cure or air-dry top coat over traditional polish and a UV-curing top coat over a UV gel."
As top coats are always a final step—you cannot swap a top and a base coat unless a product is formulated as an all-in-one—the top coat must "have an affinity for the polish," Valenty adds, so it forms a film over the entire surface.
If your polish and top coat are not a match, it will show. "The top coat will crack, flake or peel off the polish. Top coats do not increase the adhesion of the polish to the natural nail, and therefore, contrary to some impressions, if polish chips prematurely with one brand of top coat, using another brand will not provide longer wear," she continues. However, a better top coat may dry the polish faster, maintain the high gloss of the polish longer, or maintain the original color of the polish longer, which she attributes to a "more effective sunscreen or antioxidant."
Types of Top Coat
Aside from extending wear and strengthening nails, top coats add an obvious aesthetic effect, making them another tool in your nail art arsenal. "Matte top coats contain finely divided silica or polypropylene particles that diffract light, resulting in a surface that has no gloss. Glossy top coats dry to a clear, smooth, hard finish. Gel or UV-curable top coats form an inhibition layer, which must be wiped off with alcohol to reveal the glossy, hard finish. The UV-curable top coats formulated to cure completely without forming an inhibition layer are called no-wipe top coats," details Valenty.
For application advice, thoughts on replacement options and the industry's best top coat choices, check out Nailpro's April 2022 digital magazine.