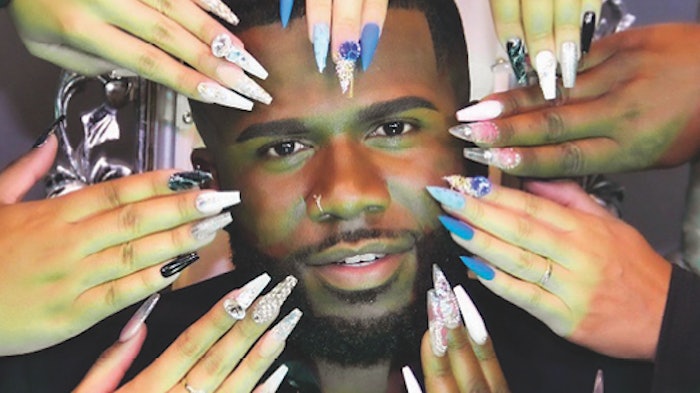 Anphernee J. Lindsay, also known as AJ or The Nail Honcho, is a 24-year-old African American male from Cleveland, Ohio. "Growing up, I honestly had no idea what path or journey I wanted to embark on." He attended a university for almost a year before becoming uncomfortable and deciding it was not for him. He later became closer with his cousin, Amber, who has been a licensed advanced manicurist for 11 years and a salon owner for four years. In addition to working a full-time job, he was her assistant at the salon she was managing at the time. Lindsay's responsibilities included setting up for services, scheduling clients' future appointments, taking deposits and payments, marketing, and helping with the cleanliness and upkeep of the salon as well as conversing with clientele.
Upon Amber's decision to open her own salon, Lindsay struggled with the thought of attending a cosmetology school. "It was a hard decision to make because I was afraid of being judged for being a young, black gay male entering an industry that was dominated by women. I began to get a lot of positive feedback and support from my family, peers, co-workers and clients." When the new salon Drip Beauty Bar opened, he saw a transformation that was like no other—at that moment, he decided to put his fear and emotions aside and enroll in school.
Lindsay completed his manicurist program in 2019, along with obtaining his manicurist license Aug. 2, 2019. For the past two years as a full-time licensed manicurist, Lindsay says he could not be any happier. "I thank God every day for everything he has done and for helping me believe in myself when I thought I could not. I am eager to continue learning, growing and being the best that I can be!" 
For the five things that keep Lindsay inspired to create his stunning nail sets, check out Nailpro's June 2022 digital magazine.