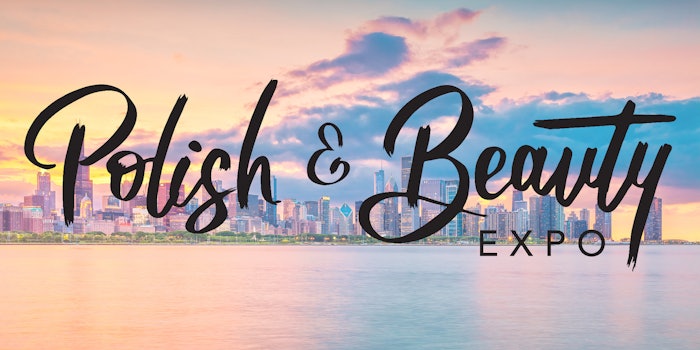 Courtesy of Polish & Beauty Expo
The 2022 Polish & Beauty Expo (PBE) is coming to the Tinley Park Convention Center in Chicago, Illinois, from July 16-17, 2022.
PBE is an annual shopping and education event hosted by Christy Rose of KBShimmer—connecting indie nail polish and beauty makers with customers and fans. 
This two-day event starts with two ticketed events on Saturday: a hands-on nail polish making workshop and a meet and greet cocktail party. The nail polish workshop provides an opportunity for attendees to make their own polish, and the meet and greet provides the opportunity to interact with indie brands as well as connect with friends over food and drinks. Sunday will be a day of shopping and tutorials. Attendees will have the opportunity to shop with 30-plus brands for products like nail polish, hand and cuticle care, soap and cosmetics, stamping and nail art supplies, jewelry, wax and home fragrance and more.
Every VIP and general admission ticket purchased in advance will be guaranteed a swag bag, one bag per person.   
2022 Attending Brands: 
Alchemy Lacquers
Atomic Polish
AURORA 5-Free Nail Lacquer
By Dany Vianna
Copacetic Cosmetics
Crypt Kitty Designs
Crystal Knockout
Dark Moon Esscentuals
Different Dimension
DRK nails
Fair Maiden
Girly Bits Cosmetics
Glitter Unique
Great Lakes Lacquer
Jen & Berries
Kathleen & Co
KBShimmer
Leesha's Lacquer
LynBDesigns
Mojo X Cosmetics
NeVerMind Apothecary
Poetry Cowgirl Nail Polish
PolishPak
PolishPickup
Psyche Minerals
Red Eyed Lacquer
Ribbits Stickits
Rogue Lacquer
Sassy Sauce Polish
Swamp Gloss
Sweet & Sour Lacquer
The Soapy Chef
Twisted Rose Jewelry
Whats Up Beauty
Zombie Claw