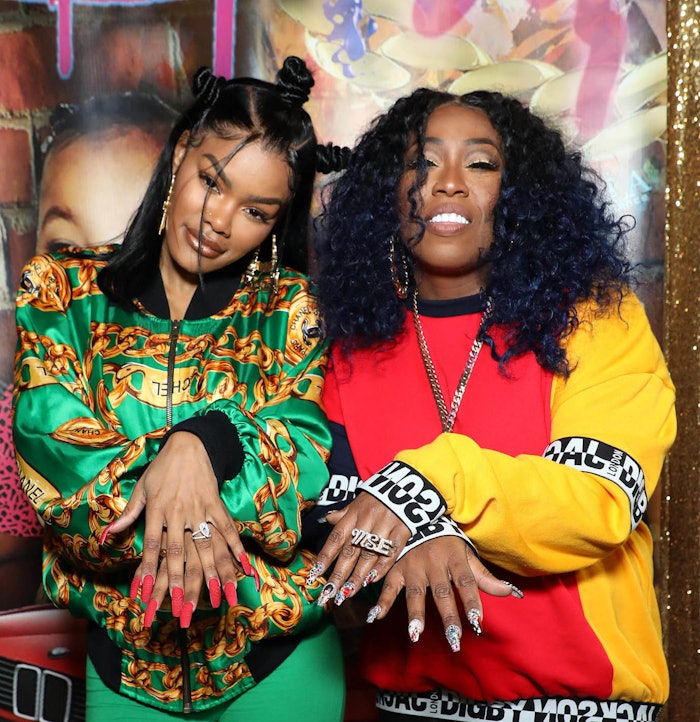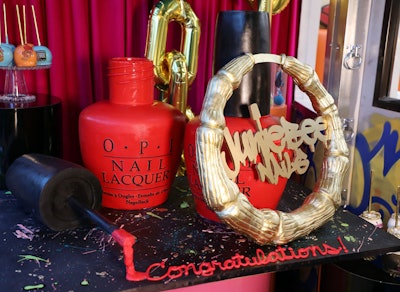 Multi-hyphenate phenom Teyana Taylor has added two more dashes to her enviable actress-singer-dancer-model title: She's now also a salon owner and OPI ambassador. On February 20, Taylor opened Harlem, New York-based Junie Bee Nails, a vibrant space named after her two-year-old daughter and outfitted with '90s-style graffiti and its very own replica of a New York City subway car in which guests can get their feet pedicured to perfection—a welcome retreat for the city's weary commuters. A Harlem native, Taylor thought of every single detail that reflects her roots—even Junie Bee Nails' nail artists sport salon uniforms designed by Harlem couturier Dapper Dan (a current favored collaborator with Gucci).
NAILPRO talked with Taylor about her love of nails, why she decided to open a salon (it has to do with a lack of "woman caves"), why she decided to ditch resumes when staffing up and what drew her to OPI (the salon struck an exclusive partnership with the brand and carries its extensive line of polishes, gels, hand and foot care, and nail extensions products).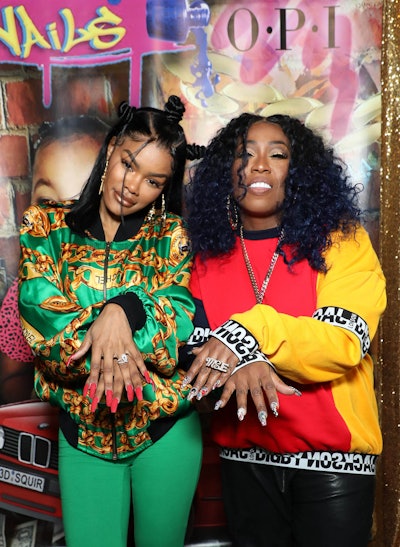 NP: How long have you been interested in nails?
TT: Being interested in nails is a Harlem thing; it's a given. There's a nail salon literally on every corner. I wear nails almost all of the time. There's been times where I don't have nails and my ring, my bracelets, they just doesn't look the same! You can express yourself through nails. You can have on the classiest outfit, and your nails will just be like, "Boom!" Nails are just so important to me.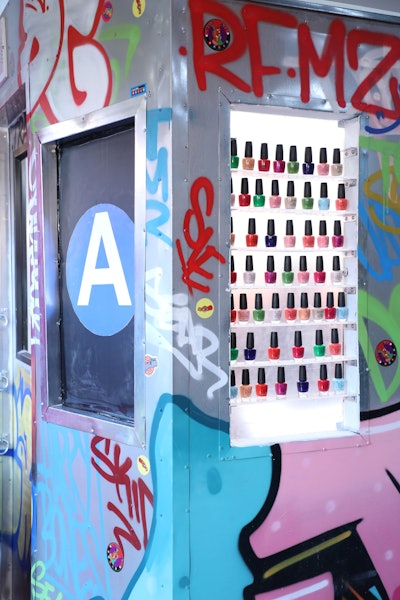 NP: So what made you want to open your own salon?
TT: Growing up I always felt like I'd seen a big difference between nail salons and barbershops. My uncle owns seven barbershops in Harlem, and I would hang out there as a kid. It always felt like a man cave; it was always a good time. It was loud, it was fun, there was always a lot going on—but in a good way. As I got older and started getting my nails done, the nail salons never gave me "woman cave" vibes. I'm loud, I'm energetic, so at the nail salon where everyone's like, "Sssshhh! You're too loud!" That's not for me.
But you know the most important thing that I wanted to do was to create opportunities for my community and for the youth. There are so many talented people here in my neighborhood, but we don't have a lot of opportunity. I wanted to create an environment that was unbiased, that was open to everyone. You know, no matter what size, shape, color or gender—that's the kind of atmosphere I want to create with Junie Bee Nails. I found that a lot of the salons I went to [in Harlem], they weren't really (pauses) nice. But we're stepping it up now! You can come in here and laugh; there's always music. It's a good time. It's family.
NP: How did you and nail artist Coca Michelle come together?
TT: I met my salon business partner, Coca, while I was on MTV's "America's Best Dance Crew"; she was doing my nails. She was this girl who wears all this baggy clothes and has these tattoos and, truthfully, I'd never seen [someone like her] before in a salon. When I met her, she was so ambitious; I saw a lot of me in her … she's like a diamond in the rough.
I asked Coca what her situation was; she didn't seem happy. So I asked if she'd come on tour with me—and she did. We were at the Cheesecake Factory one day, talking about different opportunities and how we want to be our own boss. And we just thought, we need to open a nail salon! We'll do it the way we want to do it. Coca is super creative with art, and I love art and artists; I want everything painted. Everything needs to be colorful. The minute Coca told me she was serious about the salon, that's when I just knew what I wanted: a '90s-themed, colorful nail salon. I loaded all of these ideas on her (points around to salon interior) and she never told me once that any of these ideas would be impossible. And, you know a lot of my career was filled with people telling me things were impossible, what I can't do. But she never did. And that's when I knew she was my partner-in-crime. We trust one another.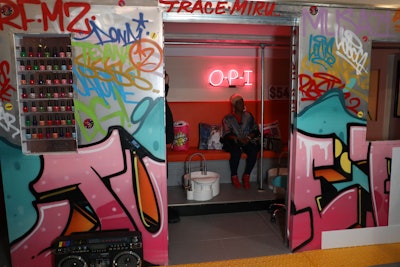 NP: How did you choose your salon staff?
TT: We hand chose them personally. We weren't trippin' about resumes (though our staff certainly has them). We just wanted raw talent. We don't extend opportunities enough to people with raw talent these days; their work isn't being seen. Everything is always: How long have you been doing this? Who's your clientele? I'm not about that.
Social media is very big right now … it's your bio, your resume. Coca is a bit more old school; she wanted that resume! (Laughs.) But to me, it isn't a make or break situation if you don't have one.
We did an open call on social media and told everyone to DM (direct message) us their work and we literally went through every. Single. One. Pages and pages. We looked at thousands—we got thousands in that first day we sent out the call. We ended up hiring 14 … and counting!
RELATED: 8 Steps for Hiring the Right Staff
NP: What are you seeing for nail trends?
TT: We're going to set the bar!
Coca Michelle: We're bringing back the airbrush, of course!
TT: We're about opening the door for more creativity in the nail salon. We want people to express themselves more [through nails] and not feel like they have to be in a box.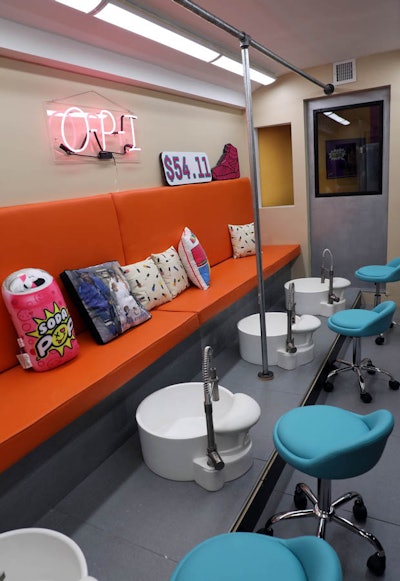 NP: What made you reach out to OPI as a partner in your salon?
TT: I've always been a fan of OPI. Originally, I was set to just be an OPI ambassador. But, it was perfect timing because Coca and I were working on Junie Bee Nails really low-key for a year, and I thought why not partner with OPI on it? They came and saw [the salon] when it was still upside-down, and I appreciate OPI so much because they believed in my vision and us. That's what partnership is—period. People who believe in you. People who tell you that things are possible. That's what OPI has done with us every step of the way.
What do you think of this '90s-inspired salon? Let us know in the comments below!
—Karie L. Frost
*This interview has been edited for clarity and length.
[Images courtesy of OPI]