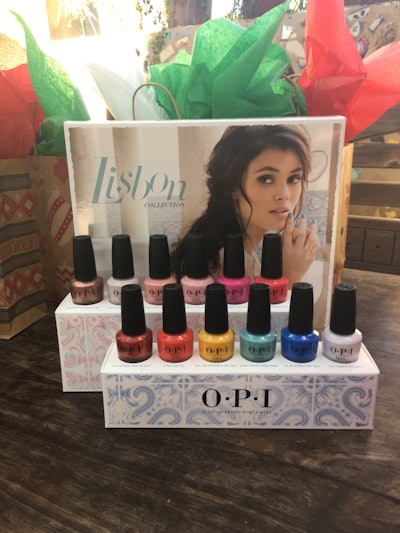 OPI loves to take the consumer and the professional around the world with its destination-inspired collections. This spring, the brand is setting its sights on Portugal with the Lisbon Spring 2018 collection. The set includes 12 new fashion-forward shades  and is inspired by Portuguese porcelain and stately castles, to name a few muses.
When OPI releases a new color collection, those trendsetting shades are made available in lacquer, Infinite Shine and Gel Color. OPI's Suzi Weiss-Fischmann announced the brand will now include Powder Perfection to the color franchise starting with the Lisbon collection. "We are giving the consumer choices and we want to offer choices of different enhancements so that the technician can cater a service to match the lifestyle of clients," Weiss-Fischmann says. "At the end of the day, we need to speak to our core audience which is the nail professional. We have to think about how she differentiates her services from the salon around the corner, with what colors and what services. There has to be something new all of the time," she says.
What do you think of the OPI Lisbon collection? Let us know in the comments below!
-Sigourney Nuñez