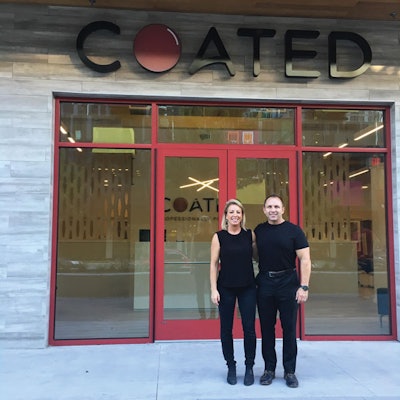 Owners Rebecca and Kirk Risha welcome Nailpro to their bright and airy Austin, Texas–based salon.
The Look
Coated is changing the nail service experience. Its sleek design incorporates the newest ventilation systems to ensure the healthiest environment for both clients and staff. Flooded with natural light, the salon boasts colors from our logo: soft gray, black, white, blue and pops of red. Known for our impeccable organization, we designed the space with clean lines, a practical layout and efficient functionality. A welcoming face greets guests as soon as they enter the lobby. While sipping a drink, clients enjoy manicures, pedicures, soaks, hot towel treatments and massages all without ever having to leave their lounge chair. At Coated, we work around our guests— not the other way around.
Signature Services
Clients spend an average of $52 and 45 to 90 minutes in the salon for each visit. Our most popular manicure is the Coated Signature Powder Manicure, which includes nail trimming and shaping, cuticle care, a relaxing hand and arm massage, and is finished with a hot towel and the dip powder shade of choice. Most clients opt for the Coated Signature Pedicure, which includes a softening foot soak, nail and callus care, a relaxing massage, hot towel and polish. Our guests can also buy a Coated Pass for any of our services. Last fall, we increased the price of four services on our menu by 12 percent.
The Goods
We selected our go-to brands through lots of product performance trial and error. We use OPI Powder Perfection, GelColor and polish; Kiara Sky gel polish; and CND's spa line.
The Outreach
Coated's success is due not only to our marketing strategy, but also to the community events we host and the charities we sponsor—from local schools and fundraisers to larger-scale events with a wider reach. Since we're located near Alamo Drafthouse Cinema and Zilker Park—home to the annual Austin City Limits Music Festival—we offer specials to Austin locals and visitors attending these events.
Social Life
Our website and Instagram yield the most success. We post our proudest manicures, specials, events, new color additions and parties held at the salon.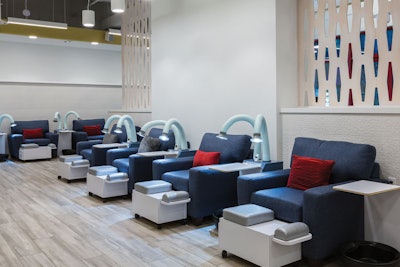 Up Close With Rebecca Risha
What was your first job in the nail industry?
"We started as franchisees of Massage Envy and European Wax Center and endeavored to create a nail salon brand that brings structure and professionalism into a fragmented industry. By creating a recognizable brand, Coated strives to raise the bar for professional nail salons."
What inspires you?
"Coming up with creative ideas to improve something is why Coated thrives. I turned my past negative experiences of getting manicures into positive improvements at Coated."
What is the funniest thing that happened to you when opening the salon?
"I've always cringed at the sound of nails being clipped and struggled with it when my kids were young. Picture me when we opened—manicures and pedicures underway and nails constantly clipped—I just laugh."
What's your best advice for new salon owners?
"Become a Coated franchisee! I can take the guesswork out of it."
What's your go-to client conversation starter?
"'What's on your nails right now?' It starts great conversation."
I can't discuss Coated without…
"Crediting my incredible team! I've been fortunate to bring on these talented people who ensure everyone stays 'Professionally Polished.'"
Details
Owners: Rebecca and Kirk Risha
EST.: 2017
Staff: Sixteen commission-and hourly-based professionals.
Benefits: Medical, dental, vision and prescription insurance; paid time off; monthly service and technique training sessions; and monthly contests.
Follow Coated on Social
Instagram: @coatedprofessionallypolished
Facebook: /coatedprofessionallypolished
–by Karie L. Frost
[Images: Courtesy of Coated]
This story first appeared in the September issue of Nailpro magazine. To receive the magazine, click here to subscribe.