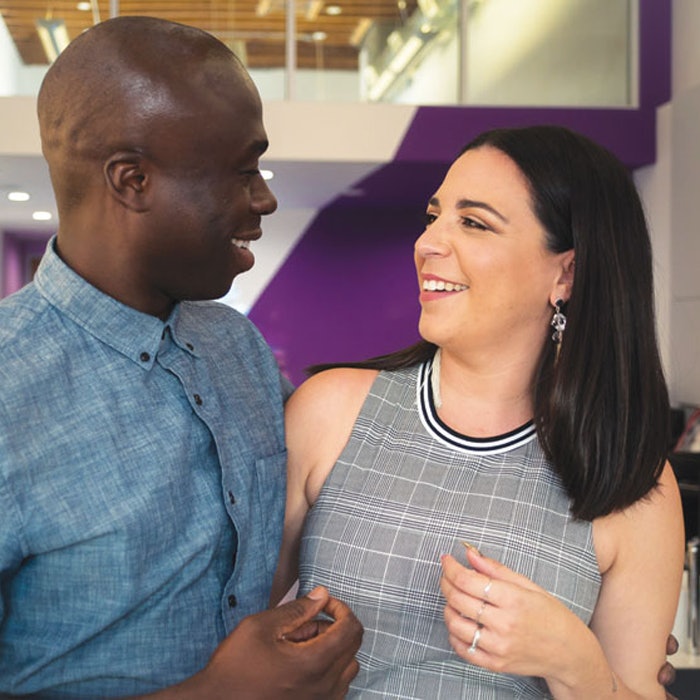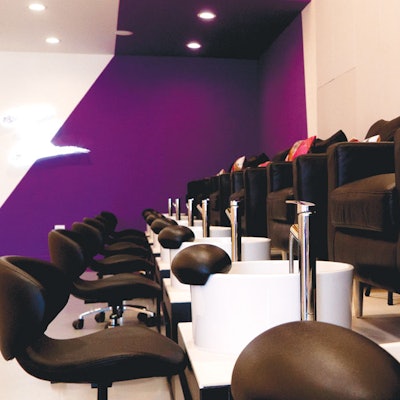 Owners Kristin and Edward Osei-Gyimah welcome Nailpro to their groovy new Los Angeles nail salon.
The Look
Inspired by Grace Jones album covers, Dime Nails—which opened last summer— transports you to an ultramodern space with an '80s flare that provides a one- of-a-kind nail salon experience. The design is lithe, sexy and hyper-feminine while simultaneously exuding a ribald, butch swagger. Keeping art and artists in mind, we designed our workspace to inspire creativity and innovation for our staff and clients. Located in the heart of Mid-City—fondly referred to as little Ethiopia—our block proudly holds mostly female-owned businesses, plus an array of fabulous local eats.
Signature Services
The Dime Nails experience begins with the question, "Wine or champagne?" Fueling Los Angeles's creative side, our diversely talented artists are ready to help clients curate unique and expressive nail looks. Dime Nails provides full-service manicures and pedicures, as well as acrylic and hard gel extensions. In addition, we provide a selection of extra-care services catered to alleviating stress and helping clients relax and rejuvenate. Our most popular nail services are the Feeling Myself Gel Manicure ($35) and the Brand New Polish Pedicure ($28). Clients spend an average of $60 and anywhere from 35 minutes to three hours in the salon, depending on which services they choose. We constantly play a blend of amazing tunes and offer excellent customer service.
RELATED: Nailpro's Readers Choice Awards Winners 2018
The Goods
We use OPI, Gelish, Essie, NCLA, Color Club and Vetro. Aprés, Daily Charme and Born Pretty supply us with charms, rhinestones and all-things nail art related.
The Outreach
We regularly get involved in our community any way we can. We volunteer with and donate to all of the Pic-Fair and Wilshire Vista neighborhood events benefiting local schools and charities. We also hold raffles and contests in the salon to bring awareness and give donations to L.A. Kitchen, a local nonprofit that reclaims healthy, local food that would otherwise be discarded and trains men and women who are unemployed for jobs, all while providing healthy meals to fellow citizens.
RELATED: Savvy Salon – Prép Beauty Parlour, Vancouver, Canada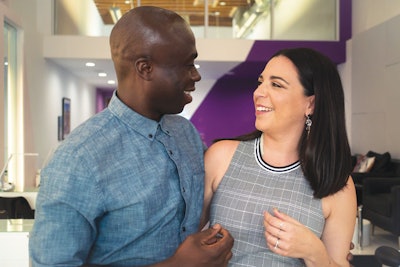 Social Life
Social media allows me to give my brand a voice and face. It keeps our followers in tune with who we are, what we love and how they can connect with more of their tribe. They engage with our brand's personality, which is incredibly fun. We've experienced the most success using Instagram and the Nextdoor app. We reach the nail-obsessed on Instagram because of the unique nail art we do and our chic, modern space, while Nextdoor reaches people in our community. With a little word of mouth and local endorsement on the app, our neighbors have really taken to us.
Up Close With Kristin Osei-Gyimah
What was your first job in the nail industry?
"I worked with private clients out of my home doing acrylics and hard gels."
RELATED: Savvy Salon – Namaste Nail Sanctuary, Studio City CA
What inspires you?
"Women. Literally, women. I love to see us doing our thing as mothers, business owners, artists and daily grinders. We're resilient as hell, passionate, determined and—for the most part—always trying to improve whatever situation we're in. It's an amazing thing to watch, and I'm humbled by women daily."
What was the biggest mistake you made when opening the salon?
"My first supply run was a disaster. It was extremely difficult to gage what I'd need and how much of it I'd need at a time. Two SUV loads later, I literally ended up with a massive supply situation—about a third of it completely unnecessary. You live and learn. I laugh at it now."
What's your go-to client conversation starter?
"Wine or champagne to get you started?"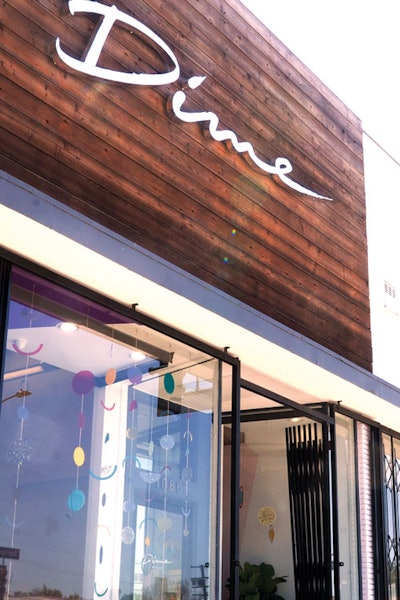 What was your most recent impulse buy for the salon?
"A pair of custom-made Nike Air Max shoes designed with Dime colors and patterns that stand on display in the salon."
What's your best advice for new salon owners?
"Be prepared for competition, but don't be intimidated by it. Your salon space is yours alone, and people will come if you stay true to what inspired you to open it in the first place. Stay the course, hustle to promote it and don't let what others look like they're doing distract you from your goal."
I can't discuss Dime Nails without . . .
"Smiling like a cheese ball from ear to ear."
Follow Dime Nails on social: Instagram, Facebook.
–by Angelina Lewis
This story first appeared in the January issue of Nailpro magazine. To receive the magazine, click here to subscribe.
[Images: Courtesy of Devin Hassan; Kick in the Door Films]