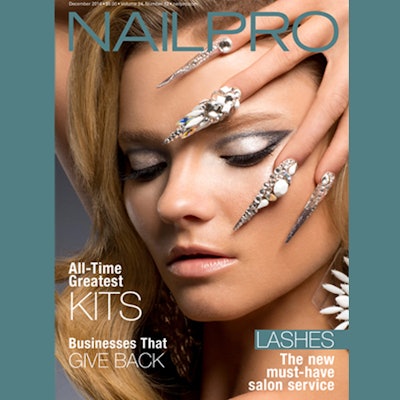 See what's in the December 2014 issue of NAILPRO! Our digital edition offers you everything in the print magazine PLUS live hyperlinks to products and advertisers as well as video and audio! Download the NAILPRO app from iTunes and read the digital edition on your iPod, iPhone, iPad and/or iTouch!
The San Francisco hot spot that began as an app attracts young professionals and nail art enthusiasts »
Savvy Salon: Top Coat Nail Studio
Champion nail artist Amy Becker on creating winning 3-D designs. Plus! Spotlight on Sam Biddle »
Competition Corner: 3-D Nail Art 101
Stars with striped nails took center stage at the 66th Primetime Emmy Awards. »
Hollywood File: Fine Lines
Get a lacquer look that lasts with OPI Infinite Shine and soothe dry heels with Cuccio Naturalé Professional Pedicure Hydrating Treatment. »
Pro Talk
Discover why salons around the country have made charity work a part of their business model. »
The Beauty of Giving Back
The latest all-in-one product packages, bursting with essential implements and accessories. »
One-Kit Wonders
A mobile-friendly website will help you attract and keep clients in the digital age. »
Make it Mobile
Solutions to five of the biggest workspace challenges, from uncomfortable chairs to annoying associates. »
Salon Stressors
Find out why nail salons are adding lash extensions to their service offerings and how you can get it on the eye-enhancing action. »
Lash Out!
Tips and tricks for creating the most classic of acrylic talons. »
Workshop: Pink-and-White Perfection
Add some sparkle and shine to your seasonal designs. By Pam Minch » Art Gallery: All That Glitters
Best pedicure practices for clients who walk in with athlete's foot. »
Nail Clinic: Fungus Among Us
Stylish sweaters inspire and fuzzy fingertips. »
Polished Look: Knit Wits
Get up close and personal with the president of Valentino Beauty Pure and VBP International.. »
Beauty File: David Dilorenzo
CND co-founder and style director Jan Arnold tackles your nail questions. » Guest Editor: Ask Jan
Also check out our bonus issues this month:
Check out NAILPRO Essentials for 2014. We focus on your business and the state of the industry. »
Essentials 2014
See NAILPRO's Gold Book for 2014. The best nail products of the year according to you, our readers. »
Gold Book 2014