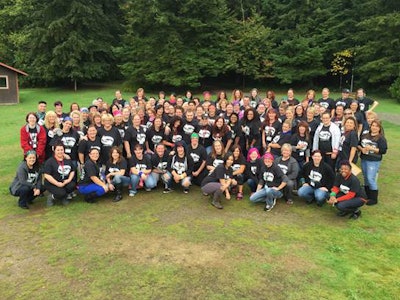 Last week from October 17-20th, over 110 Nail Techs descended on Camp Burton just outside of Seattle, Washington to attend the 4th Northwest Nail Tech Retreat. With over 25% of attendees joining the event from Canada, it is one of the largest international educational events for nail techs in existence and also included a tech from Barbados and over 12 U.S. states! Designed by nail techs for nail techs, this event focuses on fun, friendships, and fantastic nails.  Over the course of four days, nail techs attended five 75 minute classes, one five-hour hands on workshop and two three-hour workshops.
?This year's theme was "Pay It Forward." To live this out, everyone donated product to area nail schools, and a lifetime achievement award was given to Vicki Peters for Paying It Forward in our industry! Fundraising over the course of the weekend allowed the NW Nail Techs to donate over $1700 to Polished Girlz.  
 
In one of the larger non-trade show competitions in the US, over 40 competitors applied salon-style nails and were judged by Vicki Peters, Amy Becker, Lorena Marquez and Tami Schmidt of INM North. Amazing art was revealed by both attendees and educators during the mixed media competition. The top three finalists in both novice and veteran categories received medals and prize money. And for the first time, we bestowed a crown on the Educator who competed and had the best overall score; Yire Castillo!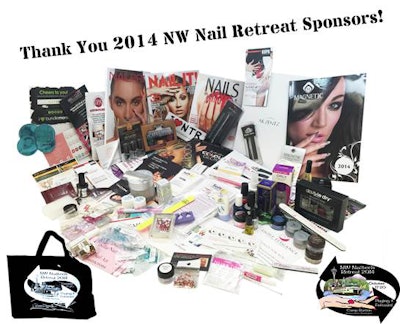 ?
With over 50 nail companies donating product for techs to try, the swag bags totaled $530 in product for each attendee, in addition to amazing raffle prizes that were given out over the course of the weekend.  Unlike other events, techs are using the products during the event to practice, for competition and late at nights in their cabins practicing with other techs.  
 
The 2015 NW Nail Retreat will take place October 16-19th at Camp Burton, Vashon Island. Educators are urged at contact the NW Nail Techs if they would like to participate, space is very limited. If you are interested in particpiating next year, visit: nwnailtechs.com.
Images: Jess Hoel/NW Nail Retreat