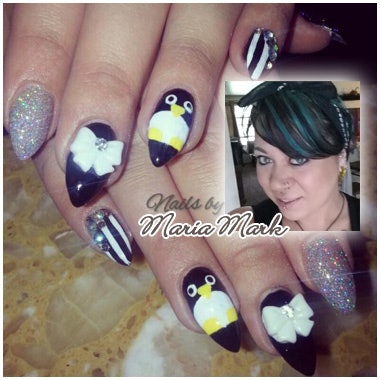 Welcome to NAILPRO's Nailed Down! where we "nail down" nail artists and technicians from our User Galleries and get to know them and their amazing work!
This week we visit Green Bay, Wisconsin!
Meet Maria Mark:
Where do you work?
Hollywood Nails & Spa
How would you describe yourself?
I'm a hard working mother of one 12 year-old girl, Eve, and 3 year-old pitbull, Dolce. Fun and funny, I love to make people laugh and joke around. Independent and professional, creative and crafty. I'm a lover of art. I appreciate all aspects of art in everyday life. I try to be kind to everyone I meet because I'm a big believer of karma and I always try to pay it forward in life when I can. There's not enough kindness in the world and if I can help just a tiny bit then that makes me happy.
How did you get started in the nail industry?
A roommate and good friend of mine at the time was already working in a nail salon and eventually got me interested in doing nails also. He is an amazing nail artist as well, and taught me so much of what I know. Once I started getting into the art aspect of the nail business, it was a done deal. I loved it and knew right away that this was my passion. Almost 11 years later, I am still loving my job every day.
What/Who inspires your work?
Everyday things inspire my nail art. If I'm out and about and I see a shirt or purse or whatever that someone has that I like, I always am thinking, "this would be amazing on nails!" My daughter is also a huge inspiration in everything I do. She definitely gives me the drive to do everything at my best potential and to be a better person. My good friend, Thao, who taught me so much of what I know about nails, is also an inspiration to me. I'm grateful to him for sharing his knowledge with me. I always look up to him for that as well. My clients are a great inspiration to me, too. Each person is so different and awesome. I have seen many of them for numerous years and they challenge me and encourage me to do the best I can.
Are there any tools you can't live without?
My art brushes! I have a pretty good collection of brushes but I have only a certain few that I use all the time. They're worn perfectly and are hard to replace. Rhinestones and glitter are also are must haves! I love things that sparkle and the swarovski-like rhinestones are always a favorite all around.
What is your favorite technique/style?
I am always changing my techniques to try new things and to see if something works better than what I have done before. I'm always researching YouTube and various sites and tutorials to learn new things. One of the best things about this business is that learning never ends.
What is your craziest/funniest nail story?
Almost everyday is a crazy day working in a nail salon. LOL! Not sure if I could pinpoint just one. I work in a salon now that is pretty big. We have 26 pedi chairs, 17 nail stations, and 8 manicure tables. I like to refer to it as the Walmart of nails. 🙂 There is a huge variety of clients who come in from all walks of life. So every day is truly an interesting experience. From the crazy clothes some wear, to the crazy requests you get, or the crazy talks with clients during the services. This also is what makes me enjoy work every day.
What tip can you offer other nail technicians?
Always have your clients leave happy. I always make sure they are getting exactly what they want and give them the quality services they deserve. I also try to never do the same design on nails more than once so that every set of nails I do is unique. Even if a client brings a picture in, I try to put my own twist on it to make it different. I also like to try and do something better than I did before. Being a slight perfectionist, I try to get the lines more straight and the blending better the next time around. There's ALWAYS room for improvement!
Anything else you'd like to add?
On a personal note, this email for the interview was sent to me at the right time. I was debating going to school for some other profession because I was feeling things were getting mundane and I was thinking I was starting to lose passion for my work. When I opened the email stating NAILPRO wanted to feature me, my heart started racing and the adrenaline kicked in. That cleared it up for me. This IS my passion. When your heart starts to beat over a feeling of pride in your work, then, yes, it's what I was meant to do. So thank you for sending me this and helping me see this is TRULY what I love to do!
You can find Pilar on the web:
In the NAILPRO User Gallery: Nails By Maria
Facebook: NailsBy Maria
EnjoyGram: @oh_she_nailed_it
Click here for more Nailed Down! interviews »
Would you like to be featured in NAILED DOWN? Post images of your nail art to our User Gallery. We'll be highlighting outstanding artists based on those submissions! (minimum six pictures to qualify for consideration) NAILPRO reserves the right to edit submissions for length, grammar and clarity.