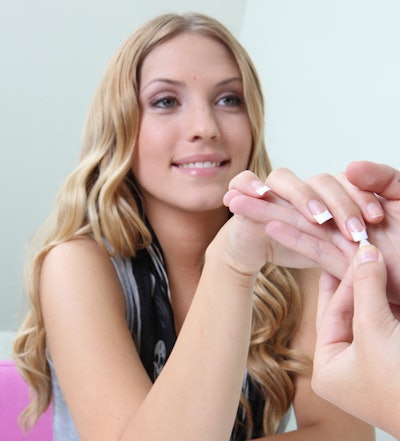 As the presence of estheticians in cosmetic practices continues to grow, some doctors are starting to incorporate other beauty professionals—including hair stylists and nail technicians—into their practices to offer their patients a "one-stop-shop" for aesthetic care.? In an effort the help physicians find well-trained nail technicians to care for their patients, the Medinail Learning Center (MLC, www.medinail.com) has launched a new training program aimed at helping nail professionals understand the culture of medical practices and the needs of these patients, so they are more prepared to assist in these environments. The MLC site also offers a job board to connect physicians with graduates.
MLC offers online-only training programs and certifications, including the Certified Advanced Nail Technician(ANT-C), the Certified Medical Nail Technician Program (CMNT), and the Certified Clinical Podiatric Medical Assistant Program (CCPMA). The CMNT and CCPMA are endorsed by the American College of Foot and Ankle Orthopedics and Medicine, an educational affiliate of the American Podiatric Medical Association (APMA).
"Podiatrists and other physicians want to hire our graduates but too many times they just cannot connect easily," says Janet McCormick, managing partner of MLC. "We had to find an easier way for them to get together."
The job board offers listings for physicians who want to hire a trained nail professional as well as listings for nail technicians who want to work in a medical office.
"Nail technicians are licensed to trim nails, reduce calluses and check the feet for out-of-normal conditions during pedicures, and that is also a description of a service called Routine Foot Care that is performed in a podiatry office," says Robert Spalding, DPM, practicing podiatrist in Chattanooga, TN, and MLC co-owner and co-author.
In his own practice, Spalding delegates many of these nail care maintenance procedures to licensed nail professionals, once he determines that his patients' feet are healthy. "As long as the client has healthy feet, we can have a nail technician perform a cosmetic pedicure during which she trims the nails and reduces calluses…The client's feet are more comfortable than when podiatrist or physician performs the service," he says. "And their feet are more attractive than when we do it."
Source: http://medestheticsmag.com
[Image: Wikimedia Commons/Fing'rs]