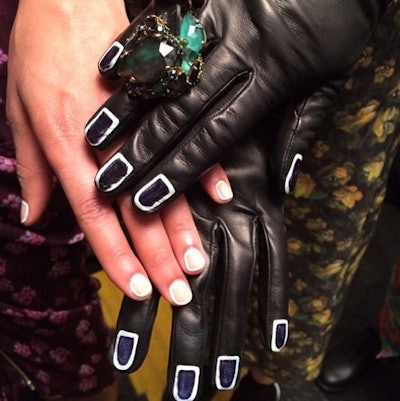 Furs, sunglasses, and quirky sweaters lined the stage at Fall/Winter 2014's Band of Outsiders presentation at New York Fashion Week.  The nail look was created by Deborah Lippmann, inspired by the black leather gloves with outlined nails that was part of the collection. Lippmann shared: "It was from this which I was able to transform the classic French manicure into something that was new and fresh, the Band O' French."
Try it:
1. Nails were prepped with Cuticle Remover, nourished with Cuticle Oil and cleansed with 2 Second Nail Primer.
2. A single layer of Gel Lab Base Coat was applied to nails.
3. After 60 seconds of drying time, two coats of Naked, clean bare beige lacquer was applied to nails (pictured).
4. To create the Band O' French with Amazing Grace, a pure white lacquer (pictured), Deborah held the nail brush parallel to the top tip of the nail rotating the finger from left to right, allowing the nail itself to move – not the brush.
5. **Additional tips: For a more precise application, use a stripper brush or cut bristles on either side of the nail polish brush.
6. Repeat previous step over the back of the nail near the cuticle. Line in the same way as the tip.
7. To line the sides of the nail, start at the back and pull up to the front edge of the nail.
8. Gel Lab Top Coat sealed nails to prevent chipping and add a high-shine, cushiony finish. A final massage of new The Cure and Rich Girl SPF 25 Hand Cream finished the nails.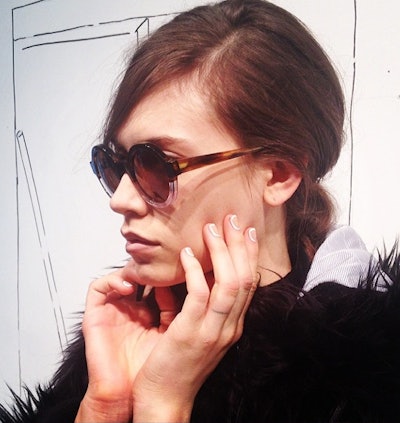 [Images: Deborah Lippmann]