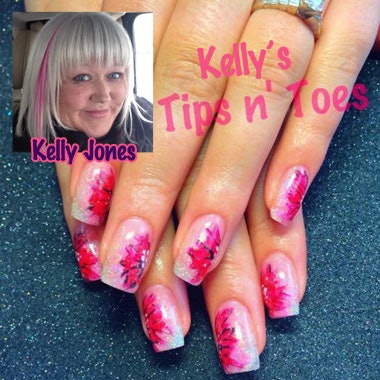 Welcome to NAILPRO's Nailed Down! where we "nail down" nail artists and technicians from our User Galleries and get to know them and their amazing work!
This week we visit Leduc, Alberta Canada
Meet Kelly Jones:
Where do you work?
I am the owner of Kelly's Tips n' Toes.
How would you describe yourself?
Creative, inspired and focused on being the best that I can be.
Tell us about how you got started in the nail industry.
I worked in a hair salon as a salon coordinator. We didn't offer Nails as a service but fielded several inquiries regarding whether we did. That inspired me on my quest to becoming a Nail Technician. I started out private training but needed better education, so I enrolled in a school in Edmonton, Alberta way back in 1999.
What/Who inspires your work?
Canada has many fabulous and talented nail technicians to whom I look to for inspiration. Sarah Payne out of Victoria, British Columbia is one whom I adore. In my community we have an explosion of Non Standard Salons to which I see daily the damage they are causing to women's nails. This motivates me to be a voice to women in my community about sanitation, education, ensuring your Tech is certified, health inspected and business licensed!!
Are there any tool(s) you can't live without?
My Erica's MT20!!
What is your favorite technique/style?
Everyone who knows me, knows I love all things that glitter and sparkle.
What is your craziest/funniest nail story?
Years ago I had a client who had a new beau who liked to ride a Harley. So on her birthday, he surprised her with a nice pair of leather chaps. As his birthday was getting closer, during an appointment she was asking me for ideas on how to surprise him for his birthday. I suggested getting photographs of her wearing nothing but her new chaps. Well, guess who was the photographer? Yes, ME, the nail tech! So one afternoon on her lunchbreak we had a photo session in my living room taking some amazing photos for her beau's birthday surprise!
What tip can you offer to other nail technicians?
WEAR GLOVES!!! I have developed dermatitis after years of exposing myself to nail dust and alcohol in the cleansing products. I now deal with constant eczema on my fingers which at certain times of year flares up badly and it can be quite bothersome and painful. WEAR GLOVES nail technicians!!!
Anything else you'd like to add?
I cannot express to all nail technicians out there the importance of education, sanitation and having patience. Clients will come and go. Some you will beat yourself up over thinking you did something wrong. But don't fret. In time you will establish a clientelle of amazing women who brighten your days and fullfill your passion of doing nails!
You can find Kelly Jones on the web:
In the NAILPRO User Gallery: I may not be the best, but I strive for my level of perfection
Facebook: Kelly's Tips n' Toes
Click here for more Nailed Down! interviews »
Would you like to be featured in NAILED DOWN? Post images of your nail art to our User Gallery. We'll be highlighting outstanding artists based on those submissions! (minimum six pictures to qualify for consideration) NAILPRO reserves the right to edit submissions for length, grammar and clarity.