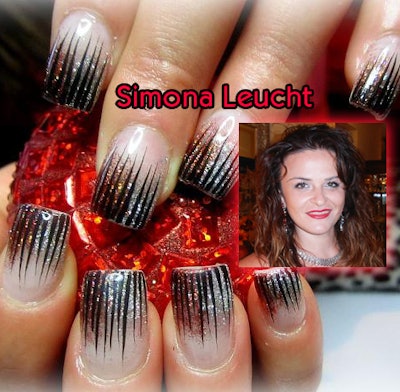 Welcome to NAILPRO's NAILED DOWN where we "nail down" the details of selected nail design artists from our User Galleries.
This week we go around the globe to Gaeta, Italy!
Meet Simona Leucht:
Where do you work?
I work at home were I've turned the guest bedroom into a lovely and cozy nail studio!
How would you describe yourself?
Stubborn and determined. I love to make people happy, so what better way to help women feel good about themselves than with good looking nails!
Tell us about how you got started in the nail industry.
In high school I always had a passion to have my nails done. After I graduated, I decided to go to the International Academy in Daytona Beach, Florida. I moved back to Italy and what was first a hobby I'd do on my sisters, became a full time job.
What/Who inspires your work?
The internet is very helpful with ideas, and YouTube I believe can help you when in doubt of any technique. Also, magazines are my life, and I stay updated with the latest fashion! My favorite Nail techs are Sarah Payne, Wahn Nails, and Mindy Hardy.
Are there any tool(s) you can't live without?
My acrylic brush and my dotter!
Do you have a favorite technique or style?
Animal print nails are my favorite. If I could I would wear animal print makeup!
What is your craziest/funniest nail story?:
I was experimenting with a bridal design on my mom who is 68. So she decided to play a joke on her girlfriends and told everyone she had found Mr. Right and the week after she was getting married!
What tip can you offer to other nail technicians?
Practice makes perfect!
You can find Simona Leucht on the web:
In the NAILPRO User Gallery: Nail by Simona
Facebook: Simona Leucht
Pinterest: Nails by Simona Leucht
Instagram: Nailsbysimona
Click here for more Nailed Down! interviews »
Would you like to be featured in NAILED DOWN? Post images of your nail art to our User Gallery. We'll be highlighting outstanding artists based on those submissions! (minimum six pictures to qualify for consideration) NAILPRO reserves the right to edit submissions for length, grammar and clarity.