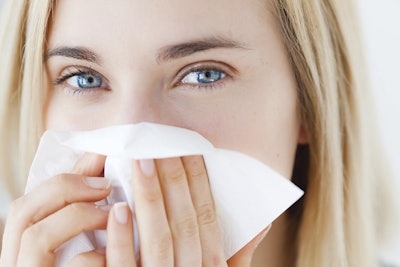 Kendall Mastin blows her nose pretty much every day. The Texas-based nail technician, who works for The Knot Hair and Nail Studio in Fort Worth, suffers from all kinds of environmental allergies, particularly to dust, pollen and mold, and fall tends to be her worst season. "I'm pretty sniffly year-round, but on days where it's especially bad, I'm getting up every two minutes to blow my nose," says Mastin, who finds she sometimes has to reschedule a whole day of clients when her allergies are really acting up. "It's hard, especially when my week is full. I end up working 12-hour days because of my allergies."
Unfortunately, Mastin isn't alone. More than 50 million Americans suffer from allergies each year, according to the American College of Allergy, Asthma & Immunology (ACAAI), and at their worst, the symptoms—sneezing, a congested or runny nose, tearing and itchy eyes—can feel like an all out attack on your system. If you suffer from seasonal allergies, take a proactive approach by learning how to identify (and avoid!) triggers and treat symptoms should they arise. Here's what you need to know.
What causes seasonal allergies?
According to ACAAI, allergy symptoms occur when the body's immune system reacts to what's typically a benign substance, like pollen, dust or mold, as if it's harmful by sneezing, becoming congested and tearing to expel the allergens. Symptoms tend to be worse in seasons when pollen and mold are most prevalent. During the fall, one common culprit is ragweed, a plant that grows where soil has been disturbed, such as on the side of a road, says Richard Lavi, MD, FAAAAI, FAAP, an allergist and immunologist at the Allergy Asthma & Sinus Relief Center with three locations in Ohio. "It pollinates like mad," says Lavi. "There are a bunch of other weeds that pollinate at this time, but ragweed is ugly. The wind blows the pollen into our eyes." Other common plants on ACAAI's fall allergen list include burning bush, cocklebur, lamb's-quarters, pigweed, sagebrush, mugwort, tumbleweed and Russian thistle.
Related: How to Safely Service Diabetics
Geography can also play a role for seasonal allergy sufferers. "The Midwest is big on pastures, grasses and fields, and in the South, pollen has a longer season because there's more humidity," says Lavi. "Florida is awful for grasses, and the allergy season goes all year there. Oak trees that are transplanted there pollinate in February, and Texas pollen explodes in February." In areas with cooler winters, the spring allergy season starts when grasses grow and begin pollinating as the weather warms up. Other allergens include mold, which occurs year-round, but tends to be more prominent in wet, damp conditions, and dust, which is also everywhere, but proliferates in wet, humid conditions, common in the autumn, says Lavi.
How to treat seasonal allergie
For many allergy sufferers, over-the-counter medicines can provide relief. Brand-name over-the-counter nasal sprays, such as Flonase, Flonase Sensimist, Nasacort and Rhinocort, can be effective for treating nasal congestion, sneezing and runny nose, but they need to be used regularly, advises Lavi. "Nasal sprays are steroid-based, and if you use them, they are pretty helpful," says Lavi. "If you flirt with them, they do nothing." Over-the-counter antihistamine pills, such as Allegra, Zyrtec and Claritin, can help relieve sneezing and itchy eyes, Lavi says, but their effectiveness varies from person to person and they don't treat congestion and prevent symptoms like nasal sprays do; instead, they provide relief once the symptoms have already arrived. "They usually kick in [after] an hour and get you some relief," he says. For itchy eyes, over-the-counter eye drops are effective, too. When symptoms are mild, sometimes only simple remedies are needed. "I've found that trying to keep my head up helps with a runny nose, and menthol creams keep me from sneezing so much," says Mastin.
If drugstore allergy remedies don't provide relief, Lavi recommends prescription medications, such as Singular (a pill), a combination spray called Dymista that includes an antihistamine and a steroid, steroid eye drops, or pills for swelling and "out-of-control" inflammation. Those with severe allergies may benefit from immunotherapy—treating allergies with injections—though it does take some time. "If you have the right person and the right process, there can be a big payoff," says Lavi.
Prevention and Treatment
One of the best things allergy sufferers can do to prevent symptoms is to avoid contact with allergens as much as possible. Pollen levels peak in the morning, so staying inside during the early part of the day can help limit exposure. Also, taking a shower each evening will help remove pollen from your hair before bedtime. Wash any clothes worn outside to remove pollen, but don't hang them up outside to line dry; they'll just collect pollen before you wear them again. Try to stay inside in an air-conditioned climate, and refrain from opening windows. If you're planning a trip, check a pollen count website like pollen.com before you go for a local pollen forecast so you know whether or not to pack your allergy meds.
Salon owners who want the cleanest air can set up a "negative airflow situation with forced air venting from the outside," says Karen Hodges, cofounder of online education platform Nailcare Academy and spokesperson for the International Nail Technicians Association. HEPA (high-efficiency particulate air) filters will finely filter out pollen, dust and other allergens from the air. "Using HEPA filters with your HVAC [heating, ventilation and air cooling] system will filter the air circulating in the salon, including the fresh air that comes in the doors when people enter and exit," says Hodges.
While air filters and meds can help nail techs who suffer from allergies find relief, sometimes an attack makes it just too hard to work. Mastin is upfront when she needs to reschedule clients because her allergy symptoms are simply overwhelming. "They've always been very understanding when that happens," she says. "Don't be afraid to put your health first! Your clients will appreciate not being sneezed on."
Take the corresponding quiz here
-Cheryl Alkon is a Massachusetts-based health and medical writer and the author of Balancing Pregnancy with Pre-Existing Diabetes: Healthy Mom, Healthy Baby.
[Images: Courtesy of Getty Images]
This article was first published in the September 2018 issue of NAILPRO