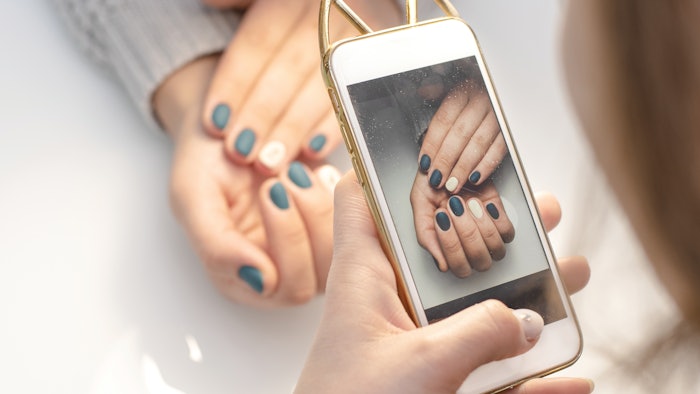 As nail professionals continue to embrace the adage "social media is the new business card," there is an accentuation placed on sharing the best scroll-stopping content. As such, the use of photo editing apps have become a necessity for those looking to edit their photos and videos to near perfection.
For those who do not possess photography prowess, or who are only just beginning to utilize social media, two Nailpro educators, Devin Strebler and Shirley Cheng, have shared tips and tricks for the basics of photo filtering.
After a quick glance at the app store chock-full of mobile apps promising to make your pictures immaculate, selecting an editing app or program for your business can seem daunting; however, Strebler often opts for the native smartphone editing tools to adjust the exposure and contrast of the images—no outside app necessary.
"For pictures, I use the FaceTune patch and smoothing tool if I have a client that has bitten or chewed cuticles or pulled hangnails. For videos, I use TikTok and the INSHOT app for quick video editing and iMovie on my laptop for much longer tutorials," she adds.
Cheng, who has a Samsung, opts for LightX or Photo Editor for editing her pictures. "Even Instagram has great edit features nowadays," she enthuses.
While filters can work wonders, they work best when the original photo was snapped in optimal lighting. "I always suggest a white background that does not take away from the focus of the nails," Strebler says. "I just use a blank piece of white computer paper for the background. The matte finish of the paper does not pick up any glares in the background of your photo—it is the best. The lamp I use when shooting is the Slimline Table Lamp from Daylight Co., which can be purchased on Amazon."
For Cheng, the most important aspect of any manicure photoshoot is prepping the model. "Less is more, and do not forget to moisturize." She recommends completely rubbing in the cuticle oil. "The camera enhances that shine so the fingers will just look greasy and not moisturized."
If social media really is the new business card, it only makes sense that your salon or personal brand's watermark is visible on the pictures you post. While Strebler encourages this type of branding, she cautions, "Using watermarks that are extremely huge [is a common mistake] because most brands do not like reposting pictures with huge watermarks—it ruins the aesthetic of their instagram feed. Try using an extremely small watermark, if any, such as the name of the artist hidden in the picture somewhere visible, but not overly big and distracting from the overall image."
While it may be tempting to go all out with every editing tool an app provides, Cheng warns that photos that look "too perfect" give clients unrealistic expectations. "Do not over edit, and do not use too many filters. Our art takes time and requires aftercare and maintenance. Take the filters down a notch so the nails look more authentic. Be conservative with the editing, too. Even hand models do not have perfect hands and nails."