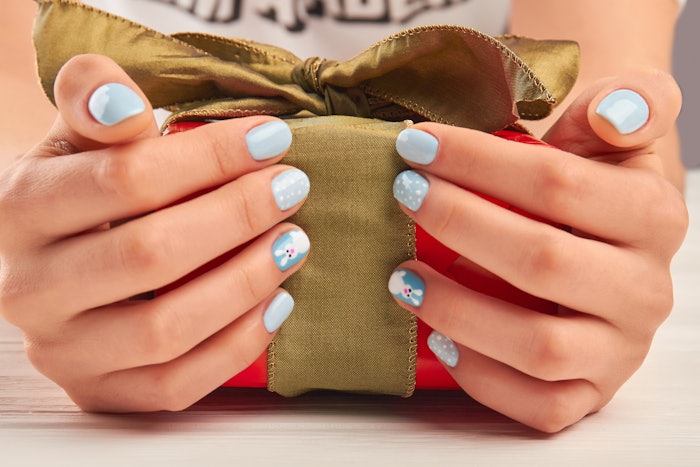 This holiday season, we were curious to discover what presents nail artists gifted their clients each year. We have asked eight nail professionals what they like to gift and to whom!    
Kim Hall-Squibb (@enhancedbykim), Nail Technician, St. John's, Newfoundland
"I gift each of my clients the same Christmas package every year, and they look forward to the little treat: a handwritten holiday card—handmade by me—a homemade mint hot chocolate packet and a cuticle oil. Each gift costs roughly $5, but my clients love it every year."
Kayla Warichak (@nailwaukay), Manicurist, Wauwatosa, Wisconsin
"For the holidays, I always make each client a little goodie bag. Last year's consisted of Aveda Hand Relief, two stickers with my logo, a handmade keychain to clip to debit cards to make handling them with long nails easier and some holiday candy—all for about $2.50 for each bag (about $130 total). I want to do something similar this year but make small changes—i.e., tweak my keychain clips a bit or include a different lotion. My clients loved the keychains and stickers the most."
Lisa Dyer (@thaliabeauty_bylisa), Nail, Brow and Lash Technician, Southampton, Hampshire: 
"I give my regular clients vouchers for future treatments, which they seem to love. I think that initiative also keeps my January and February months busy. I give a little extra to those clients who tip me generously throughout the year."
Joyce Steele (@nail_me_right), Cosmetologist and Small Business Owner, Murrieta, California:
"I make gift bags for each client. Every bag includes basic manicure essentials: cuticle oil, lotion and scrub cubes. I also personalize bags for my VIP clients who come in religiously and always tip me well."
Jessica Warzyniak (@OohNiceNails), Nail Artist, Crown Point, Indiana:
"I gift all of my regulars something different each year, and I am looking to spend around $7 to $10 on each client. Homemade cookies, lottery tickets, lotion and cuticle oils are some of my go-tos. My clients' favorite, by far, was when I sourced a local soap maker to create nail polish bottle-shaped soaps—I paired them with loofahs! Everyone tells me how much they appreciate their handwritten cards with a special message thanking them for supporting my small business. I make sure to add personal inside jokes or things that I specifically remember about them and appreciate them for. After all, they are the reason I get to own my small business."
Kourtney Snow (@goldiegirlkourt), Esthetician and Nail Technician, St. John's, Newfoundland: 
"I write Christmas cards for all of my clients. I will also gift a voucher for 10% off a future appointment, a cuticle oil pen, mini bottles of hand cream and tiny chocolates."
Ariel Callister (@nail_bliss_moreland), Nail Technician and Owner of Nail Bliss, Blackfoot, Idaho:
"I definitely gift my regulars a cuticle oil pen, paired with a treat from a local shop, massage therapist or craft vendor."
Cortney Clark (@nailsbycortney), Nail Technician, Concord, Ohio: 
"For the past couple of years, I have made chocolate bark—with various flavors like peppermint—to gift to my regulars. It is made with love to say thank you for being loyal. Everyone loves and looks forward to it each year!"
This piece was originally published in Nailpro's November/December 2021 magazine.