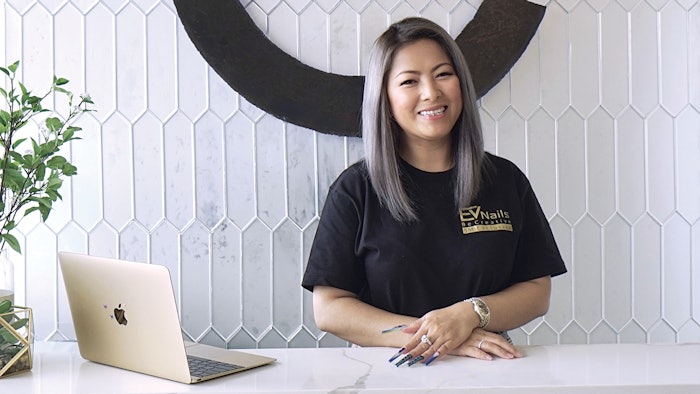 The Backstory
Salon ownership is not new to Evon Yen Vuong. "I've had multiple traditional salons before, but I've always dreamt of building a unique salon studio where talented nail technicians with a passion for nails do not treat each other as owners or employees but instead as independent artists building their careers together."
Vuong's family moved to Seattle, Washington, in 2013 to start a new life where she discovered that the nail industry in the big city came with a lot of competition. "It was hard to even survive. I opened a salon and had to find a way to draw my customers' attention, so I started to do more nail art and designs, took photos and posted on my Facebook and Instagram. Suddenly, everyone started to talk about 'that girl with her designs.'"
After that, clients poured in every day, but Vuong was the only one who had the passion to sit and create designs. "No other techs had any interest in it. I did not like that model of business, so I sold that place." Thus, EV Studio was born, which managed to thrive in the COVID-19 pandemic with the support of its clients.
Like many others, Vuong was unsure of how long the pandemic would last, so she did not want a big studio with a lot of overhead. In December 2020, she opened EV Studio in Kent, Washington, and focused on maximizing the space she had.
Week by week, Vuong and her team put time into renovations while staying open during the pandemic. The work has paid off, as clients delight in the upgraded studio when they return for appointments.
EV Studio initially started with four nail technicians and four nail stations. Four months later, the space has grown with 12 technicians, 11 nail stations and nine pedicure chairs.
Continue reading about EV Studio's unique aesthetic, signature services and its line of exclusive EV Nail products in the July/August 2021 issue of our digital magazine.