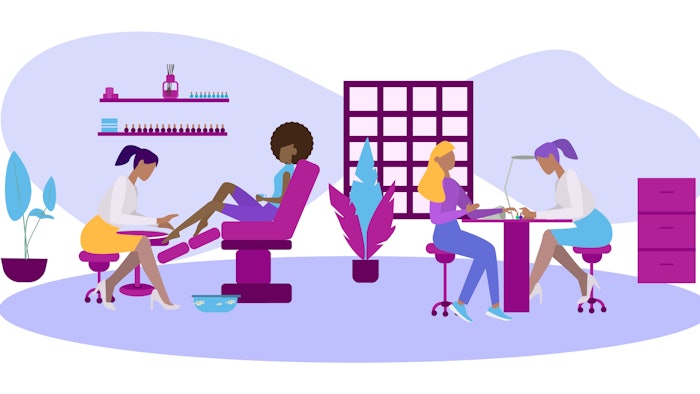 To say that COVID-19 had a unique impact on the nail industry would be putting it lightly. While professional nail salons were shut down for months, at-home nail color and nail care products boomed in their absence. So, what does this mean as 2021 starts to feel more like "the before times"?
Throughout the pandemic, and thanks to the power of TikTok and other social media platforms, consumers got creative with DIY nail art, hacks and self-care routines, all of which, according to Mintel (www.mintel.com), do not seem to be going anywhere amid safety concerns and money-saving initiatives. The market research company stated in its "Nail Color and Care" report from February 2021 that 34% of adults who did their nails at home during lockdown plan to continue to do them at home—even though salons have reopened—because they are trying to save money.
The report also stated that during the lockdown, consumers turned to nail care for a sense of fun, self-care and distraction from heightened anxieties during the pandemic, all of which turned into a kind of ritual for some. For those consumers, at-home nails will more than likely remain in their well-being toolbox as a way of unwinding and unplugging as anxieties about going back to the office, being in large gatherings and even opting to receive the vaccine begin to rise.
So, what does this mean for salons that need their loyal clients and new customers walking through their doors? Mintel offers some opportunities to the recovering industry.
1. Focus on Well-Being
You know the old adage: "Look good, feel good." Many consumers during the pandemic found that by maintaining good personal hygiene and grooming habits, their anxieties about the virus were lessened. This idea of bringing well-being and self-care into a salon setting can help consumers feel that they are still taking care of themselves and their mental health by indulging in a day of pampering.
As more subdued nail looks, natural nails and negative-space nails became major pandemic trends, the emphasis on nail health also gained more traction. Salons may consider offering a variety of nail treatments that include clean products and help embrace the client's natural nails in a self-accepting way.
2. Clients Just Want To Have Fun
Part of the allure of at-home nail art is searching the internet and social media for the perfect look to recreates. With social calendars wiped clean and trips outside the home restricted to weekly grocery runs, experimentation with nail art was welcomed. This idea of "playing around" with nails does not have to get lost once a client steps back into a salon and into the hands of a professional.
Salon owners and employees should encourage freedom of expression and areas where clients can play with products, color and nail art stickers or gems.