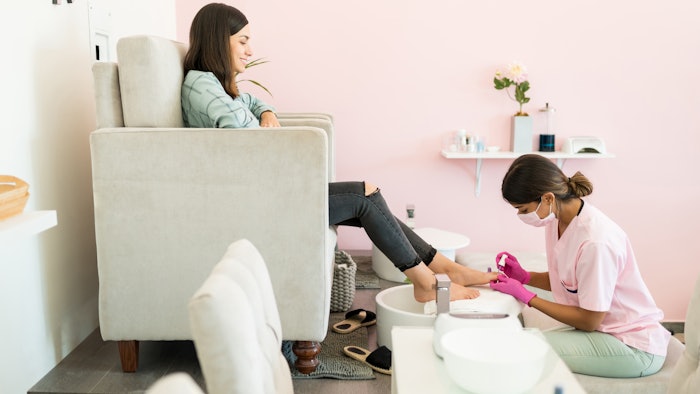 As spring and summer wedding celebrations slowly resume, members of the bridal party who have never frequented a nail salon may find it on the prewedding itinerary. Appointments with male clients have steadily been on the rise, and male manicures continue to grace Instagram feeds. With Covid-19 restrictions decreasing in many states, mommy-and-me day trips may treat young children who have been cooped up in their homes for more than a year. The point being? 2021 has the potential to provide an influx of first-time nail clients.
When a first-time client arrives at their appointment, there are a lot of factors to consider. What is their comfort level? How can you, the professional, help them select the perfect nail service? What approach should you take to make them a regular client?
Nailpro caught up with Gloria Williams (@the_footnanny), veteran nail technician and the owner/creator of Footnanny products and education, and Michelle Saunders (@michellesaundersjames), celebrity nail artist and the owner of Saunders & James, to discuss their tips for flawlessly serving first-time nail salon clients.
Children in the Salon
"I have found that most parents want to enjoy their manicure without having their children around, but some parents treat manicures and pedicures as family day," Saunders says. "In my salon, I offer a special just for children under the age of 10 so the manicurist is keeping the child busy and calm as the parent is also being serviced. Of course, salons are not babysitters, and very rarely have I had a customer abuse this policy; however, it is OK to have an 'adults only' policy if your salon is a spa."
When it comes to working with young children who may have a hard time sitting still throughout a mani or pedi service, Williams suggests keeping it short and sweet. "I suggest creating a quick 15-to-20-minute polish change service and have mom receive her quick service at the same time. This way, it all works out. I am sure mom will not be bringing her child during her extended appointment. In other words, create a mommy-and-me service that only takes 15 to 20 minutes."
Is your salon toying with the idea of setting an age limit on your nail services? Williams recommends setting the limit for ages six and up.
Men in the Salon
Men are embracing the self-care movement and expressing themselves through their grooming routines more than ever. As such, the stereotype of nail salons being for female clients only is being thwarted, and men are becoming more comfortable about making a pampering nail appointment.
When servicing a first-time male client, Williams advises that nail techs offer a manicure-only massage that is 20 to 30 minutes in length, which would include a buff shine and a five-minute hand massage.
Williams encourages nail techs to provide a callous treatment, sugar scrub, warm oil or warm cream massage and a buff shine ending. "Most men love either natural matte nails or buff shine because there is no chipping of polish."
Saunders, on the other hand, says that some of her male clientele pull out all the stops when it comes to their nail appointments. "I've had many male clients partake in nail art, so all are treated equally to most services."
First-Time Clients in the Salon
Walking into a nail salon for the first time can be daunting. With walls filled with hundreds of nail polish bottles and other clients receiving a plethora of services at their individual tables, it can be hard for first-time clients to know where to begin.
"Luckily, we have Instagram and Pinterest to support first-time nail clients, and many already have a nail art or nail polish album that they refer to during the appointment," Saunders assures. "My advice is to be patient as they may ask a lot of questions because there are so many nail products to choose from. It's not a bad idea to book a 15-minute consultation with new customers to go over all things nails."
Williams adds, "The first thing you want to do is inform them of your sanitation protocol so they will feel comfortable and know what to expect upon their arrival. Next, recommend one of your most simple and affordable services on the menu. Maybe suggest a natural nail manicure for conditioning their nails and an express pedicure with a complimentary 10-minute foot massage. These suggestions help showcase that you would love them to be your client and you truly care because you are trying to build a connection with them."
For some clients, like those who are part of a bachelorette party or joining a bride for some prewedding pampering, entering a nail salon may be something they never intended to do on their own and may have some anxiety about it.
"Patience and communication are key when guiding a new client into new nail services," says Saunders. "Educating and consulting with a client will set you apart from other salons because it shows that you take the time to care about their needs and wants. Plus, it gives the manicurist a moment to analyze the nails so they can advise on what best product to use. For example, maybe a client wants dip powder but after consulting on the health of their nailbed, a gel manicure may be a better option. It's important to ask questions about the client's lifestyle because that will determine how well their nails last and gives an opportunity to upsell or downsell to fit their unique needs."
Then, of course, there are the clients who are incredibly ticklish and have avoided nail salons for this very reason.
"First, ask questions on a client card that will let you know what services to recommend, including the question 'Are you ticklish?'," Williams advises. "Let them know you will adjust to a tickle-free experience by applying firm pressure to their feet. You may even take it further and take a couple of minutes prior to starting the service by trying some sample massage touches just to make them feel more comfortable."
Advice for Making First-Time Clients Regular Clients
When it comes to building a relationship with these first-time nail clients, Williams takes a straightforward approach. "I ask them if they are in search of a regular nail tech, how often they get services and what are their expectations of their nail tech. Those can all be included in the client questionnaire prior to their service, of course. You then introduce them to your nail brand. It is important to remember that it is about your client and meeting his or her needs. Let them know at end of the service that you would love for them to be your regular client."
"Many years ago, my mentor told me, 'Give the client what they need—not what they want.' We are the experts, and we are the guides," urges Saunders. "The most important thing to do with a new client is build trust. The way you do that is by carving out enough time to really listen and consult on the nail look they want. Many times, what they want is not what they need, so educating on the difference is what keeps a new client coming back."