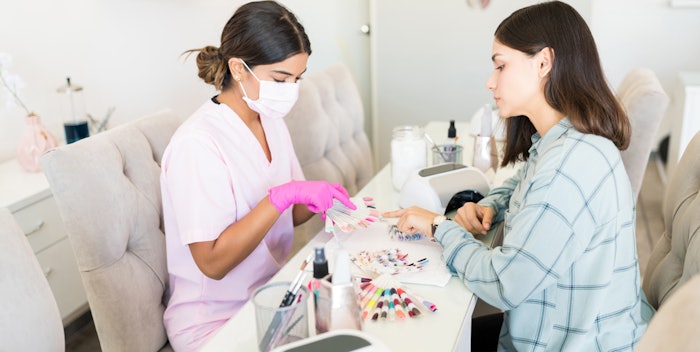 By Jaime Schrabeck, Ph.D.
No matter how many apps, ads or articles promote mobile beauty services, these services are not legal unless your state allows them according to its laws and regulations, and it's not difficult to understand why.
When it comes to mobile beauty services, there is no feasible way to enforce health and safety regulations outside of licensed businesses, thus undermining the very purpose of professional licensure: consumer protection.
While California has the largest population of beauty professionals in the country, its Board of Barbering and Cosmetology (BBC) has yet to approve mobile services. That the proposed Personal Service Permit (PSP) (not law yet!) would allow for providing services but with significant requirements and restrictions should come as no surprise.
Implicitly acknowledging its limited ability to protect consumers under these circumstances, the BBC would require any PSP applicant to meet specific conditions:
Hold a valid BBC license for a minimum of two consecutive years.
Submit fingerprints for a criminal background check.
Pay an application fee.
Provide proof of liability insurance "in a minimum amount of $1,000,000."
For those unfamiliar with California's regulations, it's important to understand that obtaining an individual license or establishment license does not require a background check or liability insurance. The BBC justifies these conditions accordingly: "Failure to identify applicants who have prior criminal background could put consumers at risk... The board believes it is crucial for the protection of consumers that PSP holders carry liability insurance against consumer harm from accidents that could occur during services."
Furthermore, the PSP would severely restrict the types of services provided. For example, the services "that may be performed outside of a licensed establishment by a licensed manicurist who holds a PSP are as follows: filing and buffing of nails by non-electrical tools, and applying and removing nail polish."
Why allow only these? Because the BBC considers these "low-risk as many clients do these tasks for themselves at home without difficulty… They are rarely, if ever, subject to consumer harm complaints when performed in establishments."
The renewed focus on infection control in the beauty industry during the COVID-19 crisis reinforces the inadequacy of the PSP to mitigate risk. Though no consolation, the PSP would similarly restrict licensed cosmetologists, barbers and estheticians, limiting services to haircuts, makeup application and basic facials, so no chemical services (color, perms or straightening), waxing or lash extensions.
The bottom line? PSP holders will have a very limited scope of practice. Whereas the PSP limits nail services to shaping and polish changes, how will these restrictions stop licensed manicurists and cosmetologists with a PSP from doing more?
Services in question include:
Trimming nails
Pushing back or nipping cuticles
Smoothing calluses
Using cuticle remover, scrub or lotion
Massaging hands and feet
Applying tips
Maintaining enhancement products
Repairing nails
Decorating nails
We'll always have some consumers requesting beyond what's allowed, and a portion of licensed professionals willing to compromise the health and safety of consumers and risk their licensure. Beauty services provided by unlicensed individuals or by licensees in unlicensed or approved locations represent unfair competition and threaten our professionalism.