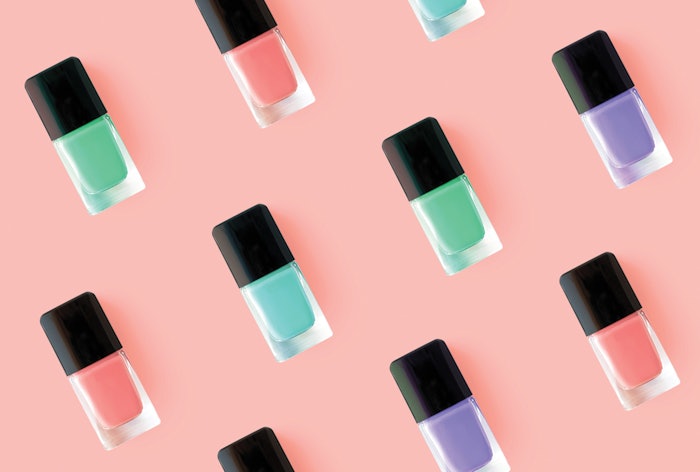 Resolutions to get organized and dejunk are commonplace at the start of a new year. And while it's an advantageous goal to begin 2021 on a tidy note, disposing of old and unused nail products is easier said than done. Several professional products used in your salon can be harmful to the environment if not disposed of properly. But don't worry; we rounded up some guidelines for disposal and spoke to an industry expert to make sure your cleaning ambitions are spotless.
According to Part 261 of the Resource Conservation & Recovery Act (RCRA) of 1976, nail salon products that can adversely affect the environment include, but are not limited to, polish removers containing acetone or ammonia; nail glue products containing acetonitrile, toluene or ethylacetate; nail adhesives containing acrylic acid; nail polishes containing dibutyl phthalate and formaldehyde; artificial nail products containing methyl methacrylate; artificial nail liquid containing ethyl methacrylate; and a variety of pigmentsand disinfectants.
The Occupational Safety and Health Administration (OSHA) urges in its publication "Health Hazards in Nail Salons" that products deemed hazardous should not be poured down the sink or toilet, thrown on the ground or down outside drains, or poured onto cotton balls. OSHA explains that used liquid acetone, for example, must be saved in a fire department-approved metal container and disposed of as hazardous waste. Similarly, the document "Protecting the Health of Nail Salon Workers" from the United States Environmental Protection Agency (EPA) says to dispose of liquid waste according to the manufacturers' instructions on the product label or MSDS and in accordance with local regulations. Other EPA guidelines include labeling containers so nail salon workers can identify the contents and tightly sealing the containers to avoid accidental spillage.
"The type of product and quantity determines how I dispose of products," says Jaime Schrabeck, PhD, owner of Precision Nails in Carmel, California. "New, unused bottles of traditional polish will be donated to a nonprofit organization, while new and/or used professional products, tools or equipment will be given to a local beauty school. Nearly empty containers of hazardous chemicals do not belong in the trash; those must be disposed of according to local waste disposal regulations. If purging the last of a particular product that I don't plan to replace, I'll remove that safety data sheet from my indexed binder."
One nonprofit organization that accepts unused nail products is Beauty Bus (beautybus.org). Based in Santa Monica, California, the organization provides complimentary beauty services to seriously ill individuals and their caregivers in homes and at hospitals and social service partners in the greater Los Angeles area. "We are always incredibly grateful for any unused nail products the professional nail community would have," says Wendy Marantz Levine, founder of Beauty Bus.
"We are in need most of top and base coats, cuticle creams and oils, polishes in fun colors, hand lotions and buffers," Marantz explains. "And because of the sensitive nature of our clients, we cannot accept any used or expired products."
Interested in donating? Products can be sent to the Beauty Bus office or a drop-off can be arranged (no walk-ins due to COVID restrictions) at Beauty Bus Foundation, 2716 Ocean Park Blvd., Suite 1062, Santa Monica, CA 90405. For questions, please call 310.392.0900. A donation letter will be provided for tax purposes.