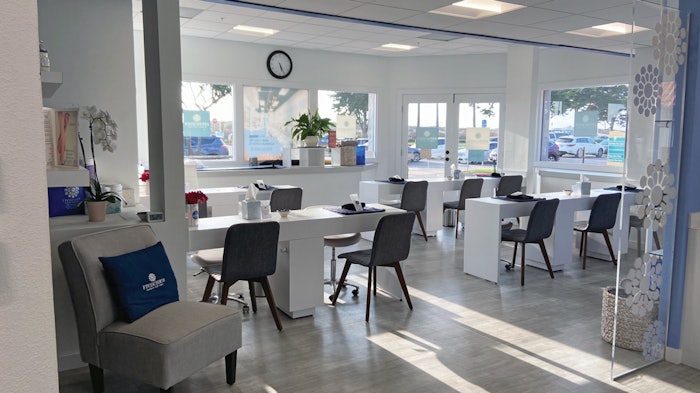 The Look Our beautiful space at the Ventura Harbor Village has a bright, airy ocean view, and clients can enjoy beautiful sunsets over the Pacific Ocean. The salon features 10 manicure stations and nine pedicure benches—which create a space conducive to hosting parties. We pride ourselves on being clean to make sure our guests and employees are safe, with an above industry standard sterilization process and non-toxic products. We have a dedicated hand-washing station; all metal instruments are thoroughly sterilized with a medical-grade autoclave; files, buffers and orangewood sticks are single-use only; our freestanding pedicure basins eliminate jets and pipes that trap bacteria; and each nail station has a ventilation system that removes 50 parts per cubic square feet of air per minute.
Signature Services Our most popular service is the Signature Mani and Pedi, which comes with an all-natural lotion and delicious sugar scrub for maximum moisturization. For all of our services, we carefully and deliberately choose high-quality and natural products, such as Footlogix and Spinster Sisters, to ensure hands and feet are well cared for.
The Goods Guests can purchase products for home care to maintain and extend the health of their hands and feet in between manicures and pedicures. Our bestselling product is Footlogix DD Cream Mousse, a lightweight, super-hydrating foam that contains urea and spiraleen. It absorbs and locks in moisture through the bottom of the feet while providing anti-microbial protection. Our nail polish comes in every color you can imagine and is free from the harsh chemicals typically found in other nail polish.
Outreach Although live events have been limited due to COVID-19 restrictions, we do support a variety of fundraisers in the community, and we participated in The American Cancer Society Making Strides Against Breast Cancer pop-up event at Ventura Harbor in October 2020 to support breast cancer awareness. For the holiday season, we participated in Visit Ventura's Elf Giveaway on Instagram where the community's 200,000 IG followers entered to win prizes donated by Ventura businesses.
Social Life Social media is a powerful marketing tool that helps us spread the word and educate clients on our new business—which is why you can find us on Facebook, Instagram, Yelp, Google and TikTok. In addition, we can connect with other local businesses to support one another through client referrals.
COVID Concerns Our salon just opened in June 2020, and in order to comply with the COVID-19 regulations in California, we had to move our operations outside for two months. During this time, we still offered wet pedicures, carrying hot water outside. We also offered warm lavender neck wraps and blankets when the weather was chilly. We were finally able to move back into the salon at the end of September 2020.
+Details
Owner: Jonra Cross
Est.: 2020
Staff: Twelve employees, including a manager with 25 years of manicuring experience, two concierge employees who focus on the guest cycle experience, and eight part- and fulltime nail technicians.
Benefits: We offer hourly wages, tips, paid training, product and service discounts, and a team bonus based on achieving monthly goals.