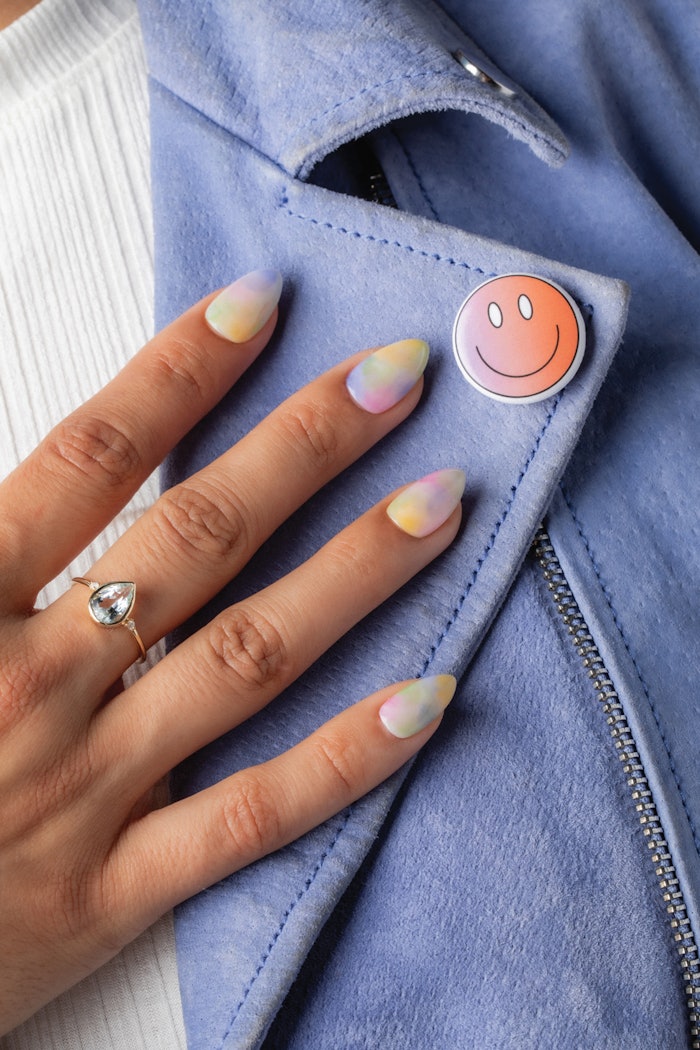 Like many nail salon owners, Lauren Polino, founder and CEO of Los Angeles-based Color Camp was caught off guard by the onset of the COVID-19 global pandemic early last year. "We were just starting to get into the momentum of the New Year, with the slower January and February months behind us, ready to go into spring, when we had to shut down," she says. "Going to zero in sales overnight and having to figure out how to support the team while our stores were closed was a lot to deal with."
Across the country in New York, Paintbucket founder and CEO Kristin Pulaski and Sundays founder Amy Ling Lin were facing similar issues. "Salons have been impacted very badly by this," says Lin. "It was really tough for us when COVID hit." Rather than sit idle and wait out the pandemic, however, these three resourceful salon owners quickly pivoted their businesses to generate new revenue streams that have helped them survive and thrive. Here's what they did.
Lauren Polino
Founder and CEO, Color Camp, Los Angeles
After Polino had to temporarily close her two nail art-focused salons in mid-March, she began navigating options for government aid, but quickly realized Color Camp needed a new source of income to keep the business afloat. "We put on our thinking caps and said, 'If we're not going to be able to reopen right away, what are some things we can do to stay relevant with our customer base and also keep our team busy and engaged?" she says. Five weeks after closing, Color Camp launched At-Home Super Gels—made-to-order, customizable, reusable press-on tips, hand-painted with nail art designs that epitomize the salon's chic brand. "Normally, I would spend six to 12 months going through product development to perfect a launch, but we didn't have that time," she says. "It was challenging to figure out the operations, like fulfillment and creation, but we just sort of did it on the fly once the orders started coming in." To ensure a perfect fit, customers receive a try-on kit and sizing form, where they can also select the shape they want—oval, square or round—and then Color Camp nail techs hand-paint the press-ons. The sets are shipped to customers with everything they need for application.
While launching a new product can be an expensive endeavor for salon owners, Polino kept costs to a minimum: She didn't have to spend money on product development fees or minimum orders from a manufacturer, since all orders are custom-made on demand and there's no inventory in stock. "I think one of the great things about the product we launched is that it didn't require any upfront capital investment," she says. "The biggest expense was setting up the ecommerce platform."
Customer demand for At-Home Super Gels has been so positive that Polino says she'll continue to offer the product even after her salon business picks up again—though she hopes to optimize the production process to better control costs. "One of the beauties of being able to sell products is that you aren't restricted to the 10- to 20-mile radius around your salon; you can reach customers all over the United States," she says. "Only about 30 percent of our orders are sent within California, so we have a lot of pull from other states. This has been great for expanding our customer base."
Kristin Pulaski
Founder and CEO, Paintbucket, Brooklyn, New York
Located in the vibrant Williamsburg neighborhood of Brooklyn, Paintbucket is a community gathering spot where girlfriends can meet up for nail art sessions, pedicures and prosecco. The revelry came to an abrupt halt in mid-March, however, when the city of New York mandated salon closures and instituted shelter-in-place orders to decrease the spread of COVID-19. "We were closed for a long time, and we were freaking out like everyone else," says Pulaski.
With bills, rent and staff salaries to pay, Pulaski quickly pivoted the business, offering virtual manicure classes for corporate teams at companies like Visa to boost the morale of their homebound employees. "Once we hit phase three, we were also doing some outdoor and in-home services," says Pulaski. "That was a savior for us since there was a lot of demand over the summer."
At the same time, Pulaski started working with a manufacturer to launch Paintbucket Nail Wraps, 100-percent nail polish-derived nail wraps in designs created by Paintbucket nail artists. "They really embody the fun look and feel of Paintbucket's nail art, and every month we launch new designs," she says. Converting the salon's website, which was built on WordPress, to Shopify to enable online sales was a major undertaking, admits Pulaski, and the product didn't launch until after the salon reopened, but the salon has already seen a good return on the investment. "Now, we're able to reach people in California or Florida who might have admired our nail art online but would never have been able to come to Paintbucket," she says. "It's opened us up to an entirely different demographic, because not everyone can afford to spend $100-$200 on a nail art manicure."
Now that Pulaski started on the retail path, she plans to introduce more products down the line—but not at the expense of her abandoning her salon. "I've always wanted to get into products because I want to be able to reach more people, but I don't ever want to have to give up on the physical salon; it's a place where people can experience our brand," she says. "I hope that the profits from the product sales will give us more freedom to be creative in our physical space. And it's also a good backup plan to have some control over your business and website to be able to sell things and keep some revenue moving in case anything crazy like this ever happens again."
Amy Ling Lin
Founder, Sundays, New York
With three locations in Manhattan, Sundays promotes a message of wellness and self-care that is apparent everywhere from the salon's social media feed to its service menu. Manicures and pedicures with the salon's signature 10-free, vegan and cruelty-free polish and minimalist nail art services are complemented by guided meditation sessions and handmade scrubs and creams. When Sundays had to temporarily cease operations during the pandemic, Lin sought a way to serve the salons' clients while they were sheltering in place at home.
For the entire article, please visit Nailpro's January/February digital magazine.
Author bio: Lotus Abrams is a freelance writer and former NAILPRO editor based in the San Francisco Bay Area.