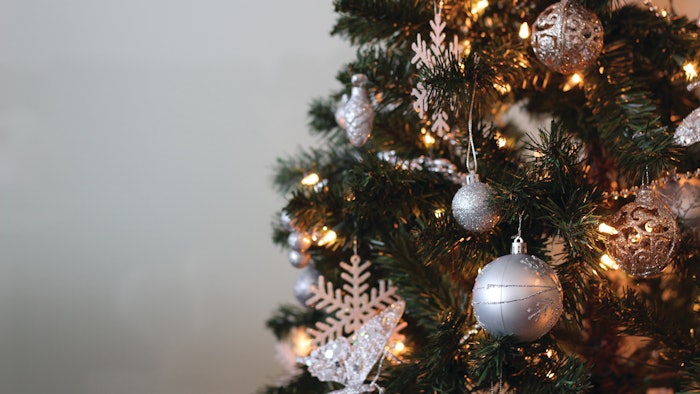 It's time to dust off that box of holiday decorations once again—the busiest time of the year for salons is nearly here. Reaping the revenue rewards, however, requires months of advance planning to stock up on retail products, create marketing campaigns and prep holiday services. "I feel like we start planning for the holidays earlier and earlier each year," says Amy Ling Lin, founder of Sundays salon in New York. "It takes time to get prepared, which requires paying attention to what's going on and doing some research."
While the global pandemic has brought challenges to nail salons around the country this year, clients are still looking to ring in the season looking their best. Make sure you have the holiday planning basics covered by following this surefire advice from successful salon owners, and then check out our sidebar, "Pandemic Planning," for some useful tips on how to tackle Covid-19 concerns without losing any holiday cheer.
Get Clients on the Books
With company parties, family gatherings and travel plans packing the calendar during November and December, clients will be eager to get on your books. Dealing with last-minute booking requests may seem inevitable around the holidays, but salon owners can reduce stress by booking clients in advance. Somer Adams, owner of Nails at LaBella in Glastonbury, Connecticut, opens her books six months in advance and prebooks regular clients long before of the holidays arrive. "It's my job to ask them, 'Do you have any more appointments scheduled yet? Let me make them for you. Tell me when you want to come in before Christmas,'" she says. "Otherwise, clients are always going to try to get in. They don't know how busy you are."
As the holidays draw near, it's also a good time to remind clients of your cancellation and rescheduling policies. "We know clients' schedules get busy and there will be changes, so we remind them to let us know as early as possible," says Lin.
Staff Up
The holidays are typically the most lucrative time of year for nail techs—and it's when clients tend to tip the most generously—so salon owners often discourage staff members from taking vacations during November and December. Even with all hands on deck, however, staff can feel stretched thin during this busy time. To alleviate the pressure, ProFiles Hair, Nails & Skin, a franchise business with five salon locations in Florida, opens an extra day during the weeks of Thanksgiving and Christmas to avoid overbooking clients. In addition, the salon hires hostesses to keep things running smoothly. "These assistants can't do any nail services, but they can help with things like putting products away, getting clients coffee, cleaning up the salon and making sure the laundry is done, which helps the techs work more efficiently," says ProFiles co-owner Ami McClure.
Offer Special Services
From pumpkin spice pedicures to a menu of wintry nail art designs, seasonal services can help put clients in the holiday spirit and increase revenue. "We change our pedicure services quarterly," says McClure. "For the holiday season, we either change the scent or incorporate a new product." Keep in mind: Unless planned well in advance, it may not be worth the effort to introduce a brand-new service during the holidays when techs are already pulled in many directions. "It might not work out, and it involves a lot of time and energy to plan," says Lin. If you're short on time or staff, "it may be safer to enhance existing services for the holidays instead."
The holidays are also a good time to suggest add-ons like crystal embellishments or paraffin treatments to boost ticket prices—just make sure to get your staff on board to help upsell. "We have daily and weekly grand-prize contests to motivate the staff to upsell specialty services," says Valerie Griggs, founder and CEO of 20 Lounge in El Segundo, California. "This makes it fun and competitive in a friendly way with their peers."
Ramp Up Retail
Retail—from grab-and-go gifts displayed near the front desk to seasonal product selections—is often the most time-consuming part of planning for the holidays, but it can significantly boost salon profits, as long as you resist the temptation to overstock, says Griggs. "We look at past years' sales and do our best to forecast the current year," she says.
It's not enough, however, to simply order the products and stock the shelves. Enlist your techs to help you sell retail, recommends McClure, who's found that products sell especially well when her techs are wearing them. "Sometimes I'll say, 'If you wear this new headband, you can have it for free,' and then it sells out in the first week," she says. McClure also orders about 25 percent more products for the holidays each year and allows staff members to purchase them at cost for gifts. "They'll tell their clients, 'I got this for my mother,' and it helps the product sell," she says.
At Sundays, holiday retail offerings include bespoke gift boxes stocked with the salon's vegan, 10-free polishes and the brand's signature candles. When selling retail during the holidays, Lin advises her team members to consider how much clients are looking to spend on a gift. "If you're mindful of your clients' budget, it will be easier to upsell and easier for them to make a decision," she says. "Start with a safe choice in a price range similar to what clients would normally spend on a mani/pedi service, and then give them an option B that's a little more expensive if it's a special gift."
Stock Up on Gift Cards
Sales of gift cards are a key holiday income generator for Sundays, so Lin invests a lot of time into planning, even changing the card's design each year. "We've also been thinking about how to bundle our best-selling services into different gift cards to make it easier for clients to choose a gift," she says.
Offering clients incentives to purchase gift cards is another effective way to promote sales, suggests McClure. "We offer clients $5 off their next appointment if they spend $50 in gift cards," she says. "It's such an easy way to make money."
Promote Your Business
While salons should spend time marketing their businesses year-round, it's a good idea to plan a specific holiday campaign, too. For Sundays, that means creating a multichannel campaign that includes social media and in-salon efforts, while LaBella Salon has had success focusing on social media to drive business during the holidays. "We did a 12 days of Christmas campaign starting after Thanksgiving last year," says Adams. "Every day on Instagram we did a different giveaway, whether it was a shampoo or a nail polish."
Promotion strategies don't have to be expensive to be effective. Experiment with a variety of approaches before you launch your holiday campaign to see what works best. "Social media is good for us, but it doesn't provide enough exposure," says Griggs. "Referrals are the best way for us to boost awareness and business. Email campaigns can be effective if you don't send too many of them that the customers opt out." Believe it or not, even traditional sandwich boards with specials outside of the storefronts have proven to be effective for Griggs.
Say Thank You
As part of your planning efforts, consider giving clients a small gift to thank them for their continued support. Before you worry about another expense, McClure reminds that there's no need to spend a lot of money. "If you have 500 customers, you can't really afford to spend $20 per person, but you can easily find something inexpensive that's still a thoughtful gift," she says. "We give clients things like a miniature cuticle oil, lotion, a $5 coupon or a lottery ticket."
Give Back
The holidays are also an ideal time to give back to the community by choosing an organization that your salon can support. LaBella works with a local outreach organization to provide holiday gifts for disadvantaged families in the community. The salon sets up a "giving tree" decorated with tags that feature a child's name, age and wish list, so clients can choose a tag and buy the child a personal gift. "Last year the labels went within a week," says Adams. "We didn't expect them to go that fast, so we had to make more. Our clients love getting involved, and the families are so appreciative."
Lotus Abrams is a freelance writer and editor based in the San Francisco Bay Area.