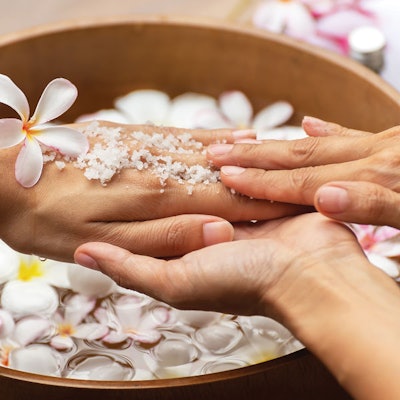 Your guide to adding splurge-worthy services to your menu and raising your existing premium prices-smartly.
When the salon around the corner undercuts your service prices, you might question whether introducing luxury menu options or charging more for your current premium offerings will do more harm than good. However, if you can justify the value behind your pricing, the sky's the limit for your revenue. Not to mention, charging your worth and integrating unique services beyond the typical manicure can cause a positive ripple effect, according to Mazz Hanna, celebrity nail artist and founder of Mazz Hanna Beauty. "Offering luxury services raises the bar in terms of client expectations, which will force nail artists to hold themselves to higher standards and, hopefully, in turn, foster the ability to charge higher rates for such services," she says. Of course, cultivating a truly unique experience and putting a premium on it takes savvy. Here, successful pros share their advice.
Changing Your Mindset
If you don't currently offer an elevated service, the idea of implementing a luxury manicure or pedicure can seem daunting. "Much like retail, luxury services have a somewhat negative connotation as an upsell—a more expensive service that you must persuade clients to purchase," says Jaime Schrabeck, owner of Precision Nails in Carmel, California. "As a nail professional and salon owner, I want to provide services clients need and want, without any convincing on my part." How do you do that? Reframe your thinking. Recognize that a luxury service is an experience: It takes more—time, product and ambiance—and therefore costs more and is worth more; the client who seeks extra indulgence will understand this. "Offering luxury services has allowed us to move away from the idea of rushing through nail services," says Kristin Pulaski, owner of Paintbucket in Brooklyn, New York. "In this day and age, people are really looking for experiences that are unique and centered around self-care, which is why offering luxury services elevates and differentiates salons." Adds Schrabeck, "Luxury services sell themselves when clients desire them. It all depends on how your salon defines luxury."
RELATED: Five Industry Icons Reflect on Their Lives and Remarkable Careers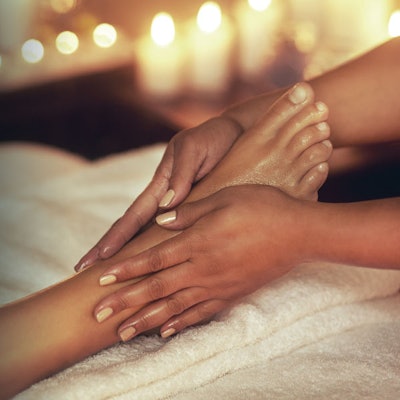 Brainstorming Luxury
Ideas for a unique service sometimes come naturally. When Hanna entered the field, she had dreams of opening a salon that combined two of her loves: crystals and nail art. Though she ended up shelving the salon concept, her one-of-a-kind offering, The Crystal Healing Manicure, has earned devoted fans, even though it comes with a premium $350 price tag, thanks to its originality. Performed in the comfort of clients' homes, the manicure involves several elements that cost Hanna in labor, product and specialized education (she became a certified crystal healer). "The ritual—I like to refer to it as a ritual rather than a service—involves prework on my end through a chakra analysis, custom- blended products for my clients to keep and then a manicure with crystals attached to the clients' nails," she says. "When pricing it out, I had to take all of those things into consideration."
Coming up with unique offerings certainly takes vision; simply adding a bath bomb to a pedicure and up-charging won't cut it for today's discerning consumer. Keeping up to date on product trends through manufacturers, trade magazines and social media will give you a leg up in service creation. If enhanced menu ideas don't come easily, Pulaski suggests attending trade shows to spark inspiration from peers and manufacturers. "We expanded our luxury services menu after I visited [a trade show] this year and met the owner of Voesh," she relays, explaining that the company's prepackaged single- service luxury pedicure boxes excited her so much that she purchased them on the spot and promptly updated her menu offerings to include "Luxe Pedis" priced at $65 to $70. "We had bookings for them immediately."
RELATED: How to Make Your Mark as an Editorial Nail Tech
Of course, it's important to be realistic when introducing new, higher-priced services. Review your current business model and see what perceived improvements will actually help rather than deter. "When considering the introduction of any new service, ask yourself, 'Will this service enhance my reputation as a successful nail professional?'" advises Schrabeck. "While luxury services have the potential to significantly increase revenue, their success depends on desirability, cost- and time-effectiveness, and client perceptions of value."
Sizing Up Interest
If you're considering leveling-up your service offerings, you likely have an established clientele. In order to successfully introduce luxury services, you need to gauge demand. "Knowing your clients' needs is foremost [when launching an upscale service]," says Rita Pinto, owner of Vanity Projects, with locations in Miami and New York. Is your business popular due to your speedy express manis? Pulaski warns that disrupting this model with longer, more indulgent services might not serve your current clientele's whims. However, "if you find that clients are asking for longer massages during their services or seeking add-ons like callus treatments, hydrating masks or scrubs, then they're definitely willing to indulge in a higher-price, luxury service," she says. You can always test the waters first by creating an exploratory survey for client feedback and offer a free hand massage upon completion.
Not only should clients be interested, but they also should have the ability to pay. "It isn't a good idea to offer services your clients can't afford," shares Pinto. Look at your area's demographics and assess the pricing of local competitors that also deal in luxury. Pinto notes that "striking a balance with how you introduce items takes intuition and, at times, also absorbing some of the initial costs." For example, when she launched Aprés Gel-X extensions, a new soft gel service, Pinto reached out to Vanity Projects' current acrylic clients and offered to remove their acrylic for free if they wanted to try Aprés. "I believe clear communication and a little generosity sets the stage for clients to really appreciate the effort and be willing to try new things," she says.
RELATED: Experts Share Advice on All Aspects of Acrylic Enhancements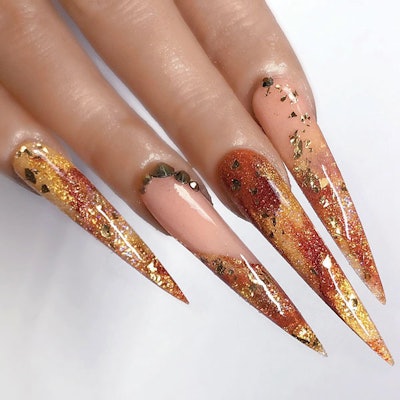 Communicating Value
Launching and executing an exceptional luxury service generally takes extra time, product, skill, education and even travel expenses (trade shows!)—all at a cost to your business. Naturally, determining service pricing necessitates factoring in these points, and in order to be profitable, you need to set a price that makes the service cost-effective for your business. However, a higher price point has the potential to incite pushback with current clients—and that's when you need to communicate the value behind the service. "To firmly establish your value, produce a comprehensive brochure with enticing service descriptions that detail what's included, the time allotted
and the price," suggests Schrabeck. "List the services in order of price, starting with the most expensive."
On Paintbucket's website, the Luxe Pedis menu explains every single step involved in the service and includes a visual of the products used so clients get a glimpse at how comprehensive and luxurious the service is.
If printed service descriptions don't do the trick, answer questions about cost by explaining what's special about the service—but don't get discouraged if clients decline; chances are, they're likely not the type of customers who will pay for added value anyway. "There will always be some clients who will stick to what they can afford," says Pinto. "But by introducing new items you're also opening up the possibility of attracting new clients who are willing to spend more to get better results."
It goes without saying: You must deliver on your stated value. When Vanity Projects recently raised prices on its premium nail art services, some clients expressed discontent. Pinto continued to keep the salons' messaging—that they use the highest quality Japanese gel and employ some of the top talent in the industry—front- and-center through the transition so that clients comprehended the value. But for Pinto, the proof is in the pudding. "Our clients see the value in the fact that their nails look great and last," she explains. "Executing at a high level is paramount if you want to increase your pricing and demand."
Market Bliss
Some salons with extravagant services like Images Luxury Nail Lounge in Newport Beach, California, which offers a $25,000-plus Glitz & Glamicure, rely on their breathtaking price tags and doting press coverage to generate buzz and interest. But no matter how you price your luxury service, you need to draw eyeballs to it. "Instagram is a great converter for getting the word out, but if that's not your preferred method, then in-salon efforts and messaging is important," says Pinto. She suggests placing a small printed card at the
front desk or in the waiting area to communicate new services "without being too pushy."
Pulaski recommends highlighting what makes the service unique in your marketing program. "I had really fun menus made for our new Luxe Pedis that we put on gold clipboards and placed in our pedicure area so clients could browse through them while they get their services," she relays. For clients who use online booking, Pulaski added a pop-up banner on Painbucket's homepage alerting clients to the new Luxe Pedis and included a special online menu to explain the service benefits.
Involving staff also lends credence to premium services. Make sure that the front desk and all of the service providers can explain every benefit of your luxury services backward and forward, says Pulaski. Also, encourage them to be the service's walking billboard. "Have your staff wear any new extension products; it's a great way to show clients how cool they look," explains Pinto. "I think people are willing to spend more if they see [the service benefits] firsthand."
When all is said and done, bringing luxury into your nail salon and raising your prices requires unique, value- backed ideas that resonate with your clientele—but never at the cost of your own worth. "I think the most important piece of advice is to be confident and not undercut your value," says Hanna. "If you don't truly believe in what you're doing and the unique service you're bringing to the table, nobody else will either."
Keep it Simple
Your brain may be overflowing with premium service concepts, but Precision Nails owner Jaime Schrabeck suggests not going overboard. "When developing services, I recommend giving your clients options, but not too many, otherwise scheduling and explaining the differences between services become too complicated," she says. Here, she shares her top two tips for luxury service simplification:
1. Create Two Distinct Levels of Service. One should be designed for basic nailcare needs, while the other should package more luxury into an expanded service.
2. Bundle Extras Together. Most clients willingly choose the expanded (and more expensive) service.
–by Karie L. Frost
[Images: Courtesy of Oluwafemi; iStock; Bigstock]