Transport to an alternate reality with a fully immersive sensory service at Bellacures Beverly Hills salon, where they've implemented new virtual reality manicure and pedicure services to elevate clients' salon experiences.
 

View this post on Instagram

 
The six-location salon's signature sofa-style chairs serve as uber comfortable service stations as clients experience the innovation, complete with a virtual reality headset to transport clients to the destination of their choice—like a tropical beach in Kauai, a calming waterfall in Iceland or a lush forest in rural New York.
RELATED: Savvy Salon: Pamper Nail Gallery, Fremont, California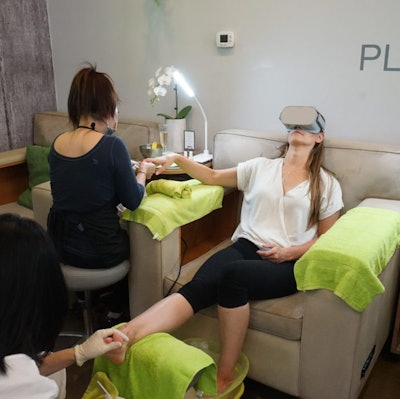 "Virtual reality is a futuristic way to transform the salon experience," says Bellacures Salon owner Gerard Quiroga. "Our clients come to Bellacures to unplug and escape. This service enhances that, as we are able to take them to beautiful, scenic locations and create a truly idyllic experience—almost like a mini vacation!"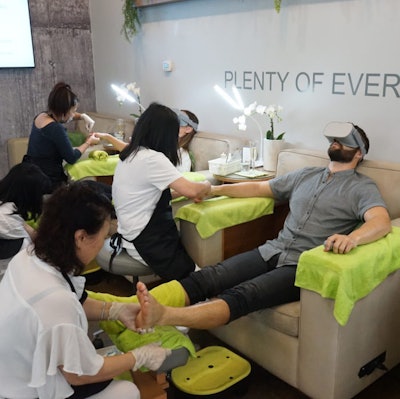 Through augmented reality, the Virtual Reality Mani (priced at $55) Pedi (priced at $60) provides a meditative element with the use of stunning imagery and peaceful music. Each location features a personalized treatment with corresponding scents and products to awaken the senses.
RELATED: Lacquer Wins Famous Names Salon of the Year
Client regulars Reese Witherspoon, Jessica Alba, Jennifer Garner, Cameron Diaz, Demi Moore can now virtually travel to Hanalei Point, where their hands and feet are exfoliated with a coffee scrub and massaged with a coconut-scented lotion; Allegheny State Park, complete with a mud mask and forest-scented lotion; or Skogafoss Waterfall, which begins with a paraffin soak, warming gloves or booties and cooling massage using a invigorating lotion.
—by Angelina Lewis
[Images: Courtesy of Bellacures]