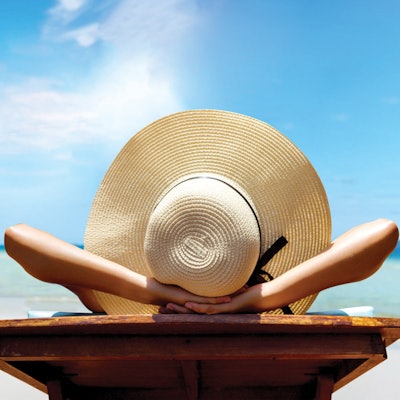 Plan a stress-free summer getaway with these expert tips.
The kids are out of school, clients are requesting vacation nail art and sunny skies taunt you through the windows. You've worked hard all year, and clients shouldn't be the only ones jetting off to tropical locales for a little R & R. Taking time off can reignite your passion for work and spark fresh ideas. Ready to take a much-deserved summer getaway? The key to smooth sailing is planning ahead, communicating clearly with clients, and taking care of any urgent appointments or overhead expenses before departing. Here, our best advice for taking a worry-free trip.
Mind the Gap
Before you book a spontaneous two-week trip this summer, think about how long you can realistically be away from your business. For many nail techs and salon owners, taking more than one week off isn't practical. "If I take off any longer than five business days, it throws off my clients' rhythm," says Gabby Espino, a nail tech based in Riverside, California. To minimize rescheduling
too many appointments, it's important to plan ahead and alert clients when you'll be out. "Letting clients know that you're taking personal time off shows that you respect them as loyal clients and value their time," says Karen Rivas, owner of Nail Rehab in Tarzana, California. If you find that you'll need to move clients' appointments, try to do so in a way that makes the least impact on their maintenance schedule. "If she's a regular two-week client, we push the appointment a week, and I make sure to give her cuticles extra care to keep her set looking fresh," says Espino.
RELATED: 30 Under 30 2019 Submissions
How far in advance should you plan a vacation? Think about how far ahead your regular clients tend to book. "I try to book vacations three months in advance to avoid moving clients around," says Light Elegance educator Amanda Treadway, a nail artist at Glitz Nail Bar in Redmond, Oregon. "My clients like to book their appointments six to eight months in advance. I do disclaim, though, that booking this far out means these appointments could be tentative, since I don't always have my life planned half a year ahead."
Find a Sub
Although you might not be crazy about the idea of turning your clients over to another tech while you're on vacation, doing
so when necessary shows that you're willing go above and beyond to make sure their needs are met. "My clients usually wait for me to return, but if they absolutely need their nails done, I'm totally comfortable with one of my fellow techs taking over," says Espino. When clients are unable to book around her vacation, Rebecca Bernard, a nail tech at Meraki Beauty Studio in Casselberry, Florida, schedules her clients with another tech who shares a similar style. "If my vacation falls within the time frame that clients have booked far in advance for a wedding or special event, I try to take care of them either before I leave or another tech takes over for me," she says.
RELATED: The Benefits, Types and Costs of Owning Life Insurance
Unplug
Although some techs can't fathom the idea of being out of touch when they're on vacation, Las Cruces, New Mexico- based Polished Salon & Spa nail artist Jocelyne Gomez advises unplugging while away. "Many people don't understand that we never really close shop," says Gomez. "Clients constantly call my personal cell and message me on Facebook and Instagram. I think vacation should be a time to get away from work completely." Before leaving, Gomez edits her Instagram bio to say that she's away and currently not seeing clients. Bernard loves to escape on cruises, where cell service is nonexistent. "It's incredibly relaxing, all-inclusive and without cell service, so I basically forget my phone is with me," she says. "When I go on vacation, I try to give myself a full getaway from work, but my Instagram direct message inbox can become quite overwhelming." She remedies this by posting a photo with an away message, since replying to work-related messages is neither an option nor a priority.
If you find that you can't totally unplug, another option is to simply respond to clients who contact you while on vacation by saying that you'll get in touch when you return. Espino keeps a preset copy-and-paste message on hand to send to clients who contact her during vacations. "That way I don't ignore them, and they know I'll respond as soon as I come back," she says. Salon owners can minimize vacation disruptions by designating someone to take charge while they're away, and ask that employees contact them only in urgent situations.
Bills paid, clients notified, appointments rearranged—it's time to jet off for that well-deserved glass of bubbly by the pool. Bon voyage!
–by Angelina Lewis
[Images: Getty Images]
This story first appeared in the July issue of Nailpro magazine. To receive the magazine, click here to subscribe.