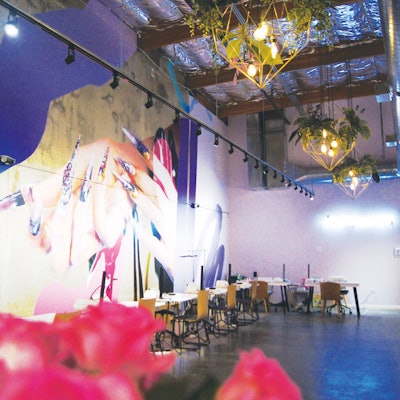 Vivian Xue Rahey welcomes Nailpro to her nail enhancement-and art-only salon in Fremont, California.
The Look
A hyperrealistic mural spray-painted by a Seattle-based artist instantly catches your eye upon entering Pamper Nail Gallery. Located within a plaza on the east side of the San Francisco Bay, our salon is equipped with ample parking, an open floor plan, high ceilings and, thankfully, a low cost per square footage (the Bay Area is extremely expensive). Our urban art studio features large stations that provide plenty of elbowroom for each artist and diamond cage chandeliers, which took me five months to make by hand. All in all, this location is the result of a labor of love meets budgetary restraint.
Signature Services
We're extremely specialized. No longer offering pedicures, we focus solely on sculpted extensions and handcrafted nail art, and leave services like lashes, waxing, makeup and hair to the one-stop shops. By decommoditizing nail services, we turn nail art into a high-end, high-margin luxury. Focused on building a passionate team, we look for artists drawn to performing nail services as a form of art versus maintenance. We hone in on nail artistry, striving to create legitimate, high-paying careers offering potential income growth, plus retirement options. We ask clients to allocate three to four hours and budget $150 to $200 for an average art set, although our most popular nail looks start at $350. Our highly requested Mother of Pearl acrylic encapsulation design costs $18 per nail, plus the $60 full base set. We use social media to guide new clients through their initial appointment to help them achieve their dream set and anticipate the cost.
RELATED: Savvy Salon – Paintbucket, Brooklyn, New York
The Goods
We use Young Nails for speed acrylic powder and monomer, Light Elegance for hard gel foundation and builder, the Valentino Beauty Pure dust collectors and gel polish from brands like Vetro, Bio Seaweed Gel and NCLA.
The Outreach
Pamper strives to help bridge the communication gap between technology and the nail industry. We've been invited to beta test Google's newest products and conduct panels at Instagram headquarters, where we helped make a few Instagram story features more business-friendly and offered insight into how small beauty businesses actually use social media advertising.
Social Life
Most of our top-quality clients come from Instagram and Facebook, courtesy of features posted by media outlets Business Insider, Revelist and more. Instagram and other image- focused social media platforms are instrumental to the worldwide nail art phenomenon. While each Pamper artist maintains her own personal Instagram account, we use our main account to feature a selection of work from the team. We also post unique nail art themes for clients to choose from—for example nature, fine art or the Target series— modeled after restaurant tasting menus.
Up Close with Vivian Xue Rahey
What was your first job in the nail industry?
"Pamper. Prior to that, I worked as a founding engineer for the on-demand massage-booking app Soothe. Pamper began as an on-demand company, delivering home services, but after learning the industry, I pivoted toward the concept of a nail enhancement- and art-only salon."
RELATED: Savvy Salon – Olive & June, Several Locations
What inspires you?
"My nail philosophy is open-ended. I thrive on technical and artistic challenges, so my need to innovate often drives what I pursue. Sometimes it's Dwight Schrute from 'The Office,' while other times it's a piece of jewelry from Graff or Harry Winston."
What's your best advice for new salon owners?
"Screen who you're leasing a commercial space from. The importance of having a good landlord is invaluable and can help minimize issues down the road for your business."
What's your go-to client conversation starter?
"Due to the longer time commitment required to produce high-quality nail art, we often pose the question, 'What are your plans for today?' It sparks conversation while gauging the client's time constraints."
I can't discuss Pamper without…
"Being asked which cities we're opening in next. We're anticipating Las Vegas later this year, along with Houston, Atlanta and Miami in 2020!"
Details
Owner: Vivian Xue Rahey
Est.: 2017
Staff: Thirteen employees compensated hourly, plus commission.
Benefits: Medical, dental and vision insurance, plus personalized weekly education.
–by Angelina Lewis
This story first appeared in the July issue of Nailpro magazine. To receive the magazine, click here to subscribe.
[Images: Courtesy of Pamper Nail Gallery]