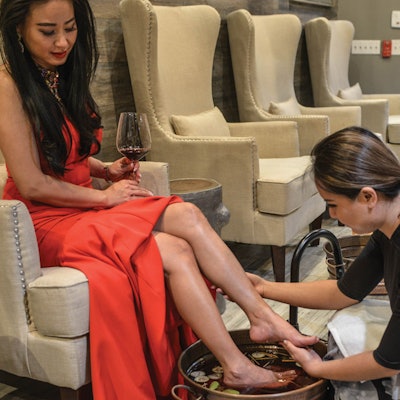 Actress and author Joan Collins once famously said: "Age is just a number. It's totally irrelevant unless, of course, you happen to be a bottle of wine." Undoubtedly true, yet when Caudalie pioneered its Vinothérapie approach to skincare in the 1990s, introducing products and spa treatments harnessing the antiaging power of the skins and seeds of wine grapes, there was no shortage of women looking to tap the proverbial wine barrel fountain of youth. Key to the vino-centric skincare line is resveratrol, a plant compound found in high concentrations in the skin of red grapes that possesses powerful antioxidants to remove free radicals and revitalize aging skin.
Since Caudalie's inception, skincare products formulated with resveratrol have multiplied, and vinotherapy-inspired spa treatments, particularly for the face and body, can now be found around the world. A handful of nail salons and spas, however, have introduced vinotherapy treatments specifically for the hands and feet. At Om Spa in Dearborn, Michigan, the Tuscan Wine Manicure and Pedicure features a vino-derived scrub, as well as a conditioning honey and wine mask, while Portland, Oregon's Spa Comma offers the Comma D'Vine Manicure and Pedicure services, which utilize D'Vine's professional line of vinotherapy products.
RELATED: Pedicure Exfoliation Techniques, Best Practices and Products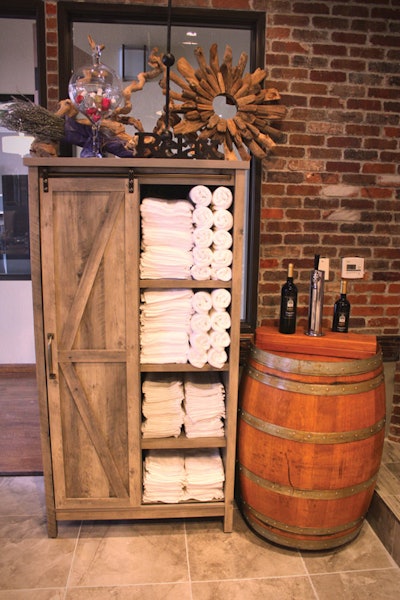 Cabernet Nail Spa in Granite Bay, California, has taken the vinotherapy concept a step further by partnering with naturopathic doctor and antiaging specialist Shannon Wood Gallegos, ND, to create the salon's signature Organic VinoTherapy Mani-Ceutical and Pedi-Ceutical. The services utilize a custom high-resveratrol wine blend from local Bray Vineyards winery, herbs from nearby family farm South River Lavender and custom-blended products from Telo-Revers Anti-Aging Pharmacy. "Ageless beauty is too often considered only for the face, while our hands and feet are the ones left doing all the work," says Cabernet Nail Spa owner Leanne Nguyen. "Cabernet is the first exclusive provider of Mani-Ceutical and Pedi-Ceutical vinotherapy treatments overseen by a true antiaging medical board."
The 65-minute VinoTherapy Pedi-Ceutical, offered with a complimentary glass of cabernet sauvignon, begins with a warm footbath infused with the salon's custom wine blend as well as mint, lemongrass, cucumber and lemon. After nails, cuticles, heels and soles are tended to, clients are treated to a soothing massage with antioxidant-rich and anti-inflammatory grape seed oil followed by a detoxifying scrub and antiaging, pore-enriching mask. The service concludes with a relaxing hot stone massage using the salon's VinoTherapy Lotion and an organic lavender paraffin wax treatment. As Nguyen sees it, the service is not only intended to provide a relaxing experience, but also reflects the salon's comprehensive wellness approach to beauty. "Too often nail salons are overlooked as a frivolous expenditure," she says, "but truly, nail care is a total encompassing of wellness of the hands and feet."
RELATED: More Than 2,200 Nail Professionals Attended NAILPRO Pasadena
Wine for Wellness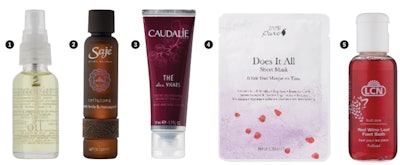 Check out these products that harness the antiaging power of the grape.
1. Cuccio Grapeseed Hand 5 Anti-Oxidant Oil
2. Saje Cellutone
3. Caudalie Thé des Vignes Hand and Nail Cream
4. 100% Pure Does It All Sheet Mask
5. LCN Red Wine Leaf Foot Bath
–by Lotus Abrams
This story first appeared in the June issue of Nailpro magazine. To receive the magazine, click here to subscribe.
[Images: Courtesy of Cabernet Nail Spa; Armando Sanchez]