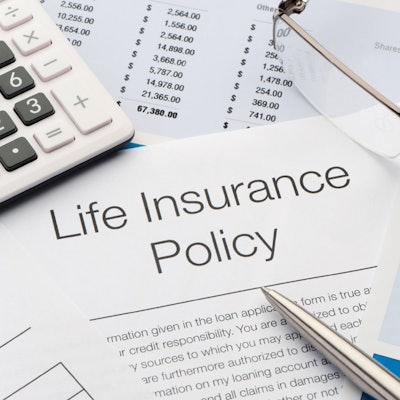 Whether you're an independent tech, employee or salon owner, life insurance should be an integral part of your financial plan.
While most Americans insure their cars, homes or businesses with a second thought, their most valuable asset—their own lives—often remains uncovered. Indeed, according to the 2018 Insurance Barometer Study by Life Happens and LIMRA, "while 84 percent of Americans say that most people need life insurance … only 59 percent own some form of it."
The key function of life insurance is to provide financial compensation to the insured individual's beneficiaries should she suffer an untimely death. Although that's a scenario no one wants to think about, if you have children, a spouse or direct family members who depend on your income, it's one you absolutely should think about. Here, experts explain the ins and outs of insurance in layman's terms to help you make an informed decision when shopping around for the perfect policy.
Benefits Basics
Life insurance benefits are typically paid to beneficiaries when they submit proof of the policyholder's passing (i.e., a death certificate). "Life insurance policies help alleviate financial burdens when coping with the loss of a loved one," says Chris Mason, senior vice president of sales distribution for HealthMarkets in North Richland Hills, Texas. "The benefits from life insurance are often used to pay for burial expenses, replace income of the individual who has passed and/or to pay off a mortgage."
RELATED: How to Make Your Mark on YouTube
Furthermore, Mason says, if you own a small business like a nail salon, a personal life insurance policy may help your family pay off any business debt. If the business has multiple owners, you can even combine life insurance policies on each partner with a buy-sell agreement. "This agreement stipulates that upon the death of one of the business owners, the remaining partners or owners can buy out the surviving family's share at a previously agreed upon price, with life insurance paying for the buyout," explains Mason.
Policy Options
Term and whole life (also called permanent or universal life) are the most widely known types of insurance coverage, according to John Holloway, cofounder of noexam.com in Roswell, Georgia. "Term life insurance is inexpensive and designed to provide a death benefit for a specific period of time, ranging from 10 to 30 years," he says. "Whole life insurance is designed to last an individual's entire lifetime, but the premiums are significantly higher."
With term life insurance, you'll get the highest death benefit for the lowest cost, with policyholders paying an annual or monthly fixed premium that's renewable every year, Mason adds. But there's a catch: "If you're young, premiums for this type of life insurance are low, but as you get older, the premiums increase," he says. "With permanent life insurance, part of the premium goes toward cash value, allowing you to accumulate tax-deferred savings." Therefore, though most permanent life insurance policies don't have a significant cash value in earlier years, they can perform very well over time if funded properly.
In addition, term insurance, though low-cost and appealing to younger age groups, rarely pays out, because most people live longer than the terms of the policy, according to Nelson Lee, managing partner of PacWealth Solutions in Irvine, California. "Then, if you need life insurance in your later years, you're 10, 20 or 30 years older, and therefore less appealing from an insurance company standpoint," he says. "Unlike term, permanent policies offer more than a death benefit; the policy builds cash value that the policyholder can borrow against or withdraw funds from to cover medical expenses or a child's education cost, for example." Ultimately, though permanent policies cost more up front, they cover an entire lifespan and accrue a cash value component that can be crucial in times of need.
RELATED: 20 Influencers Share Their Best Strategies for Building a Brand
Consider Cost
Policy cost varies according to a number of factors. Mason notes that insurance companies will generally take into account the following variables when pricing a policy:
Age This is one of the most important contributors. Even an unhealthy 40-year- old can have lower premiums than a healthy 50-year-old for the same plan.
Gender Women, on average, live nearly five years longer than men, so they usually enjoy slightly lower rates.
Smoking Smokers commonly pay more than twice as much as nonsmokers for comparable coverage.
Health Most insurance carriers require a medical exam to record height, weight, blood pressure, cholesterol and other key metrics. (Some companies offer "no exam" policies, but they generally cost more.)
Family Medical History A family history of stroke, cancer or other serious medical conditions can lead to higher rates. Some carriers put more emphasis on your family's health than others, but it's likely to have some impact on your premium.
According to Lee, a term policy may cost about $300 per year for a 20-year plan, whereas a permanent policy could cost substantially more—but it also becomes an investment. "If cost is a factor, you may start off with term coverage," Lee concludes. "But look for a policy with a conversion privilege from a company that also offers competitive cash-value policies." That option will allow you to switch from term to permanent coverage in the future if you choose. Ultimately, Lee believes that a permanent policy is the best option for both independent techs and salon owners alike. "It's an added layer of protection to have a policy with a cash value to draw from in case of an emergency," he says. "However, the main priority should be to have adequate coverage, whether term or permanent, especially if you have young children."
Tip Sheet
When shopping for a life insurance policy, keep this expert advice in mind.
Put your budget first. "Watch out for agents trying to sell a one-size-fits-all type of policy or for agents who carry only one company's policies," says John Holloway, cofounder of noexam.com. "For salon owners carrying a business loan, I recommend getting enough coverage to provide for their family and cover all existing debts."
Do your own research. "There are more than 780 insurance carriers in the United States, with literally thousands of variations," says Nelson Lee, managing partner of PacWealth Solutions. "If you ask for the same product from the same company, but from two different agents or representatives, you may experience 22-percent higher or lower performance, largely dependent on the mathematical competency of the person you're working with."
Ask for help. "Different insurers have different stances on various health concerns, so having an array of plans to choose from can help you make
an informed decision," says Chris Mason, senior vice president of sales distribution for HealthMarkets. "A licensed agent should answer your questions, explain the options available and help you make the right choice."
–by Tracy Morin
This story first appeared in the June issue of Nailpro magazine. To receive the magazine, click here to subscribe.
[Image: Getty Images]