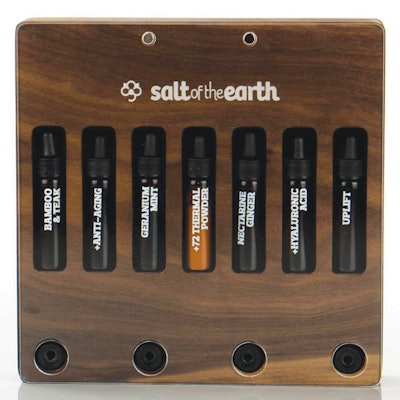 When it comes to spa manicures and pedicures, portion control and sanitation are a must—which is what makes preportioned kits such a boon for nail techs. Salt of the Earth takes this concept a step further with its Blend Box, a spa service that incorporates the client's sense of smell, touch and sight for a personalized experience. Each kit includes 50 individual packets of Mineral Salt Soak, Creamy Shea Butter Scrub, Mineral Mud and Mineral Cream that can be customized to clients' taste on the spot with four fragrances, such as earthy Bamboo & Teak, tropical Cabana Boy, floral White Ginger and citrus Stress Less, and three boosters: Anti-Aging Serum, Thermal Powder (a blend of magnesium, zinc, iron and sulfur) and hyaluronic acid. The Blend Box is available in Manicure, Pedicure or Full Body Treatment options as well as a retail version for at-home use.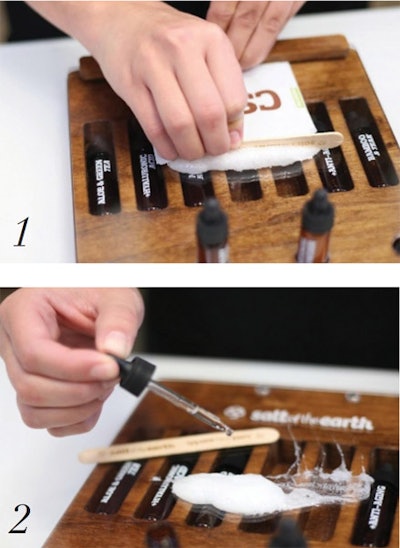 RELATED: Why You Should Consider Offering Waterless Nail Services
1) Help your client choose an oil blend fragrance. Then, place the aroma and Thermal Powder booster in the holes on top of the blend box and cover it with the acrylic top. Prep and open all four spa treatment packets. Pour a full packet of Mineral Salt into a pedicure basin filled with warm water. Add a few drops of aroma and allow the client to soak for 5 to 10 minutes. Then, use one of the provided wooden spatulas to dispense Creamy Shea Butter Scrub onto the mixing board.
2) Add approximately five drops of aroma to the product and mix it with the spatula. Apply the exfoliating scrub to the client's dry legs and feet. Use a warm towel to remove the scrub.
Tips: Use three drops of aroma for a spa manicure service or up to eight drops for a full body treatment.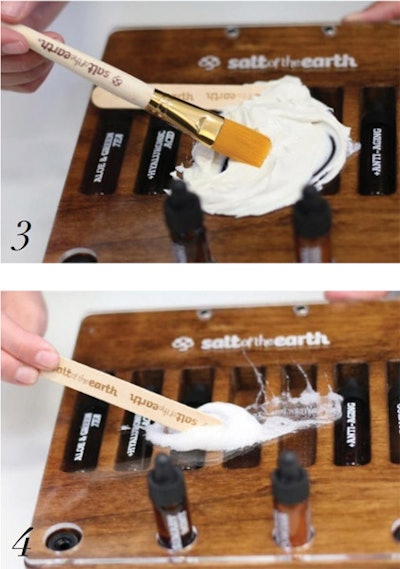 RELATED: Memberships Can Provide Salons with a Reliable Source of Income
3) Use one of the provided wooden spatulas to dispense Mineral Mud out of the packet. Add five drops of aroma, and blend. Use the provided Salt of the Earth mask brush to apply a thin, even layer of the product onto the client's legs and feet. Dust Thermal Powder boost directly onto the mask. Wrap the legs and feet in hot towels or plastic wrap and allow the mask to set for 5 to 15 minutes. Remove the mask with warm towels.
4) Repeat the process with the final step of the spa treatment—Mineral Cream—and massage it into the client's skin.
Tip: Apply Fire and Ice from the Body Treatment kit to sore muscles as a service upcharge.
–by Angelina Lewis
This story first appeared in the May issue of Nailpro magazine. To receive the magazine, click here to subscribe.
[Image: Courtesy of Salt of the Earth]