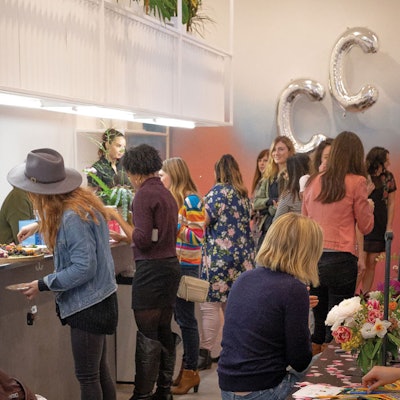 From baby showers to work anniversaries to graduations, every occasion deserves a celebration; why should the opening of your new salon be any different? "A grand opening party introduces your salon to the public and sets the tone for your business," explains Gabriella Figueiredo Santos, director of operations for Varnish Lane salon in Washington, DC. What's more, a party will allow you and your staff to create relationships with potential clients.
The good news is that planning a party doesn't have to be a huge undertaking. One no-fail option is to hire a party planner to ensure that your event runs smoothly. If a party planner isn't in your budget, not to worry: Planning a party has never been easier thanks to DIY-friendly sites such as Pinterest and Instagram. All it takes is a little organization. Your best bet? "Keep it simple, but be creative," advises Figueiredo Santos. "Get your staff involved so they feel engaged to enhance the overall party experience."
Ready to start planning? To help, we tapped three salon owners and a marketing strategist to reveal their secrets to planning a buzz-worthy shindig. Here, their top tips and tricks, along with budget-friendly ideas to ensure that your grand opening party is a success.
Set a Timeline
Before opening your doors to the public, Tran Wills, founder of Base Coat salon in Denver and Los Angeles, recommends hosting a soft opening for friends and family to work out any kinks. Your next order of business is to set a date and time for your grand opening party that will work best for your ideal clientele. For example, if most of your clients are working women or young millennials in the corporate world, then host your party on a Saturday afternoon. Or, if you cater to a majority of stay-at- home moms, then a weekday brunch or an early evening may work best.
RELATED: Polish Me Pretty Nail Bar Opens Burbank Location
Maintain a Budget
The No. 1 factor to keep in mind during the planning process: Your party should in no way eat up any of the salon's start-up costs. Determine a realistic amount that you can devote to the event, then create a spreadsheet and allocate specific amounts for each expense (i.e., decorations, invitations, catering, etc.). Update the spreadsheet every time you pay your vendors to avoid overspending.
The best way to keep spending to a minimum? "Collaborate with local businesses, such as bakeries, coffee shops and florists," suggests Melissa LeMay, business educator and salon strategist. "Even if certain businesses can't swap services at the time, they may be interested in future collaborations and can help you spread the word about your event."
Build the Guest List
Your budget will also provide you with a realistic number of guests that you can host without breaking the bank. "Invite current clients, like-minded businesses, local social groups, press and influencers in your area," suggests Wills. For example, since Base Coat prides itself on being environmentally conscious, Wills invited other businesses that focus on health and wellness (think: yoga studios, juice bars and plant-based restaurants).
When it comes to drafting the invitations, Wills recommends enlisting a graphic designer to ensure that they look clean, fresh and professional. She also advises personally sending out the invitations, rather than relying on a PR company or generic email blast. "People want to see the face behind the brand," emphasizes Wills. "When they know you, they're more likely to support you."
RELATED: Savvy Salon ASTR Nail and Beauty Lounge
Transform the Space
While over-the-top party themes are fun, remaining authentic to your brand should be your biggest priority. "Knowing what you want to accomplish and how you want your guests to feel about your salon is key," stresses Dave Crisalli, founder and CEO of Prose salon, with locations in Arizona and Murfreesboro, Tennessee. Opt for decorations that play up your salon decor, from the colors to the artwork to the furniture. There are plenty of budget- friendly options that will instantly dress up a room, such as flower arrangements, large plants, balloons, chalkboard signs, string lights and letter boards. Also consider incorporating your salon's theme into the smaller details, such as candles, napkins, tablecloths and music.
RELATED: Color Camp Opens New Studio City Location
Create the Menu
When it comes to catering, opt for light, easy-to-eat appetizers and snacks that play up your salon's vibe. "Charcuterie boards, pasta salads, bruschetta and bubbly rosé or champagne are ideal for high-end salons," suggests Crisalli. Want something more low-key? Opt for a dessert bar, chips and dip, veggie trays and handcrafted cocktails. If possible, offer a couple of signature items that draw attention to your salon. For example, rent an ice cream truck and concoct a sundae that features your salon's colors, or create cocktails that reflect your services, such as a lemon drop martini to match your citrus-themed pedicure.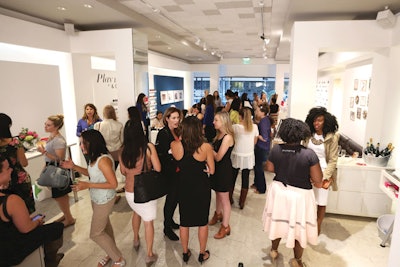 Provide Entertainment
Your main goal when planning any party should be to keep your guests entertained from the moment they walk through the door. "Create different stations that keep your guests moving and engaged," suggests LeMay. Try a polish-testing station, a photo booth, retail displays or a mini-manicure station to help guests get to know your staff. LeMay also recommends hosting a giveaway or contest to ensure that your guests stick around to the very end. "People love winning prizes, so a drawing is a great incentive to attract people to your event," she explains.
One easy way to make a lasting impression is to provide party favors. "Give your guests small gift bags containing items such as candy in your salon's colors, branded coffee mugs, product samples or $5 gift cards to your salon to incentivize them to come back," advises Crisalli.
However you decide to personalize your grand opening party experience, the key is to provide your guests with a positive experience that they'll want to share with their friends. "Remember, the success of the event isn't in whether or not you serve expensive champagne or spend tons of money," stresses Crisalli. "It's in the warmth and hospitality of the people behind the business."
–by Taylor Foley
This story first appeared in the May issue of Nailpro magazine. To receive the magazine, click here to subscribe.
[Images: Courtesy of Color Camp; Top Coat Nail Studio/Gavin McIntrye]