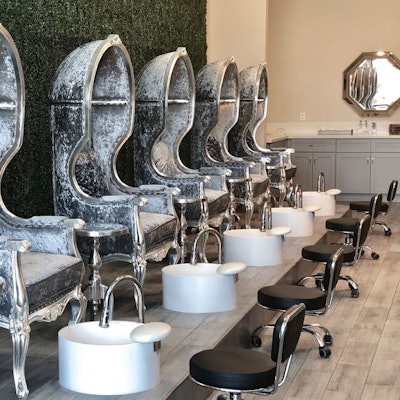 Owner Joyce Wang welcomes Nailpro to her enchanted-forest inspired southern California salon.
The Look
ASTR Nails & Beauty Lounge is located in a modern, recently updated shopping center in West Covina, California. Its enchanted-forest design, inspired by nature, flowers and greenery, incorporates wood elements, natural stone and a lush green wall to create
a serene, chic and fun environment for clients.
Signature Services
ASTR is unique in that it's a full-service nail and beauty lounge that focuses on art, technique and quality. We integrate nail artistry with high-quality products. We pamper our clients with affordable luxury while providing extraordinary customer service. Clients tend to spend an hour to an hour and a half in the salon and an average of $45 per visit. Most clients choose nail art ($3 to $8 per nail) and our signature Tea Party Package, complete with a luxurious sea salt soak with fresh rose petals, organic cooling sugar scrub, soothing clay mask, organic oil massage and polish.
The Goods
We currently use Aprés, OPI, Young Nails, Zoya and Bio Seaweed Gel, as quality and safety are important to our clients' health and to us. These products are nontoxic, do not damage natural nails and provide the best services.
RELATED: Savvy Salon – Sugarcoat Nail & Beauty Bar, Atlanta
Social Life
We connect with clients and other nail artists via Instagram. Clients use the app to look for nail art inspiration, and our staff uses it to seek out the latest trends and techniques.
The Outreach
We support local businesses by working together and referring one another. We're involved in the community by volunteering our time to educate kids in need.
Up Close with Joyce Wang
What was your first job in the nail industry?
"I began working with industry-leading nail salons over four years ago."
What inspires you?
"Helping women feel beautiful and confident."
What renovations have you made to your salon?
"It's important to take care of our employees, as they take care of our clients, so we renovated our employee lounge to create a more comfortable space."
What's your best advice for new salon owners?
"Never compromise quality."
RELATED: Savvy Salon – Olive & June, Several Locations
What's your go-to client conversation starter?
"What particular trends or designs would you like done today?"
I can't discuss ASTR without . . .
"Mentioning the artistry, luxury and unparalleled customer service we offer."
Details
Owner: Joyce Wang
Est.: 2017
Staff: Eight independent contractors compensated by base salary plus commission.
Benefits: Educational opportunities; in-house demonstrations on new products, trends and techniques; and products provided for techs to practice the latest techniques and trends.
Pricing: Last November, we increased our prices by 10 percent—manicures are now $25 and spa pedicures are $35.
–by Angelina Lewis
This story first appeared in the April issue of Nailpro magazine. To receive the magazine, click here to subscribe.
[Images: Tracy Ly and ASTR Nail and Beauty Lounge]