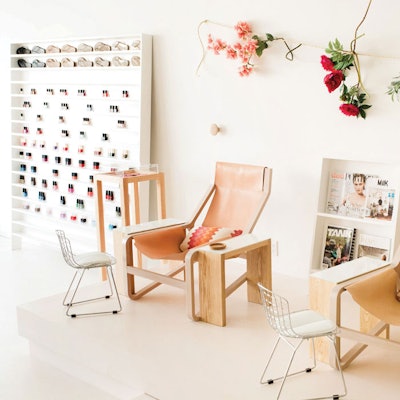 Owner Sarah Gibson Tuttle gives Nailpro the inside scoop on her naturally stylish nails salons.
The Look
Designed with a familial warmth to capture the look and feel of your stylish best friend's house, Olive & June (OJ) immediately makes you feel like you belong. Each of our salon locations serves a different crowd. OJBH sits on a very established block in Beverly Hills, California, surrounded by great restaurants and shopping for both locals and visitors alike. OJPAS (Pasadena, California) and OJSM (Santa Monica, California) have more of a neighborhood feel, especially our Santa Monica location, which is on the perfect block for window shopping!
Signature Services
Olive & June elevates the salon experience by providing women with personalized attention and luxury services at an approachable price. With a new line of products, Olive & June is elevating the at-home experience, too. We believe that no matter who you are, where you live or what you do, you deserve a manicure to help you feel your best—and Olive & June is here to make that beautiful feeling happen for everyone. Our most popular services are the June (regular polish) and the Chrissy (gel polish) manis, both complete with nail shaping, cuticle care and massage. The June is $25 and lasts about 40 minutes, and the Chrissy is $40, and lasts about one hour.
RELATED: Savvy Salon – Prép Beauty Parlour, Vancouver, Canada
The Goods
Working with soaps, lotions, polishes and polish removers that are clean or organic is better for everyone. We carry a variety of polish lines that are 3-free, 5-free and above—plus our Margot service is customized with organic beauty products from our favorite California brand. We carry Essie and OPI polish, but also are lucky enough to offer Deborah Lippmann, Kendra Scott, CND, Nars and more on our polish wall of more than 350 options. During services, we use brands like Aveeno, Honest Company, Kai, Tata Harper and Fig+Yarrow to enhance
the experience for clients. We also retail specialty brands we use during services, along with our own Olive & June product line.
The Outreach
We support our community and clients by donating to various causes that are important and close to us. We also participate in events that give back to moms as often as we can.
Social Life
Instagram has been instrumental in growing our business. Clients constantly come in solely because they saw Olive & June on a friend's feed. We use the platform to highlight our amazing team and incredible nail art they create every day. Instagram allows us to educate our community on new Olive & June products, recruit new members to our team and have an open dialogue about how to care for your nails both in and out of the salon.
RELATED: Savvy Salon – Cute Nail Studio, Austin TX
Up Close With Sarah Gibson Tuttle
What was your first job in the nail industry?
"Starting Olive & June."
What inspires you?
"My daughter and our amazing team at Olive & June."
What was the biggest challenge when opening the salon?
"Growing and learning every day, but that's also what I love the most about Olive & June. I'm a completely different person now than when
we started, and for that I'm forever grateful."
What was your latest salon renovation?
"We renovated the floors in our salons earlier this year to a natural wood. Clients have loved the change, and [the floors] are much easier to maintain."
What's your best advice for new salon owners?
"Work as hard as you can, never shy away from a challenge and keep learning. Read any sort of books, magazines and online articles or take any classes to stay fresh and engaged."
What's your go-to client conversation starter?
"Easy—whatever polish color they're wearing or considering. It's the best place to start."
I can't discuss Olive & June without…
"Bursting with pride!"
–by Angelina Lewis
This story first appeared in the February issue of Nailpro magazine. To receive the magazine, click here to subscribe.
[Images: Courtesy of Olive & June]