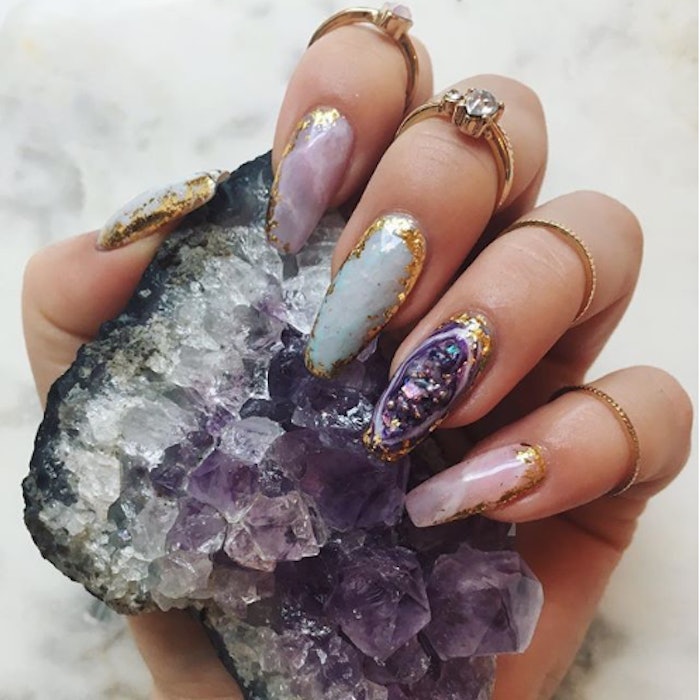 The skill is there. Your technique is clean, nail art is trendy and sets come out stunning. Now the image that captures that talent is an entirely different animal. We've rounded up half a dozen tips for repost-worthy photos.
Natural Lighting
NYC celebrity manicurist and global beauty traveler Julie Kandalec, suggests to have clients take photos of their nails out in natural lighting and send to you to post.
View this post on Instagram
Be Creative
"The days of the hand-over-hand pose on the towel have come so far! Create something exciting and visually beautiful for your feed by having clients take a photo holding a cute coffee mug, against their jeans or a cool wall. Have a few examples on hand so they know what to do," says Kandalec.
View this post on Instagram
Photoshop Don'ts
Santa Monica-based natural nail artist Katie Masters (and our February cover artist—stay tuned) says, "You don't want to change the color or look of the design by over editing, because that creates a false impression." We look for photos that are most raw, unedited and natural looking.
View this post on Instagram
Mind the Cuticles
Over-oiled, bleeding, red—we've seen it all. Sometimes over oiling the cuticles hinders a well-done set from being reposted. Finish the look by moisturizing the skin around the nails and removing file dust and powder without creating a greasy standout that distracts from your design.
View this post on Instagram
Focus
Taking photos that are clear and in focus instantly set you apart from the crowd. Good lighting and a steady hand work wonders.
View this post on Instagram
Unlike the Rest
Add a standout to your sets. Whether it's a few simple rings, a unique background, embellishments or even holding a sleeve, they add a little something extra that catches the eye.
View this post on Instagram
—by Angelina Lewis
Be sure to add #NAILPRO to be featured on our Instagram.