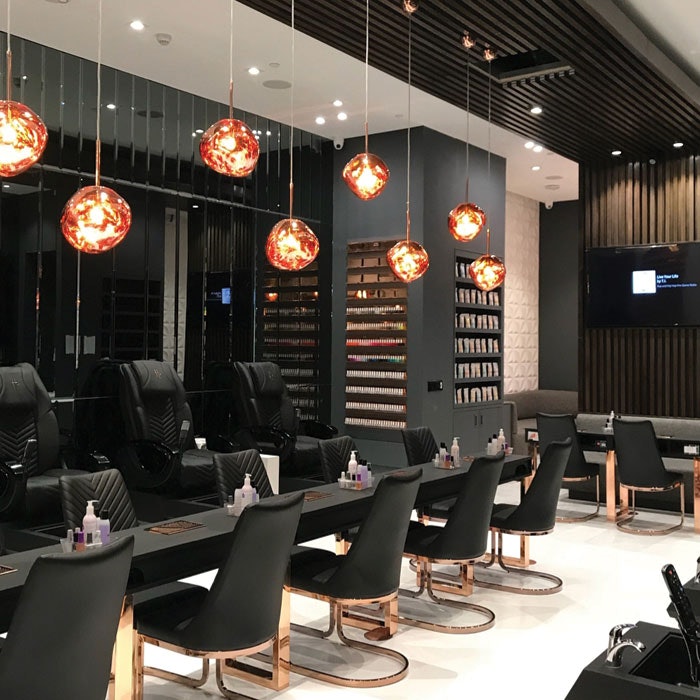 Imagine there was a way to boost productivity, attract new clients and improve staff morale simply by moving your furniture or changing your salon decor. There is: the ancient Chinese practice of feng shui. The term, which literally translates as "wind-water," focuses on creating a balance of positive energy in your work and living spaces in order to achieve happiness and success. "Positive vibes elevate the salon experience, which, in turn, increases your clientele," enthuses Melissa LeMay, business educator and salon strategist. What's more, feng shui can be used to incur specific benefits for your business, such as enhancing creativity or creating harmony amongst staff. The good news is that you don't have to spend a lot of time or money in order to update your space. Achieving feng shui is surprisingly easy: You simply need to create a balance between the five elements—wood, water, fire, earth and metal—and develop a positive chi, or energy flow. "Every element has its own energy, attributes, shape, color and personality," explains Priya Sher, a London-based feng shui consultant. Feng shui follows the bagua, a map that connects different areas in your workspace to different areas in your life to achieve a desired goal, such as boosting profits or attracting new clients.
Ready to take the plunge? Begin with a thorough deep clean to increase productivity. "Less is always more in feng shui; decluttering the salon is an easy way to help the positive energy flow," says feng shui enthusiast Lianna Nguyen, co-owner of Zen Nails in Florence, Kentucky. Throw out old polishes, implements, towels, magazines and any signage that's in less-than-perfect condition. Then, use these budget-friendly tips to feng shui your salon and reap the benefits in the coming year.
Wood
Colors
: Green, brown
Common Associations
: New beginnings, vitality and new growth
The element of wood is often associated with greenery, live plants, wood furniture, cabinetry or tall, vertical objects. "To uplift clients' mood, always keep fresh flowers in the waiting area," suggests Sher. "Or to boost sales, place a tall green plant in the corner diagonally opposite of the salon door, which represents new wealth." Karen Rauch Carter, Naples, Florida-based feng shui consultant and author of Move Your Stuff, Change Your Life and Make a Shift, Change Your Life, recommends placing a live plant or a painting of a lush landscape in the back left corner of the salon, which is the prosperity area, to symbolize that your money is always growing.
VIDEO: The Making of NAILPRO's Creating the January 2019 Cover
When evaluating the presence of wood, examine anything that may be physically preventing clients from walking through the door, such as large bushes, columns or walls. Sher recommends planting bay trees on both sides of the front door or creating a floral window display to draw good energy and wealth into the salon. The layout inside the salon is equally important. "The pedicure stations should be in the back, while manicure tables and the waiting area should be at the front," says Nguyen. "The reception area should never be directly in line with the front door, as that puts receptionists in the 'line of fire,' which can result in a high turnover rate," warns Carter. Instead, set up your reception desk at a diagonal, so it's visible from the front door.
Water
Colors:
Blue, black
Common Associations:
Harmony, prosperity and balance
Although nail salons are naturally associated with water (thanks to the abundance of sinks, manicure bowls and pedicure tubs), it's still important to showcase a few additional water elements throughout your space. Often associated with a wavy, free-flowing shape, water can be represented by a small fountain, paintings of water scenes or mirrors. "Much like lake or river water reflects the sky above it, mirrors offer the same reflective quality," explains Carter. Sher suggests hanging mirrors throughout the salon, especially in the southeast section of the waiting area to activate money energy. (Bonus: Mirrors can make your space appear larger than it actually is!)
RELATED: Set New Year Resolutions to Ensure a Prosperous Business
Fire
Colors:
Red, orange
Common Associations:
Energy, passion and creativity
Integrating the fire element without overwhelming or intimidating clients is key. For example, a bright red wall is a definite no-no, as it evokes feelings of rage or anger. Instead, add subtle touches to your space, such as lights, candles, a fireplace or anything in a triangular or diamond shape. Start by examining your salon's current lighting system. "Avoid tube or fluorescent lighting if possible, as these can cause headaches," warns Sher. Good lighting is also crucial for retail sales. "Set up your retail space so that clients can walk all the way around it in order to keep the energy flowing around your products," recommends Carter. "You can also regularly rotate the products on the displays or place a moving sculpture or fan nearby."
PHOTOS: Sacramento 2018 – The Exhibitors at the Annual Nail Show
Earth
Colors:
Yellow, light brown
Common Associations:
Support, stability and nourishment
The earth element quite literally sets the foundation for your business. "Earth is usually represented by horizontal shapes or squares, anything with a flat, horizontal surface or neutral or yellow tones," says Carter. To add hints of the earth element, showcase handmade ceramic pottery at the reception desk or decorate the waiting area with yellow or beige accents. "Give the waiting area an at-home feel with new cushions or comfy throw blankets," advises LeMay. Other long-lasting alternatives include painting the walls in a solid neutral hue or installing marble or granite countertops for cabinets, reception desk or nail tables.
Metal
Colors:
White, gray, metallic
Common Associations:
Structure, mental strength and productivity
Metal is represented by round or mounded shapes, metal objects or anything with a shiny finish. "Metal relates to good organizational skills, enhanced concentration and money energy," explains Sher. If a minor renovation is within your budget, add arched doorways or dome lighting throughout the salon. Or, for a more budget-friendly option, opt for subtle metal accents, such as vases, picture frames, candlesticks or door knobs.
The best part about incorporating feng shui into your salon design is that any change you make, large or small, can make a difference—so set a goal and get creative! To learn more about feng shui or to locate a consultant in your area, visit the International Feng Shui Guild website at ifsguild.org.
–by Taylor Foley
[Images: Courtesy of each salon]