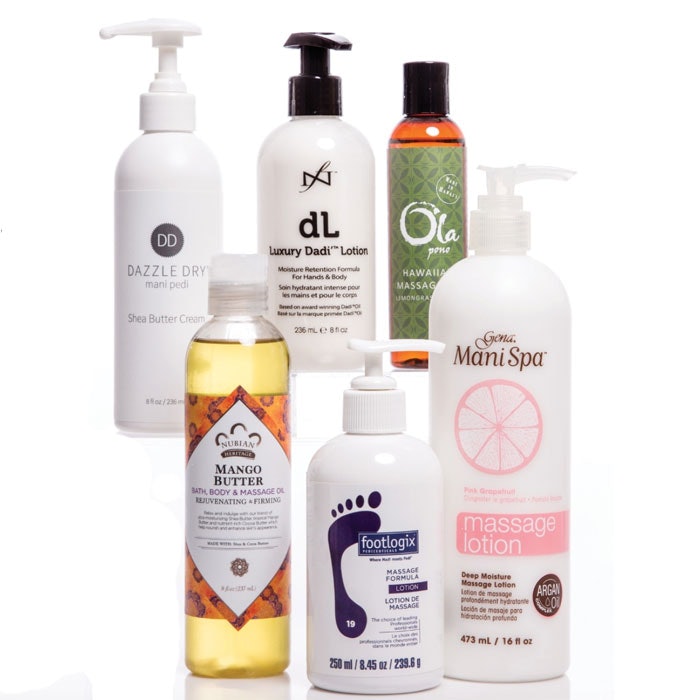 From the decadent oils and sweet-scented lotions to the perfect amount of pressure in all of the right places, a good massage can instantly elevate any service, transforming a routine mani/pedi into an indulgent biweekly treat. "A good massage allows clients to slow down for a minute and ends the service on a positive note," enthuses Karen Kops, cofounder of Poppy & Monroe salon and Vetiver Modern Massage studio in Nashville, Tennessee. While the massage remains clients' favorite part of a service, nail techs often feel pressure to skip this step or cut it short when they're slammed with back-to-back appointments or running behind. A massage doesn't have to be lengthy in order to be effective, however; all techs need is the proper technique and an arsenal of quality products to make the experience memorable.
The first step in improving your massage practices is to ensure that techs' skills are up to par. "Lack of proper training is often the No. 1 culprit for a bad massage," warns Kops, who recommends partnering with a local massage school to help techs understand the different types of strokes, such as effleurage (long sweeping strokes), petrissage (kneading), tapping, friction and vibration. Techs should also ask probing questions to see if the client is experiencing any pain, tension or discomfort so they can customize the massage to fit the client's needs. Feeling rushed? Kop provides a time-saving tip that may seem counterintuitive but can actually make all the difference from the client's perspective: "Slow down!" she says. "Going slower gives the illusion of a longer massage, even if you're limited on time."
RELATED: How To Develop Your Nail Education and Skills on a Budget
Product selection is also key. Kops suggests using a gel or oil that offers plenty of slip but doesn't leave behind a greasy residue. Products rich in jojoba oil, aloe vera and vitamin E are ideal for providing lasting moisture to the skin. "We also use cannabidiol (CBD) oil to provide additional muscle relaxation and work out kinks," says Kops. Consider swapping synthetic fragrances for essential oils to take advantage of plant-based extracts' therapeutic properties. "Lavender and vetiver are great for calming and reducing anxiety, while a citrus blend is invigorating and energizing," she explains. Ready to step up your massage game? Check out our selection of luxurious massage lotions and oils that are sure to help clients relax and unwind while they're in your chair.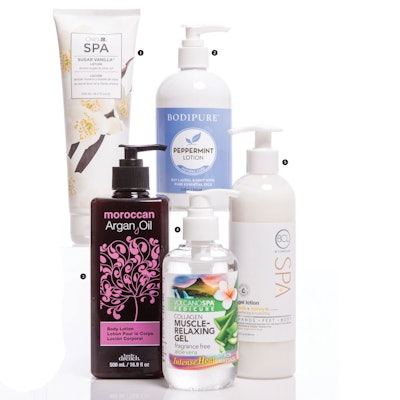 1) CND Sugar Vanilla Lotion: Boost moisture retention while treating clients to the aroma of vanilla and white tea.
2) BodiPure Peppermint Lotion: The cooling formula includes bay laurel, mint and an essential oil blend.
3) Body Drench Moroccan Argan Oil Body Lotion: The exotic oil's earthy scent calms the mind, while its nourishing properties revitalize the skin.
4) La Palm Volcano Spa Collagen Muscle-Relaxing Gel: Soothe aching muscles with this warming, relaxing massage gel.
PODCAST: Pro Beauty Talks – Jan Arnold, CND Co-Founder and Style Director
5) BCL Spa Gel Lotion Milk & Honey: Indulge clients with a tempting white chocolate scent and nongreasy gel formula.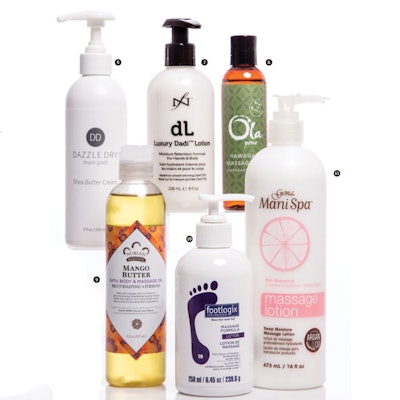 6) Dazzle Dry Shea Butter Cream: Eleven essential oils replenish and soothe the skin in this vegan, paraben-free formula.
7) Famous Names Luxury Dadi' Lotion: The nongreasy body lotion is infused with extra virgin olive oil, avocado oil, jojoba oil and natural vitamin E.
8) Ola Pono Hawaiian Massage Oil: This tropical oil blend of coconut, passion fruit and avocado oils boasts a bevy of anti-aging benefits.
9) Nubian Heritage Mango Butter Bath, Body & Massage Oil: Pour this ultranourishing oil blend into a warm footbath or use it for added slip in a massage.
10) Footlogix Massage Formula Lotion: Dermal Infusion Technology and a blend of urea and sunflower seed oil hydrate legs and feet without a greasy residue.
RELATED: Premier Nail Source CEO Michael Kerzner on Maximizing Retail Profits Year Round
11) Gena Pink Grapefruit Massage Lotion: Featuring a nourishing argan oil complex, this lotion is specifically formulated for soothing hand massages.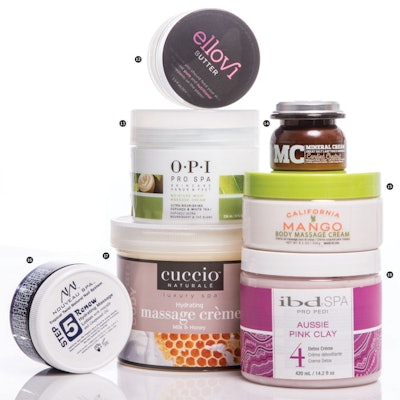 12) Ellovi Butter: This California-made butter boasts skin-nourishing benefits thanks to its six pure ingredients, including coconut and shea butters.
13) OPI Pro Spa Moisture Whip Massage Cream: Lock in hydration with the soufflélike texture of this massage cream infused with a blend of cupuaçu, shea and coconut butters.
14) Salt of the Earth Candied Chestnut Mineral Cream: Healing grapeseed oil, trace minerals, and vitamins A and E repair dry, damaged skin.
15) California Mango Body Massage Cream: Mango seed oil nourishes, while açai and goji fruit extracts infuse the skin with antioxidants.
16) Nouveau Spa Renew Hydrating Massage Lotion: Replenish and revive the skin with this tropical oil-infused massage lotion.
17) Cuccio Naturalé Massage Crème Milk & Honey: The paraben-free formula contains milk to soften and smooth the skin and honey, a natural humectant.
18) ibd Spa Aussie Pink Clay Detox Crème: Secret ingredient Australian kakadu plum is packed full of antioxidants and 50 times more vitamin C than anorange.
–by Taylor Foley
[Images: Courtesy of Brooks Ayola]