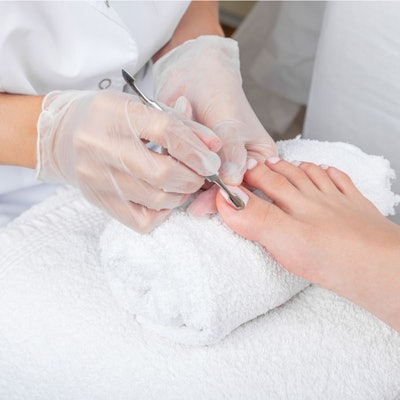 With elderly populations on the rise—not to mention increases in chronic diseases like diabetes—there's a greater need than ever before for safe salon services. Thankfully, today's advanced training can educate techs on everything they need to know to perform a medical pedicure, or medi-pedi, from flawless sterilization procedures to best practices when servicing chronically ill clients (and when to refer them to a medical professional). "It's an industry that's growing because there's a need and demand for healthy, safe, sterile salons," notes Letisha Royster, owner of Waterless Medi-Pedi & Nail Spa in Roswell, Georgia. "People are looking for salons they can have confidence in." Considering expanding your skill set to learn how to perform medi-pedis? Here's what you need to know.
Safer Services
Medi-pedi services go beyond a basic pedicure and polish by taking into consideration a client's health concerns, including any pre-existing conditions that might compromise their lower extremities. One of the most important components, says Vicki Malo, president of the North American School of Podology in Toronto, is a thorough consultation and evaluation. "A tech with advanced training in medical pedicures understands what recommendations should be made for in-salon services and home-care, when to refer clients to a medical professional and what implements to use," says Malo. "For compromised clients, you need stainless steel or single-use implements, an autoclave and possibly an electric file with a special bit for reducing thick nails."
RELATED: Nail Art Menus Can Help Boost Profits and Client Satisfaction
Janet McCormick, cofounder of Nailcare Academy in Fort Myers, Florida, adds that compromised clients (such as those with a chronic illness) often require a lighter touch—and knowing what to do according to the situation is crucial. For example, soaking, which can lead to dryness, should be skipped on diabetics; techs should avoid aromatherapy on at-risk pregnant women; and certain massage techniques can tear the thinner skin of elderly clients. "You can even save lives by spotting cancer on the foot, because techs with advanced training know what to look for," McCormick says. "And, by specializing in the chronically ill, techs can make more money. Once these clients visit, they never leave because they feel safe."
Malo agrees that perhaps the greatest benefit to offering medi-pedi services is the ability to positively impact clients' lives. "Beyond enhancing your income and targeting a growing niche within the pedicure market, you can have a profound effect on how clients feel," she says. "You can help with calluses, corns and thick toenails. The bottom line is, you enhance your skill set and simply know how to provide a good, clean pedicure service for anyone."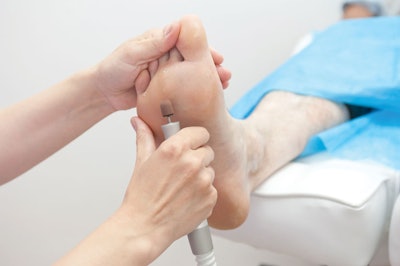 Pedi Partnerships
To become certified in these types of advanced services, techs can receive training online or in person through a variety of programs, which may include an internship with a podiatrist to receive hands-on experience. After receiving the appropriate training, techs will find a bevy of opportunities open to them: They may choose to stay in a traditional salon, work in a podiatrist's office or at an elderly care/retirement facility, go mobile and visit clients at home, or open their own salon or suite specializing in advanced foot care. Royster notes that even athletes visit her salon, since they're so dependent on healthy feet, as well as clients who've had infections due to unsanitary services in the past.
RELATED: Boost Revenue with Seasonal Nail Services for Every Personality
Regardless of the path you choose, when you're trained in providing medi- pedis, it's beneficial to partner with a local medical professional to encourage referrals on both sides. Malo and McCormick agree that when meeting with local podiatrists, it's important to dress professionally and bring backup materials to build trust, such as a resume, referrals and any credentials obtained. "Ask for the office manager, not the podiatrist," McCormick advises. "Explain what you're trained to do and that you would like referrals, and leave brochures they can give to their clients."
Meanwhile, Malo recommends demonstrating your skills by offering a sample service to someone in the office and finding potential partnerships by asking current clients if they see a podiatrist. "Take before-and-after pictures of your work, and write out your disinfection process," Malo suggests. "During services, make sure you stay within the scope of your practice." In other words, techs with advanced training never diagnose or treat diseases, but they do know the "three Rs," Malo says: recognize, recommend, refer!
Words of Warning
Attaining advanced training in pedicure services for clients with medical conditions can help boost business, but techs need to watch their wording when advertising services, says Janet McCormick, cofounder of Nailcare Academy in Fort Myers, Florida. "Some states, like Ohio and Colorado, don't allow nail technicians to use terminology like medi-pedi or medical pedicure, as they feel the techs are making false claims," she explains. "They focus on the fact that we are 'cosmetic' in all of our services by law and cannot use the word 'medical' without perpetrating misunderstanding. Ultimately, the difference between a medi-pedi and other pedis is in the enhanced knowledge the nail tech has regarding what precautions she must take to perform services on persons having certain illnesses—not in actual protocol."
–by Tracy Morin
[Images: Getty Images]