Boost revenue this holiday season with personalized nail services and toast-worthy tips.
With clients wanting to look party-ready for every occasion, from work functions to family gatherings, the holidays are the busiest time of year at most nail salons—the perfect opportunity to boost revenue while pampering your guests with personalized services. "The key is to appeal to the masses, but also to appeal to clients on an individual level," recommends John Dawson, manager of Pink Toes Nail Bar in Dallas.
Determining how to elevate the salon experience for each client, however, is easier said than done. Your best bet is to pay attention to your client's attitude when she's in the salon (is she always in a rush or constantly showing you Instagram posts on the latest nail trends?), and then suggest services and upgrades that are tailored to her whims and needs. Whether you have a busy mom or an all-out fashionista in your chair, she's sure to get into the holiday spirit with these service suggestions and festive tips from top techs.
The Natural Woman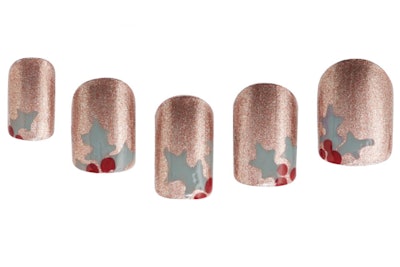 For many clients, "going green" is a lifestyle and their nails are no exception. "Some women are always on the lookout for products free of chemicals," explains Tran Wills, founder of Base Coat salon in Los Angeles; Denver; and Aurora, Colorado. Her service recommendation for this type of client: a luxurious but clean manicure and pedicure. From a Himalayan salt bath to a nourishing body oil made from a variety of natural oils, create an indulgent treatment that revitalizes and rehydrates dry, cracked skin—with clean ingredients. When it comes to holiday nail art, Wills recommends something "simple and chic," as the eco-conscious client usually prefers a more minimalist look. "A glitter ombré on top of a nude nail is a great go-to design," she suggests.
RELATED: 'Tis the Season for Festive Holiday Nail Art
Los Angeles-based nail artist Meagan Knight kept the environmentally conscious client in mind when she created these eye-catching rose gold tips
embellished with hand-painted holly berries by using Deco Miami lacquer, which boasts a 9-free, vegan and cruelty-free formula. "I used a small
detail brush to get the leaves right and a dotting tool for the berries," she says. "It's a quick design!"
The Fashionista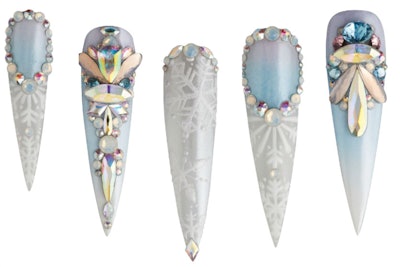 In a time when red and green reign supreme, the true trendsetter seeks to stand out from the crowd—especially when it comes to her nails. "A fashion-forward client is on the hunt for an Instagram-worthy manicure that will complement her chic style and outlast holiday traveling," says Mabelyn Martin, associate creative director for Paintbox salon in New York. A step up from a traditional lacquer manicure, gel polish offers longer wear and gives techs more precision and control. But don't even think about giving this client a single-color paint job; a fashionista craves a cutting-edge design. Think: custom-mixed glitter, piledon gems or a negative space half-moon. When selecting colors, stick to avant-garde holiday hues, such as a matte silver with metallic accents or glossy navy blue with rose gold.
Case in point: this wintry crystal-accented stiletto set designed by nail artist Halley Fortenberry that's fit for Frozen's Elsa. "Instead of leaving the negative space completely clear, I applied white chrome over the nails to give them an icy finish," Fortenberry says. "The purple to blue to white gradient brings out the clarity of the AB Swarovski crystals."
RELATED: Nail Pros on Using Metallic Nail Art to Shine This Holiday Season
The Traditionalist
The holiday season is the perfect time to sway polish-only clients out of their comfort zones. "A dip powder manicure provides the durability of acrylics and lasts up to three weeks," explains Dawson. To give the service an indulgent touch, Dawson suggests offering the client an add-on paraffin treatment to restore softness to the skin. Selecting a festive color for this client is easy; reds, ranging from candy apple to deep wine, are usually a top pick. When it comes to nail art, Dawson recommends something subtle, such as a glitter accent nail or a delicate snowflake design.
For this client, you can't go wrong when sticking with classic and elegant holiday themes, like Linda Tran, a nail artist at The Cosmo Studio in Torrance, California, did with this set. "I didn't want to overwhelm the traditional client with too many colors or nail art, so I decided on a festive red and white set," she says. "I used snowflakes and a simple candy cane design to mesh the winter and Christmas themes. I added a touch of shimmer over the candy cane to liven up the nail set."
RELATED: Nail Art Inspired by the Glitter and Sparkle on the Runway
The Busy Mom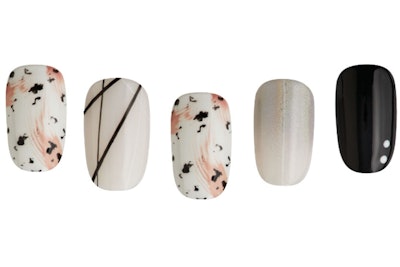 Mothers are constantly on the go, especially during the holiday season. "The key is to pamper these clients in a short period of time," advises Nora Neff, owner of Boudoir Nail Bar in Chula Vista, California. Neff 's service suggestion? A manicure and pedicure service that includes a relaxing neck wrap, paraffin wax, luxurious sugar scrub and mask—completed in an hour. Because busy moms are usually strapped for time, Neff suggests upgrading the service to gel polish for the longest wear and shortest dry time. If your client wants to indulge in nail art, Neff recommends time friendly options such as stamping, chrome pigments or a magnetic cat eye design—or, opt for a soft French ombré with a hint of shimmer. "The clear gradient effect disguises any signs of growth, allowing clients to go longer between appointments," says Neff.
Alyssa Allen, a nail artist at Nail'd It in Cambridge, Ontario, Canada created these graphic tips using techniques she can execute quickly and easily. "Lines are my jam, so I used holo powder, line work with a stripping brush, simple dots with a dotting tool, dry brushing and abstract blobs," she says. "An on-the-go mom who doesn't have too much time to be in my chair but still wants something cute could wear these as an everyday mani or rock them at a holiday party!"
– By Taylor Foley