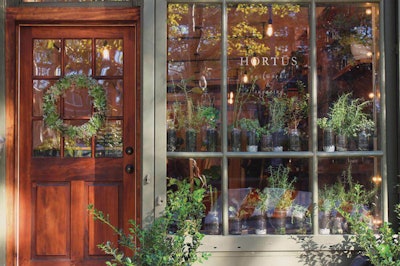 Freshening up your salon's exterior offers a host of benefits: boosting business, enhancing employees' workspace and enticing both current and prospective clients. Meanwhile, a pothole-riddled parking lot, grime-caked windows and faded, dated signage might cause those clients to assume that your salon's services are similarly not up to standards. "If someone sees outdated design, they may wrongfully assume the business is also outdated," explains Michele Pelafas, principal designer/artistic director for Michele Pelafas in Elmhurst, Illinois. "Curb appeal lets your guests know your worth before they see the price list—and it should be as up-to-date as the styles you create inside." Take these steps to ensure that your salon is projecting a pretty face.
1. Signing In "Salons' primary form of advertisement is their exterior areas," Pelafas says. "If a nail salon's brand story is fun, playful or luxurious, the outside of the building must say so." Start the dialogue with signage. Match any exterior design elements or fonts in your signage with your logo, and ensure the signs are easy to see and read, day and night, advises Felicia Brown, business and marketing coach at Spalutions in Greensboro, North Carolina.
Create dramatic signs so a guest never has to wonder who (or where) you are, and choose sign design that complements the building's best features. "[This way] a passerby might say, 'I had no idea they carried that brand,'" says Pelafas. "Now you have her attention."
Signage can also be used to inform clients about the work you perform. Lauren Caruso, owner of Color Camp in Los Angeles, keeps her front window clutter-free so passersby can view the experience from the street, but "Manicure Bar" is painted on the awning to nix client confusion. "We also create seasonal posters for our sidewalk sign to keep our marketing message fresh and exciting," she adds. "We purchased a metal frame from Uline for $100, and each season we print a new poster to go inside, which costs only $30."
Finally, don't overlook your website and social media; Brown calls them your building's "online exterior" and will be what many people see before stepping foot in your salon.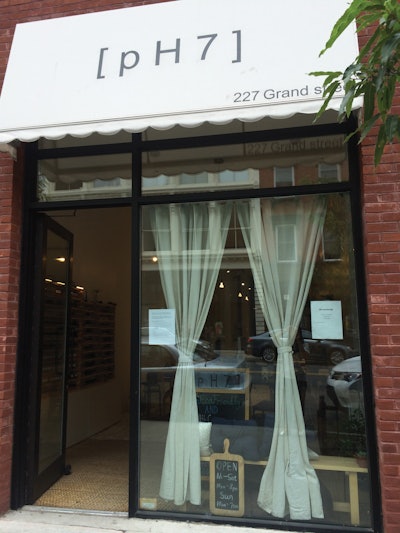 2.  Front and Enter You want your exterior and entryway alike to invite guests in, giving them a subtle preview, so if you've spruced up your exterior, clients are sure to take a peek. Think like a window shopper and begin your story before the client walks in. "Let them see that there's something inside that they need (but didn't know they did), without being too over-the-top," Pelafas suggests. "You want to sway them to walk in and experience what you have to offer."
You can also enhance the entryway with sensory experiences. Brown suggests adding a couple of salt lamps to infuse warmth while subtly showcasing a popular retail item, or using an aromatherapy diffuser in an entry area to emit an irresistible smell when the door opens. You can even think seasonally, she adds; change the scent regularly and note the "blend of the day" on a small chalkboard by the diffuser.
3. Clean, Green and Preened It's important to primp your salon's exterior just as you would the interior. Keep walkways and parking lots clean, and trim lawns and bushes, Pelafas recommends. Schedule a pressure wash for the siding and sidewalk. Add some fresh paint to worn exteriors; clean windows thoroughly. "It's important that the front door area always looks appealing," Brown says. "Keep your eyes peeled for trash, landscaping debris, dead leaves and dirt anywhere around your front door or in front of your business."
And no matter what your setting—from secluded spot to strip mall—Brown notes that salons can lure in clients with eye-catching entryway accessories: a sandwich board to tout specials; wind chimes; a basket or box with takeaway menus; a bubble blower or balloons; planters with seasonal herbs or blooming plants; or a clean, inviting doormat. "You can even add outdoor seating, statues, colorful flags or banners or a small fountain," Brown says. "They help extend the vibe from inside the salon to the outdoors."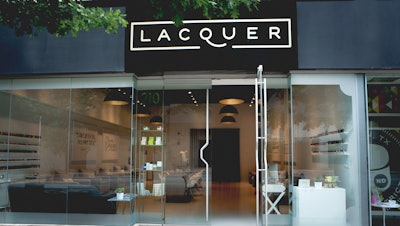 4. Hue Cues Color famously affects mood and behavior, so it's important to ensure that your shades are evoking the right environment. "Choose your exterior color story wisely and ensure it matches your overall theme," Pelafas advises. "Don't stray too far from the interior's scheme." You can also add a pop of color with cheerful, bold lettering or by displaying color-coded product collections in the window.
If altering the exterior color is not an option, hit Home Depot or a local flower market for great deals on vivid natural touches—Caruso snags plants for $20 to $30, using pots from a wholesale pottery store for $10 each. Or, brighten up your exterior with a smart stamp of branding. "Before we moved in, our space shared an awning with our next door neighbor," Caruso recalls. "So we brought in a new awning, which cost about $1,000. We felt it was important to have our space well-defined and distinguishable from our surroundings."
How do you create a more inviting salon exterior? Let us know in the comments below!
-Tracy Morin is a freelance writer and editor based in Oxford, MS.
This article was first published in the March 2018 issue of NAILPRO
[Images courtesy of  pH7 Nail Couture, Brooklyn, NY; Hortus Nailworks, New York, ny; Lacquer, Austin, Texas]