It's (almost) that time of year again! The holiday season will soon be here—a time for mad-dash gift buying, giving back and, of course, revved-up beauty rituals. The best part? These end-of-year events mean big business for techs and salons alike. With proper planning, a seasonal promotion can boost your bottom line, foster client loyalty and bring in new clients. Here, five salon pros share their most successful holiday marketing strategies.
1. Host a bash that gives back. 
Salon 700 & Day Spa, Hyannis, MA
Every year, Salon 700 hosts a three-hour Holiday Charity Party that benefits Toys for Tots and other local organizations. "We strategically pick the first Thursday of December for our event while clients are still looking for gifts and so we don't interfere with Christmas parties," explains owner Nicole Salas, who notes that the salon starts promoting the event the day after Thanksgiving. "Thursdays are perfect, as most clients have plans on the weekend and, with the weekend coming, everyone's ready to party!"
The first phase of marketing the event is an e-blast to the salon's 5,000-plus clients, followed by a Facebook Event page, which Salas encourages employees, friends and family to share; follow-up emails and Facebook posts act as reminders. To help promote the event in the salon, the staff posts fliers and hands them out to clients, and everyone helps to decorate. The day of the event, wine and snacks are set up at multiple locations in the salon. "Most of the snacks are homemade; clients appreciate that personal touch," Salas says. "Afterward, all of the employees help clean up while finishing the wine and food, which promotes team building."
To attend the event, clients purchase a ticket for $25 (in advance or at the door), which includes complimentary services (express manicures, chair massages, blowouts, mini facials, brow waxing and/or makeup applications), drinks and food, plus entry into a raffle of prizes from the salon and other local businesses. "Service providers usually donate their time," says Salas. "The event can help strengthen the relationship with a current client or offer an opportunity to gain a new client. Plus, it's a chance for [techs] to get commission on retail sales, too." Salon 700 has hosted the event for the past five years, with bigger and better results each time; last year, they collected a truck full of toys and the gift card sales (purchase a $100 gift card and receive a $20 gift card) reached nearly $1,000. Says Salas, "Remember the true spirit of the holidays. Don't focus on the short term, but the long-term return."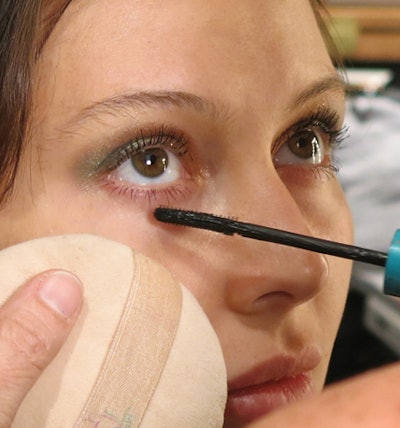 2. Pair up with a beauty pro.
Cosmic Nails, Charlotte, NC
Techs can cash in on clients' busy schedules by partnering with a beauty professional who can offer a complimentary (and holiday-party-friendly) service. Julie Nhi, who operates Cosmic Nails from a salon suite, pairs up with an adjacent hair studio to run a holiday special—a blowout and gel manicure combo—with a set price tag. She suggests brainstorming your idea about a month before the promotion. "This gives you and your partner plenty of time to figure out what your verbiage and social media images should be." She then advises advertising the promotion on multiple social media platforms continually through the end date for optimal exposure. According to Nhi, the benefit extends well beyond the holiday season. "I've done this multiple times and it has helped to build my client list," Nhi says. "In my first year, I gained roughly 30 percent more loyal clients!"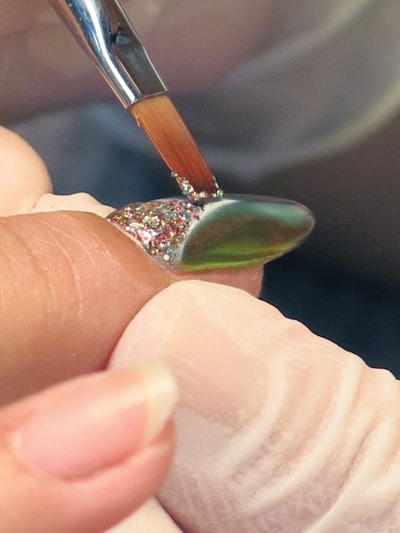 3. Offer favorite services at a special price. 
Vanity Projects New York, NY, and Miami, FL
The busy holiday season is the perfect time to promote a time-saving service—both to attract new clients who need a party-ready mani and to encourage loyal clients to keep their standing appointments. To that end, Vanity Projects offers a $40 gel special during the holidays. "We select up to three different on-trend designs that are versatile and can be completed within a certain time frame," says founder Rita de Alencar Pinto. To get the word out, Vanity Projects usually partners with a sponsor and takes advantage of social media; the promotion runs on Instagram so it doesn't require a long lead time. "We post on Saturday for the coming week," says de Alencar Pinto, noting that it's important that the service doesn't take too long."If you're going to offer an inexpensive service, you don't want [techs] to spend too much time on a single client."
4. Curate your retail area for client gift and wish lists. 
The Painted Ten, Colorado Springs, CO
Kim Piasecki, owner of The Painted Ten, starts planning well in advance of the holidays to reap the most from seasonal services and retail sales. To prepare, Piasecki lists what needs to be purchased for gift bags and holiday retail, and plans out incentives and add-on services. Then, to entice clients, in October, she displays packages, incentives and special services (such as a peppermint-themed mani/pedi) that will be offered later in the year—complete with the dates of each promotion. "Clients know promotions are coming via email, social media and signs in the salon, so they have time to plan," says Piasecki.
According to Piasecki, custom gift bags have been particularly popular: Clients choose from three different bag styles and select items displayed on dedicated shelves. "Gift bags are offered with $25, $50 and a la carte options. When clients buy a gift bag [for someone else], they usually end up purchasing something for themselves, particularly if an item is limited-edition or offered only at that time of the year," says Piasecki. Additionally, as a thank-you, clients who purchase gift bags are given a $5 gift card to use on their next visit. "This will be the third year of this promotion. Each year it has grown and I've gotten a better idea of what our guests are shopping for," she says.
Overall, Piasecki says that her holiday promotions increase sales exponentially, noting that retail sales typically triple, gift card sales double and add-on specialty services increase the tag on a mani or pedi by $15. Her advice for success? Get clients excited! "Introduce a retail product during a service and they're more likely to add the product to a gift bag for a recipient or themselves." She also stresses the importance of stocking up, saying, "More options encourage [more] purchases."
What do you think of these holiday marketing strategies? Let us know in the comments below! 
-Tracy Morin 
[Images:  getty images/catlane/istock; Patty Quon-Sandberg]