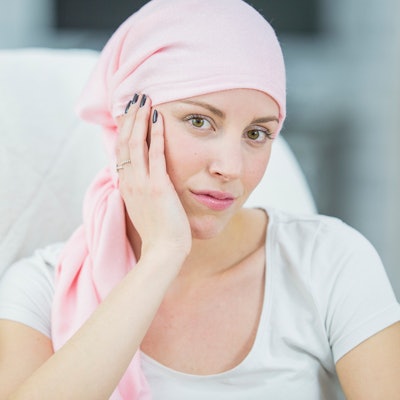 Clients battling this all too common disease require extra care and attention in the salon.
When it comes to cancer, it's unlikely that the disease hasn't affected you or someone you know. Consider this: According to the National Cancer Institute, approximately 40 percent of Americans will be diagnosed with cancer at some point in their lives. What's more, cancer is the second biggest killer in the U.S after heart disease, according to the Centers for Disease Control and Prevention. As a tech, you've probably encountered a client who has had cancer or is currently undergoing treatment for the disease. It's important that nail professionals know how to work with these clients, says Janet McCormick, nail professional and co-owner of Nailcare Academy in Fort Myers, Florida. "Physicians don't think to tell patients that safe manicures and pedicures are important, or what to tell the manicurist," she says. During cancer treatment, patients' fingernails may become weak, develop ridges or even start to lift from the nail bed and discolor. Here, medical experts and nail professionals offer advice for handling clients with cancer in the salon.
Not Just Skin Deep
Nail services may offer more than a physical benefit for cancer patients. "We know things that make someone feel better actually improve the body's defenses," says David Scheck, M.D., medical director of infectious diseases and infection control at Cancer Treatment Centers of America in Tulsa, Oklahoma. "When you feel better, your whole body functions better." Indeed, empathy, reassurance, and showing the client that you are knowledgeable go a long way, says Glynis Vashi, M.D., chief of medicine at Cancer Treatment Centers of America at Midwestern Regional Medical Center in Zion, Illinois.
When catering to clients with cancer, it's important to keep their needs in mind, says Jaime Schrabeck, licensed nail technician and owner of Precision Nails in Carmel, California. "Try to be flexible when scheduling clients so they can visit the salon on their 'good' days," she says. Scheck recommends scheduling services based on the client's chemotherapy treatments. The reason? White blood cells usually drop in number after treatment making it harder for the body to fight germs and infection. To help keep clients healthy, Dr. Scheck advises that cancer patients wait 10 days from their last chemotherapy appointment to schedule a nail service.
Service Solutions
Once a client is in the salon, be sure to check in on how she is feeling overall. "Ask clients if they are tender, so those areas can be avoided, or if they need cushions to be more comfortable," says McCormick. It's also important to ask clients directly about their fingertips, which may be in pain, tingling or numb following chemotherapy. They may also be sensitive to heat or cold, says Dr. Vashi. "Be sure to hold the finger to access the nails by the sides of the digit rather than by the fingertip," she says. "Also, massage should be as gentle as possible."
When choosing implements, be mindful of how and what you use during the service. "Do not use metal implements to push back or trim a clients' eponychium, since the tissue is easily damaged," says McCormick, noting that any damage can allow the invasion of microbes. "It's best to use a wooden stick with cotton cushioning on the tip and press gently, or not at all." If a sharp implement must be used, take extra care. "With sharp tools you have to be extra cautious because any opportunity for an infection [could be] critical if a client does not have the immune system to fight it off," says Schrabeck. Also, as with any safe service, remember to wear gloves. A few more key points to keep in mind:
• Don't use harsh nail polish removers. Instead, opt for a non-acetone based remover and/or one that contains oil to prevent drying out patients' nails.
• Steer clear of artificial enhancements as they have the potential to harbor bacteria, according to Cancer Treatment Centers of America.
• Do not immerse patients' fingers in water if their nails are lifting from the beds, says Dr. Vashi. Instead, perform a dry manicure and sanitize the hands with foam. "Soaking can dry patients' skin, making it susceptible to flaking, cracking and infection," says McCormick.
While it may require extra precautions, doing so can ensure that a salon service provides much needed help to cancer patients during a difficult time in their lives.
Cancer Stats
On January 1, 2016, there were 15.5 million Americans alive who had a history of cancer.
Nearly 1,688,780 new cancer cases are expected to be diagnosed in 2017.
Cancer is responsible for 1 in 4 deaths in the U.S.
87% of all cancers in this country are diagnosed in individuals ages 50 and older.
The most common cancer diagnosed in women is breast cancer, which makes up 30% of diagnoses in females.Source: American Cancer Society, cancer.org
–by Amanda Baltazar
[Image: Getty Images]
This article was first published in the October 2017 issue of NAILPRO