One nail pro has found a way to eliminate messy polish spills and give back to those in need. Kunga Choekyi, owner of KC's Nails salon in Old Saybrook, Connecticut, and a licensed tech with 21 years of experience, worked with business partner and engineer Richard Schlueter to create the Polish Posy, a unique polish bottle holder. The invention holds multiple polish bottles at one time and features an anti-slip grip to protect against tipping and spilling. But Choekyi isn't just looking to make techs' lives easier; she created a Kickstarter campaign to bring the Polish Posy to the market so she can donate a percentage of the profits to Tibetan refugee children as well as local charities. Here, Choekyi shares her inspiration for the product and her hopes of making a difference.
NAILPRO: Why did you create the Polish Posy?
KUNGA CHOEKYI: As a manicurist, I've had my fair share of polish spills. I needed something that could firmly and securely hold my polish bottles in place while allowing me to work efficiently. The Polish Posy is the first multiple, non-slip nail lacquer holder that securely tilts open bottles to allow techs to use every drop of polish. It features innovative grips to hold bottles of different shapes and sizes, and has a heart-shaped inset in the center to hold essential tools.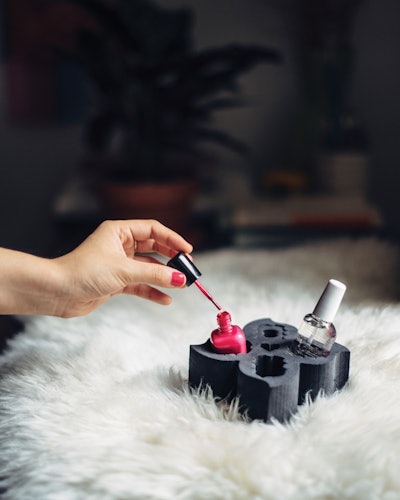 NP: What was your goal for your Kickstarter campaign?
KC: We launched our first campaign on May 2 in hopes of raising $9,000 to help bring the Polish Posy to the market. Thanks to family, friends and strangers who believed in the design, we successfully reached our goal on June 1, and we are now reaching out to beauty suppliers to bring the Polish Posy to market. We are committed to donating a percentage of our profits to Tibetan refugee children as well as local charities in the Old Saybrook area.
NP: What inspired this generosity?
KC: I was born in a cave in the Himalayan mountains of Ladakh in India after my parents escaped into exile during China's violent occupation of Tibet. I grew up on a Tibetan refugee settlement, and I feel that it's my personal mission to give back. I've sponsored a Tibetan child's education, donated used books, toys and medical equipment to Tibetan refugee settlements, and donated to our local soup kitchen. I wish to expand my personal giving through the Polish Posy. I believe that if we can successfully bring the Polish Posy to market, we will be able to amplify our financial support of charitable programs.
This article was originally published in the August 2017 Issue of NAILPRO Magazine.
Do you think the Polish Posy is useful? Let us know in the comments below!