By Katie O'Reilly

Changing the look of your salon is a great way to boost client satisfaction and keep business booming. If your interior could use an update, check out these expert ideas for every budget.
---
As a nail professional, beautification is practically in your blood. And a great way to set apart your business is to create an atmosphere that's both creative and comfortable in order to appeal to your clients and their desire to relax and get away from it all. If your salon isn't accomplishing those things, it could be time to redesign your interior.
According to Michele Pelafas, owner of an eponymous, salon-centric interior design company in Chicago, changing the overall look of your space should be focused on two things: making improvements that address operational challenges and finding ways to enhance the guest experience. That means everything from replacing outdated decor or dysfunctional equipment to acquiring new furniture or restructuring the salon layout. "You might add more mani tables to increase revenue, or rearrange your shop to better highlight your retail offerings," Pelafas notes. "You also can't go wrong with improvements that help guests feel more relaxed; focus on flourishes that promote serenity and happiness." Because the ultimate goal is increasing revenue, and interior design can easily become expensive, each change should be considered carefully and with a budget in mind. Here, experts offer some of their best suggestions for updating your interior without breaking the bank.
Mood Lifters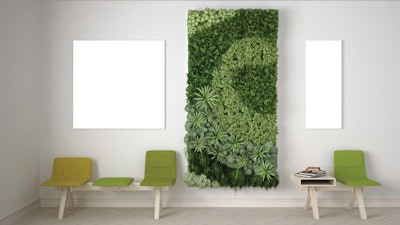 Lighting is one of the most important considerations when creating an appealing atmosphere, and table lamps are a simple and attractive way to achieve the ideal glow. Opt for mellow filament bulbs, which provide soft lighting, and place lamps between pedi units and on mani tables where they offer a sense of comfort and warmth, says Pelafas. "Wall sconces and chandeliers are great, too," she adds. "The 'luxury hotel' look is in." Above all, make sure that the lighting is right for your specific clientele. For instance, Sherry Le, manager of Birmingham, Alabama's T&K Nails, keeps white holiday lights strung throughout the shop, year-round. "Alabamians do a lot of porch-sitting," she reasons, "so we went for a cute, porch-like look inside."
Consider freshening things up with some foliage as well. "People organically connect to nature," says Pelafas, "so plants help them to connect to your space." As a bonus, plants improve air quality, notes Jeffrey Weldler, interior decorating expert at Vänt Wall Panels in Spring Valley, New York. "Set them into good-looking planters and keep them well-maintained and watered," he advises. If you're feeling ambitious (and have a bigger budget), Pelafas is a big fan of living walls or organic sculptural panels that incorporate greenery. "People delight in interesting details, which stimulate curiosity and a client's sense of adventure," she says. "Even on a limited budget, you can create small, simple details that pique interest and might encourage a guest to try nail art or another adventurous service."
Surface
Adjustments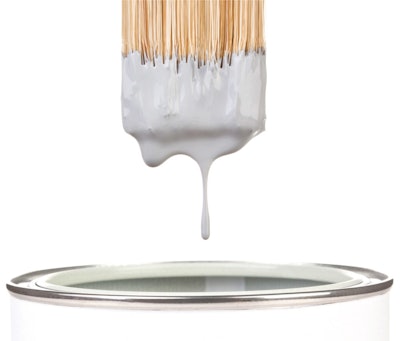 A fresh coat of paint can dramatically alter the look of your salon. Emily McBrayer, who runs the nail salon within The Spa at Oak Haven in Sevierville, Tennessee, likes to repaint every three or four years. Consider using contrasting and complementary colors when you paint. "When done right," says Weldler, "an accent wall can help the rest of a salon's decor really come together." However, the key is to go with a shade that doesn't draw too much attention. "One idea is to take a color from the salon's logo," Weldler says.
When it comes to color selection for paint and otherwise, neutral hues are the safest bet for creating a comfortable, relaxing space. The 2017 color wheel revolves around warm and taupe-inspired grays, and soft beiges—which, according to Pelafas, complement the lounge-like air of hospitality that currently characterizes design. "For a while, there was a trend toward bright, girly, playful colors," she notes, "but now it's about conveying luxury and gender-neutrality." To that end, Pelafas says now is not the time to invest in wild colors or princess thrones.
Instead of plain storage containers and cabinets, you might also give drawers and cupboard doors a more sophisticated look with colors or designs that complement the rest of the space. That's what Le did with the bins where the salon stores its towels: "We used to keep them in a plastic sliding dresser, but now they're decorative enough to keep next to pedi thrones." This solution has proven both fashionable and functional. "Now we don't have to walk farther to retrieve new towels and can keep more on hand." To camouflage an older reception desk made of "ugly" faux marble, Le also resurfaced the furniture using hand-applied wallpaper. "It worked out well, so we did the same thing with our drying table," she says, adding that Pinterest is a great source for such repurposing ideas.
What you place on your walls (and windows) makes a big difference, too. Pretty drapes and textured panels are a big trend for 2017, according to Pelafas. "They add interest and warmth, plus some sound absorption," she says. "For a small investment, they create a big punch and can make even a small booth look a lot more interesting."
Another way to communicate more artfully—and playfully—is with signs. "Custom-made signs in fonts and colors that reflect your logo add interest and pique guests' attention—meaning they may be more likely to notice your waxing area or party room," explains Pelafas. "If you offer eyelash extensions, consider a sign that reads Lash Spot; it'll likely boost revenue." A chalkboard menu is another option for sharing information in a fun, playful way. "Our techs draw pictures to highlight different colors or services every day," McBrayer says. Meanwhile, Le found inspiration in a 5-foot-wide magnetic board she spotted on Pinterest, on which she and the staff post inspiring quotes and pictures of nail art and display legal documents, too. "We glued rhinestones to it, as well as little acrylic-painted glass jars," she says. "We always feel better when we can upcycle what we use!"
Furniture Fixes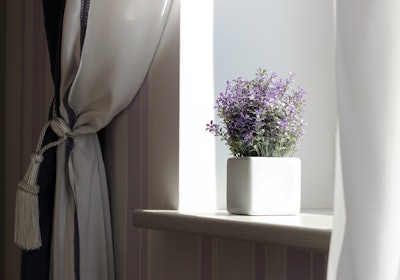 Although it tends to be one of the priciest aspects of your interior design, the right furniture is a crucial part of the overall look—and one that also contributes to the comfort of your clients. That's why McBrayer worked with a designer to custom-tailor pedicure chairs and benches with specific measurements, based on Spa at Oak Haven's clientele—older, sometimes larger guests. "It was worth the expense," she says. In fact, when budgeting, McBrayer puts top priority on anything clients have to touch or use—a key reason she believes it's a good idea to replace major design features, such as waiting room seating, every three to four years. "Anything purely aesthetic can be budget-priced," she says.
Smaller touches can also have a big impact on your furniture. For example, McBrayer changes out the pillows on pedi thrones every few months and swaps candles according to the season (think pumpkin for autumn and lilac for spring). "We also change out the towels seasonally to keep things fresh, as well as the blankets on the waxing tables, and make sure to add a few new colors to the polish palette," McBrayer notes. "No matter your salon's size, it's the little things that enhance ambiance."
Accent pieces are a smaller investment with a potentially big payoff. To wit, multipurpose bars, where clients can get add-on services, such as brow-shaping or a blowout, are trending. "Multipurpose areas always make good use of space," says Pelafas. "If you have room for another bar in back where you could serve water, wine or champagne, even better." You may already have some other accent pieces on hand that can simply be repurposed, so work with what you have. "Think backlit nail polish displays," says Pelafas. "Or, seek out a pretty server at a garage sale to enhance the appeal of a beverage table."
Whether the changes you make are big or small, the collective way they come together to enhance your space will be the ultimate payoff—for you, your clients and your business as a whole.
---
Katie O'Reilly is a Berkeley, California-based writer and editor.
Have you recently redecorated your salon? Let us know how in the comments below!
This story was originally published in the May 2017 issue of NAILPRO.
[Images: (All Getty Images) London England/Istock; Eloisaconti; Tesdei; Eskymaks]