Step into Austin's Lacquer nail salon, a sleek modern parlor that keeps everything fresh. We talked with owner Carla Hatler on everything that makes Lacquer what it is today, and advice she has for others.
The Look
The design of Lacquer is very clean and modern. I wanted to create a space that felt fresh, without being too girly. The design inspiration is centered on the salon's black and gold pendant lights. I saw them on Pinterest and had to have them. (It took me a month to figure out who makes them!) I also got a lot of help from a local firm, Greer Interior Design, to pull my vision together.
One of the most significant design elements—the artwork on the walls—was a last minute addition. I thought it would be fun to put inspirational quotes on the walls instead of TVs. I had a designer create the artwork and I found a company that could print them on large format canvases. They are an integral part of the design—and serve as a great backdrop for Instagram photos.
We get a lot of compliments on the design of the salon, which I love, but my favorite is hearing that it feels so clean. That's definitely a feeling you want someone to have when it comes to nails.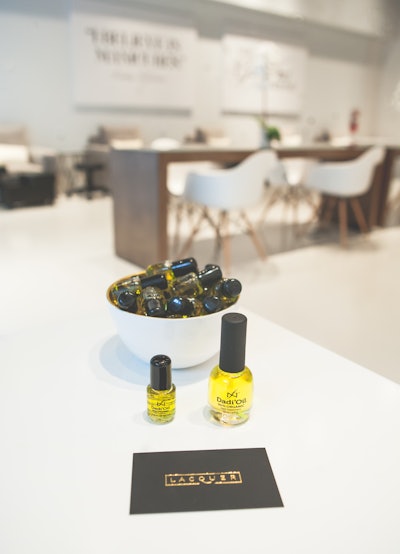 Distinction
Located in the heart of the 2nd Street District in downtown Austin, Texas, Lacquer is surrounded by a lot of great shopping and restaurants, and the area is a destination for local tourists alike. Lacquer is the only upscale nail salon in the area that is designed so that clients can get a manicure and a pedicure at the same time—and be done in under an hour. We are also the only salon in Austin that is Safe Salon certified, which means that we use the highest levels of infection control practices and aseptic techniques. We put our entire staff through training to become certified, even the front desk. Additionally, we practice ethical employment. All of our staff are W-2 employees and compensated fairly. We also provide ongoing training and use high-quality products, and that is reflected in our prices.
The Clientele
As a result of our location, we have a wide range of customers: young professionals in their 20s who work at nearby technology companies, empty nesters who have jut moved downtown and tourists who are in town for a wedding or conference; i.e., we are right in the heart of SXSW activities. We have the ability to host very large groups, like bridal parties, and we get a lot of men, too.
In-Demand Service
Our most popular nail service is the Classic Manicure, starting at $25. We do soak-less manicures to prolong polish wear, and the service includes a nail shaping and filing, cuticle care and a hand and arm massage with almond lotion. Clients love the smell; it's our signature scent.
The Goods
Lacquer has over 400 different polish options. We have a mix of the familiar, including OPI and Essie, so customers have access to their longtime favorite colors. Plus, we offer some of the newer lacquers, including Deborah Lippmann and Smith & Cult. One of the more popular brands is CND Vinylux; everyone is crazy for the performance and they can pair it with Shellac to have matching color on their hands and feet. We also carry a seasonal selection of nail lacquers from Chanel, Christian Louboutin, Dior and Marc Jacobs, and we offer IBX service. On the retail side, we sell CND Vinylux, Deborah Lippmann and Smith & Cult nail lacquers, as well as Famous Names Dadi' Oil and CND RescueRXx.
Social Media
We love Instagram! We have clients come in all the time referencing something they saw on our Instagram feed. We post a lot of nail art and clients love it when their nails get featured. Clients also love taking photos in front of our artwork and posting them to Instagram.
Advice
Do your research. Owning a salon is not easy, whether you come from a business background or have been in the industry for years. It's important to understand your market and the financials of running a business. Profit margins are slim, so you have to be good at managing a budget. But, if you do your homework and go into it with a plan, it will be easier to navigate some of the unexpected bumps along the way.
Praise
I am filled with pride whenever I meet a client who tells me what a great experience she had and how wonderful the staff is. Sure, I love hearing how gorgeous the salon is, but what really gets me excited is giving people a wonderful experience. I have to thank our staff for that. We have a great team that has turned into a second family for me. I truly want Lacquer to be a great place to be, whether you are a client or an employee.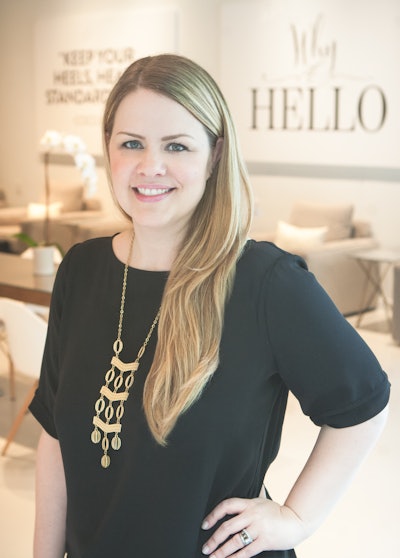 Owner: Carla Hatler
Year Opened: 2015
Address: 210 Guadalupe St., Austin, TX 78701
Phone Number: 512.473.1211
Hours of Operation: Mon.-Fri., 10 a.m.-8 p.m.; Sat., 10 a.m.-7 p.m.; Sun., 10 a.m.-5 p.m.
Website: ilovelacquer.com
[Images: Courtesy of Carla Hatler]