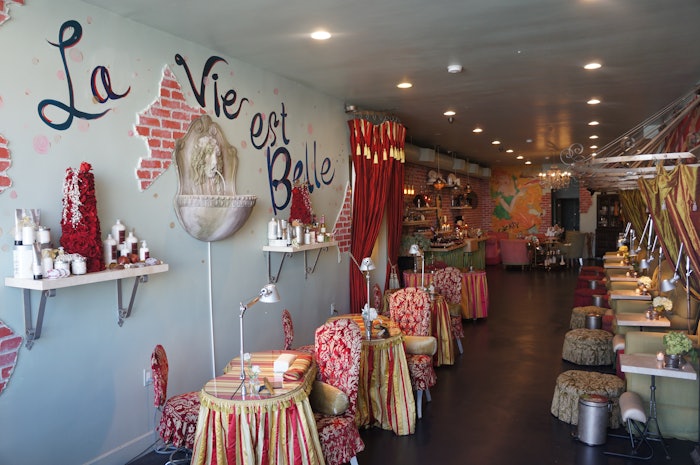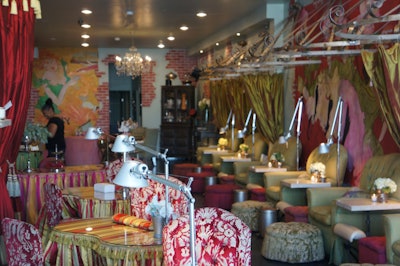 Los Angeles' Can Can Parleur invites its guests in with warm tones and Parisian-themed decor. However, what makes them stay is the completely organic and eco-friendly products and their quality customer service. In a welcoming tone, Can Can Parleur becomes a community, making it one of the top nail salons in Los Angeles. Owner Carmen Yu tells us more on the story of her salon and what makes it unique among others.
How did you get started in the nail industry?
I was experiencing some health issues and couldn't find any nontoxic salons. The ones I visited claimed they were nontoxic and organic but did not truly live up to its claims. I would bring my own products and supplies to the salons but I was still breathing in the fumes. I wanted to create a better, healthier nail experience and it was important for me that if I was going to start a business, that I become a fully licensed nail technician. 
How did you decide on the fun Parisian theme for your salon?
 I absolutely love the arts. I am a huge fan of the Belle Époque (Beautiful Era), a period of time in Europe where great writers, painters and incredible musicians came to light. The Can Can dance is depicted in painting form in the Parleur because this was a kind of dance where women were able to express themselves. I equate all of this to nails, nail polish and lacquers, because they have the ability to make us women feel powerful and beautiful.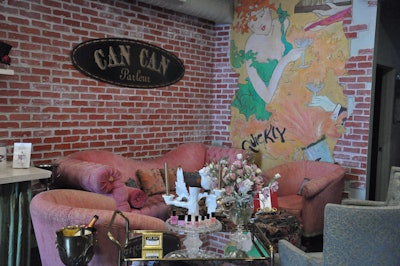 What sets you apart from other salons in your area? Can you tell us about why you decided to have a dry salon?
We are the only nontoxic, organic, vegan, cruelty free and waterless nail salon in Los Angeles. Our salon does not emit any of the fumes that are present in many nail salons. We only carry nontoxic polishes and healthier gels. We provide a diverse range of services, from our woman-on-the-go services to our signature service, Le Can Can. We decided to have a dry salon because of the effects of water on the natural nail bed. We also live in California where we are in a severe drought. It is a way for the clients and the Parleur to make a substantial difference in the environment by saving ten gallons of water per service and leaving a smaller carbon footprint behind.
Does your salon have any signature or most popular treatments?
Our signature treatments are Le Can Can and Champagne Et Roses. Le Can Can is a meticulour and thorough grooming of the nail. Hot towels and hot mitts are used in conjunction with a keratin and collagen mask. Champagne Et Roses is for the woman who wants to take pampering to another level. This includes everything in Le Can Can and more – such as skin exfoliation and a hot stone massage. 
What products do you use in your salon?
We carry five, nine and seven-free nail polish. We use the finest essential oils that are wild crafted and organic. We use a nail polish remover brand that is soy based and biodegradable. Our nail files are also biodegradable. All of the products that are used on our client's skin are leaping bunny certified and non-carcinogens, so that people who are battling with illness or choose to lead a green lifestyle have a safe place to go. Our products are kind on our nails and skin, and our perfect for you, your family and the planet. 
Can you tell us about some of the work you are doing in the community?  How can nail techs get involved?
Recently, we collaborated with the Downtown Women's Center on a clothing drive. Our nail techs were involved in helping set up the event and donated personal hygiene items. They spread the awareness to their clients and encouraged their clients to participate.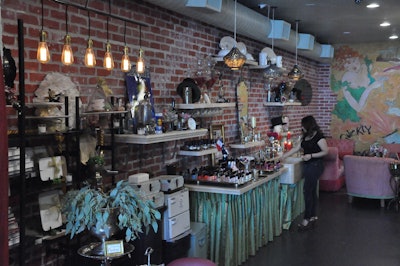 Do you have any advice you can pass along for salon owners/nail techs?
Advice to salon owners: customer service is key – it is important to connect with clients and take their feedback and suggestions to heart. 
Advice to nail techs: polish, polish, polish. Many nail techs graduate from school and do not know how to apply polish correctly. Personal appearance is also important – look your best, be your best and put the best version of yourself out there.
What's the best compliment that you ever received about your business?
The best compliments we have ever received are from pregnant women and women battling with illness. They thank us for finally creating a healthier space, and for caring for the environment and our bodies. We are praised for being a nontoxic environment where they feel safe being pampered when having their nails groomed and polished. 
[Images: Courtesy of Can Can Parleur]